News
Gus Bus provides volunteer opportunities for students
---
By: Sara Banton
Creative Services Student Writer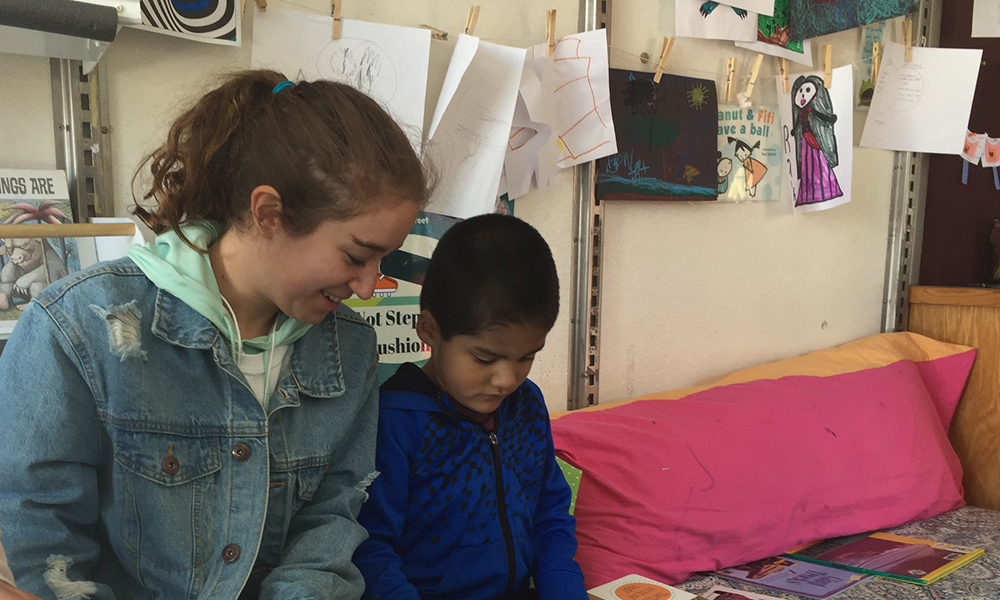 The Gus Bus is a mobile literacy program that brings story time, reading activities and book checkout services to neighborhoods in Harrisonburg and Page County. The Gus Bus visits 14 neighborhood sites weekly and additionally offers a Science, Technology, Engineering, Art and Math (STEAM) afterschool enrichment program, school-based tutoring and in-home tutoring, with the help of JMU volunteers.
"Student volunteers contribute their time, energy and knowledge," Victoria Landis, volunteer coordinator for the Gus Bus, said. "Sometimes it is hard to interact one-on-one with 20 Gus Bus children simultaneously. Having student volunteers allows more Gus Bus children the opportunity to build one-on-one relationships and feel "seen and heard" by an adult figure."
Senior social work major Katherine Duley began her volunteer work with the Gus Bus during her freshman year. She started volunteering at a bus stop once a week and has consistently volunteered at the same stop since then, allowing her to see and work with the same children on a regular basis. She views her volunteer work as a bridge connecting her to the Harrisonburg community.
"Harrisonburg is such a unique area and the kids are so sweet and smart. Students just need to get out and see what Harrisonburg has to offer, because it has so many great people," Duley said. "I feel very blessed to have the Gus Bus to connect me to the area I'm living in."
Duley plans to work with children in her social work career and views her volunteering as an opportunity to gain experience with them now.
"There are some kids who don't have as many resources as others, so I really like connecting with the kids and saying 'I am here for you if you ever want to talk' and being a positive role model for them by showing them that it is cool to read books and it is cool to go to an afterschool program," she said.
Rylie Smith, a junior communication sciences and disorders major, began volunteering with the Gus Bus by doing neighborhood stops, too. Over the past year, she has seen many different areas of Harrisonburg that she otherwise would not have. She enjoys connecting with children from different backgrounds, which has opened her eyes to the diversity of Harrisonburg.
"On the Gus Bus, we don't just read to kids and then leave. We really want to build a relationship with each individual child and provide them with a safe and fun place to go after school," Smith said. "I've seen kids who I thought couldn't read just one day feel comfortable enough to read a whole story to me and it blows me away every time. I love that we get the chance to give kids the confidence to believe in themselves."
The Gus Bus provides more than literacy assistance to the surrounding communities. Through a partnership with the Blue Ridge Area Food Bank (BRAFB), they host Market Days at each of the neighborhood stops once a month in the spring, summer and fall, where fresh produce is provided free of charge to area families. Additionally, with the help of the BRAFB, the Gus Bus provides a family-size portion of shelf-stable food each week at the stop locations, year-round.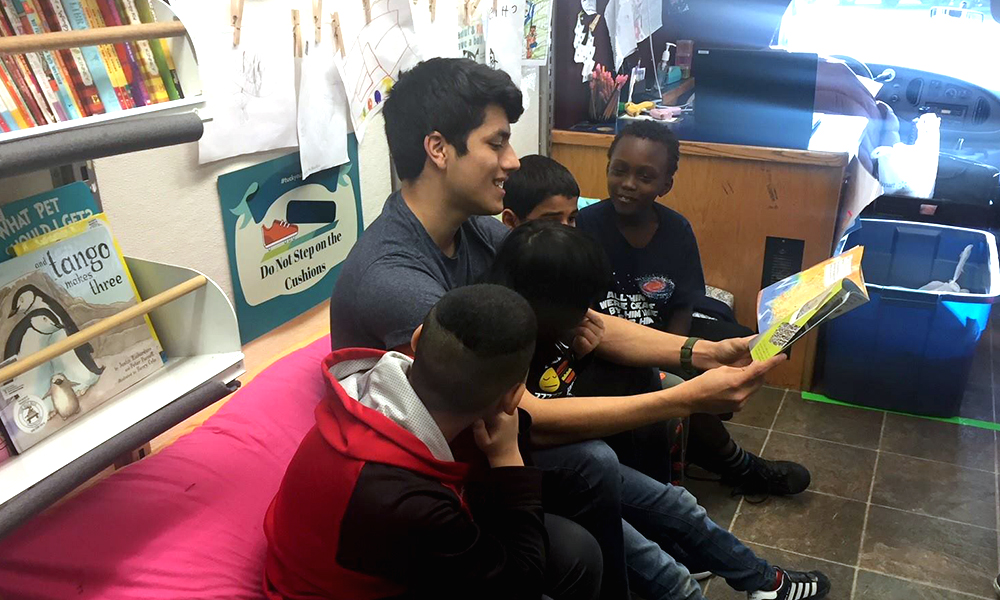 In 2016, the Reading Road Show received a National Arts and Humanities Youth Program Award from former First Lady Michelle Obama for its work. Representatives from the program, as well as a long-time Gus Bus program participant, were able to visit the White House and meet the former first lady. Recently, the Gus Bus was recognized and selected for the 2019 Chick-fil-A Foundation True Inspiration Awards for the Northeast Region. This award "honor[s] and support[s] organizations from across the country who go above and beyond in the fields of innovative education, emerging leader development and youth entrepreneurship," according to the Chick-fil-A Foundation website.
To fulfill community service learning requirements, Nicole Shaffery, a senior psychology major, chose to volunteer with the Gus Bus, but quickly realized how much she enjoyed the work and continued volunteering even after her required hours were completed.
Volunteering with children, Shaffery has learned to be more patient and to look at things from a child's perspective. She loves to apply what she has learned as a psychology major to her volunteer time spent with the children and wants to continue to work with children after graduation.
"If anyone needs service hours or if they like working with kids, I recommend the Gus Bus. It's a really good experience. The staff is great and they're really helpful and understanding," Shaffery said. "It's a good way to give back and help out."
The Gus Bus has a variety of opportunities and the staff works hard to find the best fit for anyone interested in volunteering. Recognizing that student volunteers have busy schedules, Victoria Landis and other staff members are experienced with working around class schedules and helping students successfully volunteer with the Gus Bus. To view the volunteer opportunities and get involved, visit their website or contact the Gus Bus at gusbus@jmu.edu.
Published: Monday, January 7, 2019
Last Updated: Monday, January 7, 2019