News
JMU students provide respite for caregivers
---
By: Brittany Bell
Creative Services Student Writer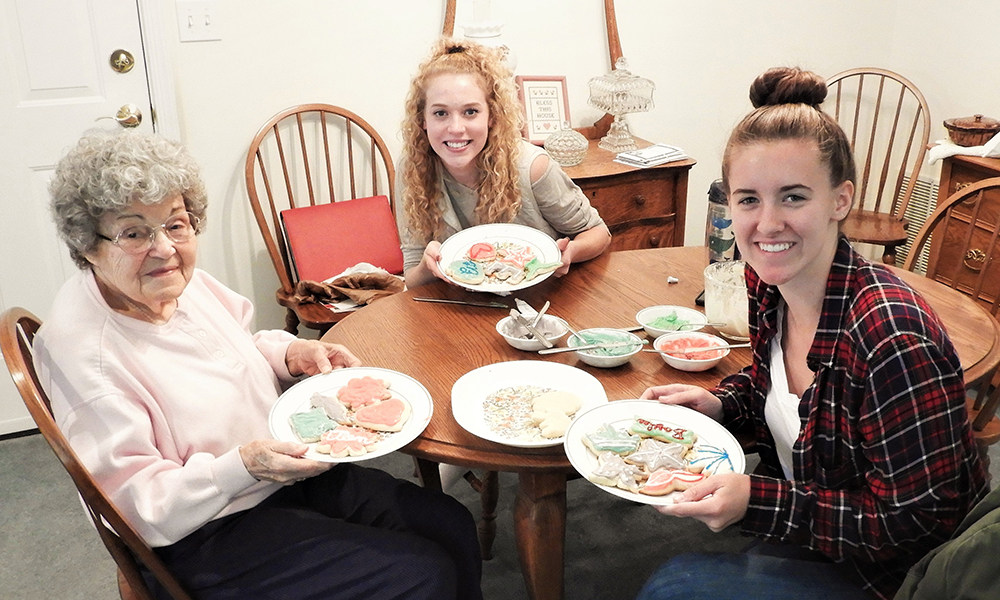 With the expanding population of seniors and the growing trend for keeping loved ones at home rather than turning to nursing homes, caregiving has become an important and growing need. Since caregivers are in high demand, these individuals need to be healthy and given opportunities to take a break from caring for their loved one so that they can come back refreshed and continue to provide their service.  Caregivers Community Network (CCN) is a collaboration between Valley Program for Aging Services (VPAS) and JMU's Institute for Innovation in Health and Human Services (IIHHS) that trains JMU students to provide respite for caregivers in the community.
"There's a huge need for respite to benefit not only the caregiver, but the person they're caring for because it's hard to pour water out of an empty vessel." Kathy Guisewite, CCN coordinator said. "By taking care of the caregivers, we are enabling them to be their best at what they're trying to do."
Participation in CCN is a one-credit class (IPE 490. Special Topics in Health and Human Services) offered at JMU, and is open to all majors. The class meets three times a semester and the students are required to complete 40 hours of service through class time, home visits and a community event. Most students spend three hours a week with their care receiver providing respite care.
During home visits, students assist with activities such as cooking, playing board games, making crafts or even helping their care receiver with remembrance by reviewing photos. They also spend time in conversation which meets an important social need for those living alone. These activities are stimulating and entertaining for the care receiver. Visits are typically viewed as a stress-free time by both the students and the recipients.
"I think the most valuable part of my experience thus far is the relationships I've formed with the older adults in our community and the lessons they've taught me," said Eve Moran, a junior nursing major who is taking the course for the second time. "I think the older adult population is one that gets left out a lot and dismissed, but their life experience and wisdom is unsurpassable. I've enjoyed every moment I've gotten to spend with these wonderful people."
According to numerous studies, caregiver stress can be overwhelming, and often older caregivers die before their care receiver. This data has been a driving motivation for CCN and their mission to provide respite care for caregivers. Guisewite wants to emphasize that at some point in our lives everyone becomes a caregiver, so it is important to build an understanding and compassion toward what they do.
The class includes presentations and discussions on dementia with additional trainings that help the students understand the complexities of the disease. The hope is that the students gain a deeper understanding of the disease, learn how to be supportive and become advocates for dementia research and for the families that are affected by the disease.
"I never thought deeply about the emotional struggles that accompany caring for a loved one who is nearing the end of their life," said Moran. "The tasks of caregiving are immensely difficult; from planning appointments, to finding a safe and caring facility to transition into, to tending to all of their loved ones' physical needs — no part is easy."
According to Guisewite, many students are apprehensive when they first start the class due to common stereotypes, but over the semester they form relationships with their care receivers. "The inter-generational aspect of this program is magical," Guisewite said. "For students to have an opportunity to go into homes and serve older adults, get to know them and glean from their wisdom and life experiences, is a wonderful opportunity."
Not only is the community becoming more aware of how beneficial the program is to its aging population, but students are also recognizing its importance. In the past year, the class has doubled in size with students from several majors including social work, health sciences, nursing and psychology. Students are receiving crucial training for their future careers.
"This class has prepared me for a career in nursing by familiarizing me with difficult emotional situations, learning how to adjust to clients' needs and emphasizing the importance of social interactions," said Moran. "I feel so lucky that I was able to be a part of this program for two years, and I will continue to advocate for it during my time as a student."
Published: Monday, January 7, 2019
Last Updated: Monday, January 7, 2019