News
IDLS 395 Field Experiences in the Chesapeake Bay
---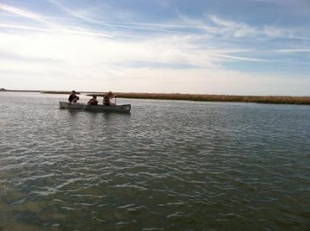 In May of 2015 Dr. Cindy Klevickis and Mr. Eric Fitzgerald led an IDLS 395 class giving students a blended learning opportunity that included group projects, hands-on learning, online discussions and a community action project. They visited Smith Island, Virginia Chesapeake Bay Foundation facility to get some serious hands-on experience.
The Chesapeake Bay Watershed extends over six states and 64,000 square miles including forests, farms, industries, wildlife habitat, cities, suburbs, 17 million people and more than 50 major rivers and streams. The Chesapeake Bay itself is North America's largest estuary. Through learning about environmental, geological, historical, social, political and economic issues related to the Chesapeake Bay, Watershed students were able to gain an interdisciplinary understanding of the interrelated issues that affect the environmental and economic health of the Bay.
The students experiences gave them opportunity to explore the role farms and agriculture production play in the heath of the Chesapeake Bay as well as look at the "Dead Zones" areas with too little oxygen to support life. This experience allowed them to explore climate change and predict future effects of those changes.
They were also able to identify the stakeholders and learn about the conflicting views on fisheries management in the Chesapeake Bay. Through interviews with watermen, farmers, environmentalist and citizens, students were able to look at policies from varying points of view.
The Smith Island experience also gave students the experience of living a simple life. Staying on the island comes with restrictions one of those, no showers. Students had to consider many things when packing for the trip including bring a bandana to use as a napkin, your trash will be carried back home with you, so don't bring excess packaging, for example don't pack little bags of snacks, just one big bag of snacks. Also consider not taking more food on your plate than you will eat, this way we reduce waste. Every effort is made, on Smith Island, to compost, reduce, reuse, and recycle.
The students learned a great deal from their experiences and had a great time. Click here to see and read more about this amazing experience.