Making a Mark at Madison and Beyond
Carter Bowman leaves JMU as valedictorian of the 2021 class.
Honors College
---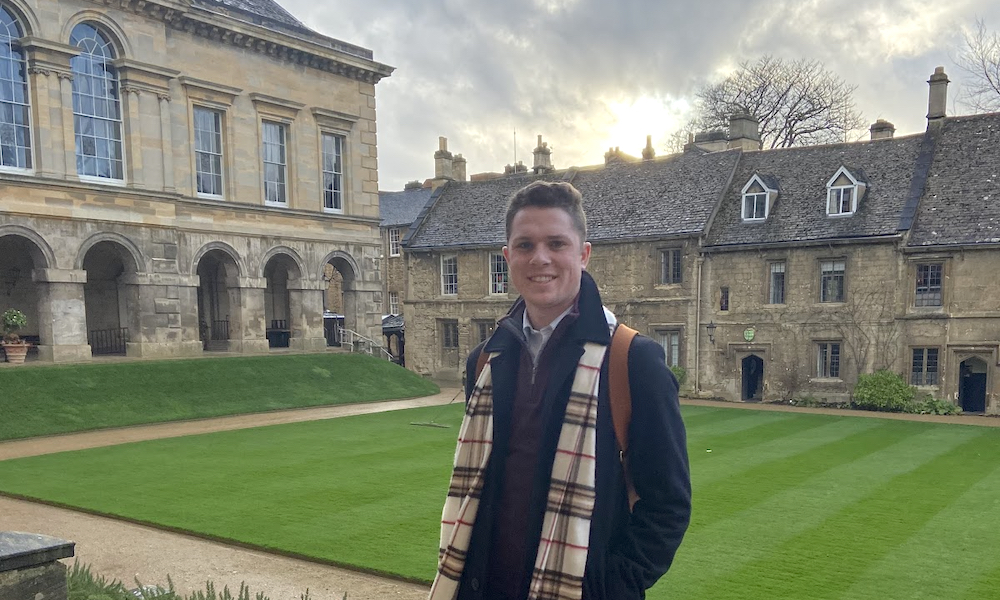 Written by Kate Peppiatt, '23.
Carter Bowman, a senior Political Science major and Chinese language minor, has truly made the most of his college experience. From his involvement in the JMU community, internship experience, participation in a study abroad program, to his Honors thesis, Carter has made his mark.
The spring semester of his freshman year, Carter joined Honors as a Track II student "because of the benefits associated with it" and the "opportunities that are presented." Along with being a member of the Honors College, Carter has also been a part of the JMU Speech and Debate team for the past three years. He has served as Vice President of the National Society of Collegiate Scholars, a research assistant in the political science department, and is a member of Phi Beta Kappa. All these opportunities have allowed Carter to find his place on campus.
In addition to on-campus involvement, Carter had the opportunity to participate in a unique internship with the JMU Washington Semester Program the fall of 2019. While interning in the U.S. Capitol, he gained "real-world internship experience while taking a full course load." Working alongside the national security advisor of Representative Kevin McCarthy, Carter researched Chinese cyber power and its national implications for the United States. "The experiential learning that you get from an opportunity like this is just incredible. All the stuff that you learn in the classroom you can immediately see applied to the workforce." He also took a course on Chinese government as an independent study through the Chinese department. Although working a 9:00 to 5:00 internship five days a week and taking classes at night is an intense experience, he appreciated the "full immersion" of fostering connections with his peers while building relationships in the Capitol.
To follow that up, Carter traveled to the University of Oxford the next semester with the JMU Oxford Program. Taking what he learned from his internship, Carter continued to study Chinese cyber power and artificial intelligence. During his time at Oxford, Carter immersed himself in research and writing. The unique tutorial style of learning allowed him to gain "an absolutely insane amount of knowledge." Although his weekly papers were often covered in red ink, he "loved it because there was so much feedback and it allowed [him] to learn so much." He credits this experience with strengthening his abilities as a writer and researcher. While he was there, he even had a paper published about Chinese artificial intelligence.
Now, as a senior, Carter is bringing together all of his different experiences and opportunities in his Honors thesis. Working with Dr. Jonathan Keller in the Political Science department, Carter is researching the predictors of a rise in cyber power. Essentially, "what factors are a good indicator that a nation is going to rise in their cyber power in the future?" He has identified enhanced education in STEM fields, a good economy, and previous military developments as possible indicators.
The future looks bright for Carter. Recently named as one of three 2021 valedictorians, his hard work and dedication has paid off. Next year, he plans to attend Georgetown Law. Excited to take the introductory courses and gain a broad overview of different legal fields, Carter is "looking forward to this next chapter." He is ready for what he can accomplish next.