Health and Behavior
Honors Nursing Students Going to Duke
---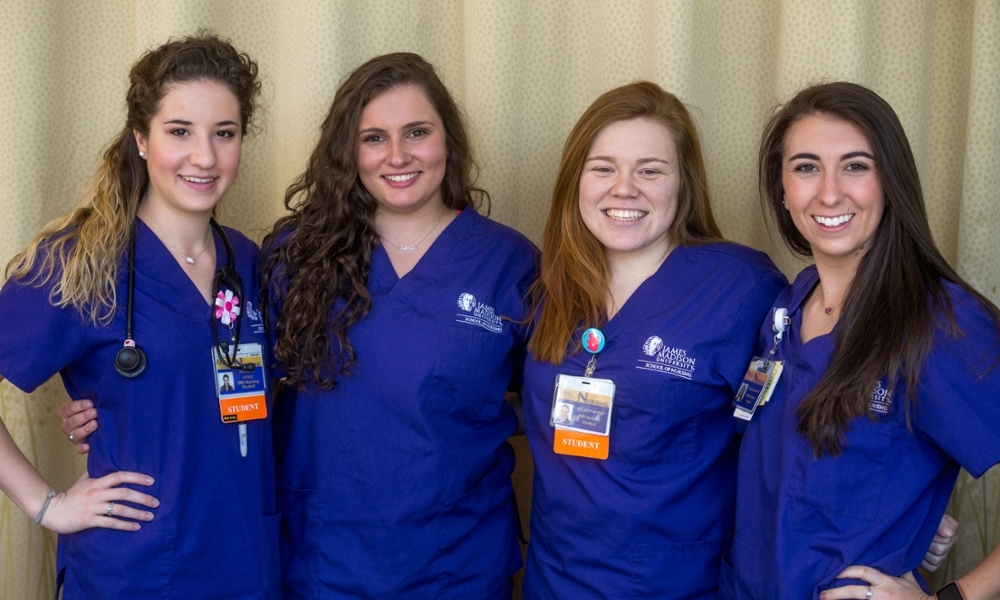 SUMMARY: Four Honors students graduating in May from JMU Nursing have accepted positions at the prestigious Duke University Hospital.
---
Rachel Civale, Catherine Lynch, and Allison Moses, will all be working on the same floor in the Cardiothoracic Surgery Intensive Care Unit; Nicole Bauernfeind will be working in the Surgical Trauma Intensive Care Unit, just a floor below her fellow JMU graduates.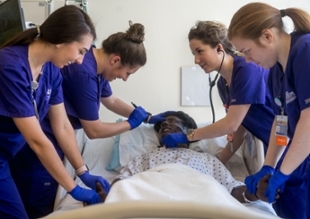 "We're all really excited to begin our professional careers," says Lynch, who's originally from Frederick, MD. "But we're moving far away from hometowns and families, so it's nice to have that security and support coming with you." 
As the four students begin preparing for the upcoming transition, they all agree that the JMU Nursing Program has thoroughly prepared them to enter into the professional field and provide outstanding care to their patients.  
"The Nursing Program offers an extensive amount of clinical hours compared to other schools of nursing, so our school goes above and beyond to make sure that we can achieve all types of experiences," explains Bauernfeind, who's originally from Lexington, VA. She says she chose JMU based on the reputation of the Nursing Program.
Civale, who's originally from Medford, NY, says the JMU Nursing Program has been exceptional. "The program tries to diversify our clinical situation," she explains, "so we've really been in every type of care situation we could have possible seen."
Betsy Herron, Assistant Professor of Nursing, says the program at JMU is designed to provide experiential education for the students, exceeding the number of clinical hours required by the VA board of nursing.
"We have excellent relationships with our community partners and are given access to several acute care and community facilities, so the students gain experience working with patients," she explains. "We value their experiential learning and believe it makes our students better prepared to enter practice."
In addition to their majors in Nursing and their Chronic Illness minors, all four students are involved in the Honors College—a combination of academic experiences that students historically believed was practically impossible to complete.
"There's been a folklore around doing both Nursing and Honors," Bauernfeind says, explaining the long-held belief that completing the rigorous Nursing Program, along with the Honors requirements, was too challenging and not worth the effort. "Hopefully we've debunked this to younger students."
Honors College Dean Bradley Newcomer says the folklore is based on a misunderstanding of Honors, which is thought to be something entirely in addition to one's major rather than an experience that enhances a student's major curriculum.
While he recognizes that completing both Nursing and Honors is challenging, he says these four students were creative and proactive in their approach and proved what can be accomplished with determination and resilience.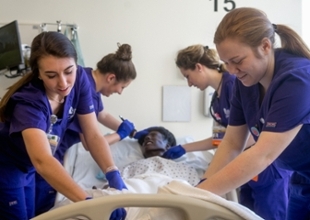 "They've accomplished a phenomenal feat," says Newcomer of the four students heading to Duke. "These Honors students were trying to go above and beyond and do something enhanced and different and cutting edge—and their determination paid off." 
The four students agree that completing both Nursing and Honors was challenging, but they all say that their experiences in the Honors College added undeniable value to their academic careers and expanded their opportunities while at JMU.
As part of their Honors Interdisciplinary Studies minors, the four students completed additional projects in their core classes and final capstone projects. According to the students, these opportunities allowed them to dive deeper into the medical field and pursue research that distinguished them from other candidates applying for the positions at Duke.
"The Honors College provided opportunities and opened doors for us at JMU," Civale explains. "We had a place where we could take things that we were passionate about and expand on them, creating a springboard to pursue research opportunities."
Their final capstone projects researched important topics in the field of nursing and medical care: Civale and Bauernfeind created an educational game geared at younger children to help address childhood obesity as prevention for cardiovascular disease; Moses, a native of Georgetown, DE, studied health disparities in the homeless population and developed educational programs for nursing students working with this population; Lynch studied how using the teach-back method in heart failure patients potentially increases health literacy by helping patients better understand their diagnoses and continue self-treatment plans, which results in more cost-effective treatment. 
"Our research was a long process," explains Moses discussing their individual capstone experiences, which took between two-to-three years to complete. "I think that just goes to show our dedication—not only to the field of nursing and healthcare, but also to making sure that we have quality research studies."
The four students agree that these research opportunities offered through the Honors College, along with their nursing education, helped demonstrate their willingness to continue striving for higher quality of care for their patients—something vitally important at a teaching hospital like Duke, Civale explains.
"Our Honors College experiences prove we're up for a challenge," Bauernfeind adds. "I think that was really important to Duke and made them see that we'd be a good fit and up for the challenge there, too."
Lynch agrees, explaining that the interviewers were really looking for someone who had immersed themselves in the field. "They were looking for someone driven, hard-working, and willing to go above and beyond," she said. "And that's what the Honors College has really helped us do."
Herron, who serves as the students' Honors liaison for the Nursing Program, witnessed the students excel at JMU and believes they will continue doing so in the professional field.
"The leadership roles, as well as their place in the Honors College, have given them confidence that they can achieve all they have set out to accomplish," she explains. "And, I am sure we will continue to see them shine in the profession."
Collectively, the students say their values and experiences, fostered at JMU, align with Duke's focus on research, teamwork, and continual growth in the field of nursing.
"Being a nurse that's really invested in the field, I wanted to be in an environment that fosters that value—the same value that was fostered here at JMU," Civale explains. "I knew I'd be able to continue being that kind of person and that kind of nurse at Duke." 
The students say that what they're most excited about is continuing to pursue their passion for nursing.
"We're doing all of this because we enjoy doing it and it's a passion we have," Civale says. "We value patient care and the patient interaction."
Lynch agrees. "It's truly knowing that you're making a difference."
As they're preparing to walk across the stage at graduation and on to a new adventure, Lynch, Civale, Moses, and Bauernfeind took time to reflect on the faculty and university support that they say made their academic experiences so rewarding.
"We all want to thank the Honors College, including Dr. Newcomer, Dr. Frana, and Jared Diener, as well as all of our Nursing professors, especially our past liaison Dr. Sawin and our most recent liaison, Dr. Herron," Moses said. "We couldn't be who we are today, or the future nurses we are striving to be, without all of their help."