Honors College
Honors student selected 2016 Udall Scholar
---
SUMMARY: Biology major Anna Nordseth ('17) will receive a prestigious Udall Scholarship.
---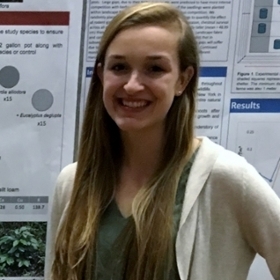 Biology major Anna Nordseth ('17) has been selected to receive a 2016 Udall Scholarship. Each year the Udall Foundation awards 60 scholarships of up to $7,000 to sophomores and juniors who study issues related to the environment or American Indian nations. Anna is one of three students from the state of Virginia to receive this prestigious national award. Anna works on forest ecology and conservation biology. She received an Honors Hillcrest Scholarship to participate in a tropical ecology and convervation study abroad program in Monteverde, Costa Rica in the summer of 2015. 
Learn more about Anna and the Udall Scholarships.
Published: Friday, April 29, 2016
Last Updated: Wednesday, June 12, 2019