Honors College
Viewing Life through the Lens
Amanda Harner's creativity crosses disciplines
---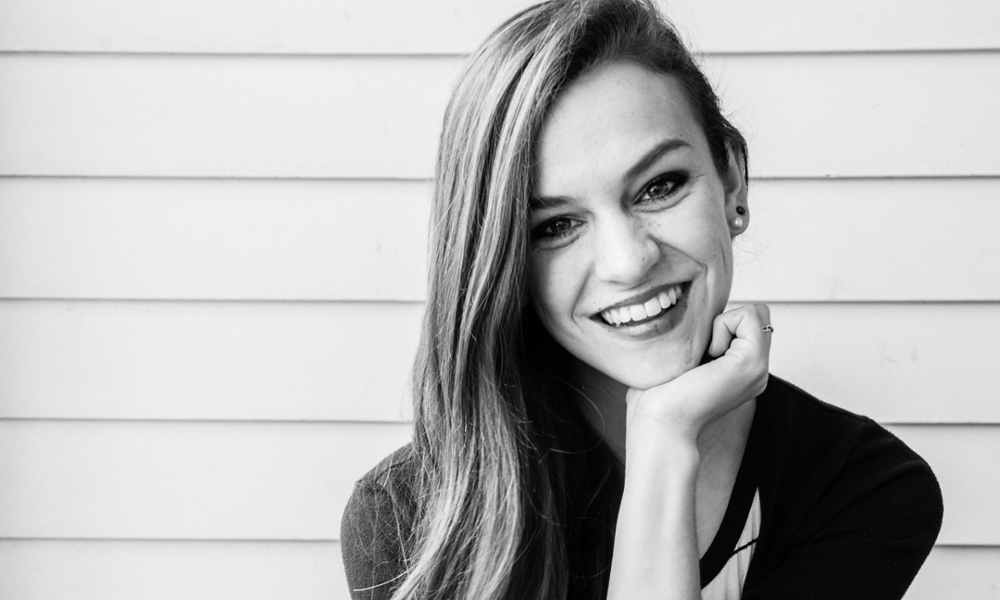 SUMMARY: Honors student Amanda Harner (Media Arts and Design, '17) excels in photography and creative media design.
---
Honors student Amanda Harner (Media Arts & Design, '17) grew up in Damascus, Maryland, a small farming community only 40 miles north of the Washington Mall. She's always described herself as artistic, and always took the time to make sure whatever she was doing looked good when it was finished. Her parents remember her as meticulous and intent about everything she did. And they took note of her interest in art. "One of my teachers noticed that I kept writing my name in all of these different styles," Amanda recalls. "She told me that people who do that are narcissistic. But it didn't stop me."
"I've always been a person who cares about her education. My parents never put any pressure on me. I'm pretty self-motivated."
Amanda entered JMU with an interest in both art and computing. "My dad is a federal contractor who works with databases. He wanted me to take computer programming and I humored him." It came to her more easily than she anticipated. "People tend to think that girls and women aren't good at programming. And I'd heard people talk about how women were getting promoted in IT even though they weren't very good. I wanted to prove that I could do it and be good enough that people didn't question my skills."
She also wanted to pursue photography and graphic design. In high school her teacher Emily Hoponick gave her an assignment modeled off of Andy Goldsworthy's art to "manipulate nature," which forced her to view photography in a new light. This assignment added an imaginative quality to the art form. Amanda would consider unusual concepts, write them down, and then figure out how to execute them. She demonstrated such promise on the project her teacher moved her into AP Photography.
Late in high school, Amanda visited the Torpedo Factory Arts Center in Alexandria, Virginia. "It's this big historic warehouse where you can look into the studios and see the artists doing their work." Amanda wandered into the photography studio of Pete McCutchen and introduced herself. "He went and looked at my work on Facebook and showed me how I could take my pictures from good to great. And then he even entered me into my first art show, and I won third place. A year later, I submitted a portfolio, an artist's statement, and got judged by a panel of artists. I was the youngest photographer to be juried in as an Associate Artist at the Torpedo Factory Art Center. Pete's become my mentor, but also feels like he can learn a lot from me."
Says McCutchen, "What impressed me then was that Amanda could see the whole frame, and compose corner-to-corner. Most people only see the subject, and they don't think about how other elements support the point of the image. Most people have to be trained to check their edges. She seemed to do it instinctively." Pete taught Amanda how to process her images and bring out what she'd captured. He also helped her develop a sense of judgment about what images were worth showing, and which were not.
"It's true that Amanda's been very successful, but in the time I've known her, I've done things like winning awards in international photo contests. Which I hadn't done before she came along. I have no idea how much of my improvement over the last three years is due to Amanda, but I am pretty sure the answer isn't 'none.' Working with good people makes you better."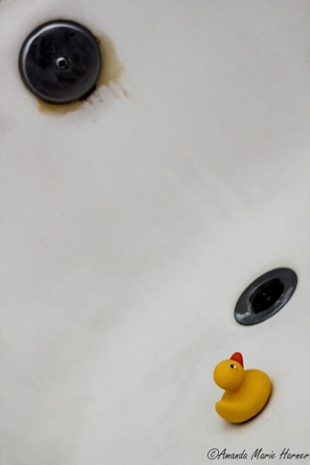 "One time Pete told me to lock myself in the bathroom and take pictures for thirty minutes. I won an award with one of those photos."
Says Amanda, "Honestly, a lot of my work is just iPhone pictures. I believe it's not what you're using, but what you see. When I go on planned shoots I bring my DSLR – abandoned warehouses, zoo animals – but I don't always have time for that. And so I shoot subjects when they jump out at me. One time Pete told me to lock myself in the bathroom and take pictures for thirty minutes. I won an award with one of those photos."
Today Amanda is a Media Arts and Design major with minors in Computer Science and Studio Art. "In school I was encouraged to choose one path or the other, and I really didn't want to do that. Why should I have to choose the 'art life' or the 'academic life'? I had all these different passions that I could have followed. JMU gave me space to pursue those passions. I'm in the Honors Program. I've always thought of myself as an honors student. I don't always feel challenged in academics, but the honors options help with that."
"I didn't feel comfortable being around people that were so single-minded in their purpose. I wanted to surround myself with a diverse group of people. Going to a school that didn't force me to make that choice was important. The School of Media Arts & Design in particular sounded like a place that brought together a bunch of different skills. They made it sound really mysterious and that really attracted me."
Amanda met her good friend Maria Camila Restrepo Chavez right next door as a freshman in Shenandoah Honors Hall. "Even though we come from completely different backgrounds, we have very similar values and really care about people. She appreciates my differences and I appreciate hers. We're also very alike in the sense that we're very involved and want to make a difference. We wanted to branch out with our lives and have new experiences in college."
Amanda is involved in Alpha Phi Omega, the co-ed service fraternity, doing over 30 service hours each semester with off-campus organizations. She goes to Bridgewater Retirement Home and takes residents to their church service. She assists elderly people who have dementia and Alzheimer's. She also volunteers at New Creations, down South Main Street, which is a nonprofit that supports victims and survivors of human trafficking. Amanda is also a member of SafeRides because her mom and brother were once involved in an accident with a drunk driver and she strives to reduce the chance of that happening to someone else or someone else's family.
Amanda's ongoing interest in computers is serendipitous. "The path that I'm taking is complementary with web design and I've used all sorts of different content management systems, web builders, and digital storytelling programs. I've learned languages like Javascript, HTML, CSS." She's done web design for honors classes as well, including her practicum in the Honors Area of Emphasis in Creativity.
"I did my creativity practicum in DigiComm (Digital Communications Consulting), a new learning center at JMU directed by Paige Normand. It's a place where students can get help with digital assignments and online portfolios. We are trying to integrate digital projects across disciplines on campus. We teach students to use online content creation tools like WordPress, Wix, Weebly, Canva, Atavist, and Storify."
"I'm now a tutor for DigiComm and a Media Fellow. For my media fellowship I work with a writing class where I do workshops and present different tools and help them use tools effectively for their digital assignments. We work with engineering classes, hospitality management classes, biology classes, justice studies classes, communications classes, and more to help the students create digital projects."
Amanda credits her success to being inclusive and a good listener. "I want other people to know that they are important. Things jump out at me – things I see, the people I meet. Those things really make me feel connected. To the extent that we're always connected and online, it's hard to turn it off. We are always so absorbed in our cell phones and email. I expect that I will spend most of my time doing freelance work. But I'm also a pretty social person and like to get involved and do things with other people. So in that way I think I'll find some work-life balance."
Amanda is now applying for an internship to be a front-end developer, and wants to continue doing commercial photography. Some of her recent work can be viewed at https://www.facebook.com/AmandaMarieHarnerPhotography/