Endless learning in the Music City
News
---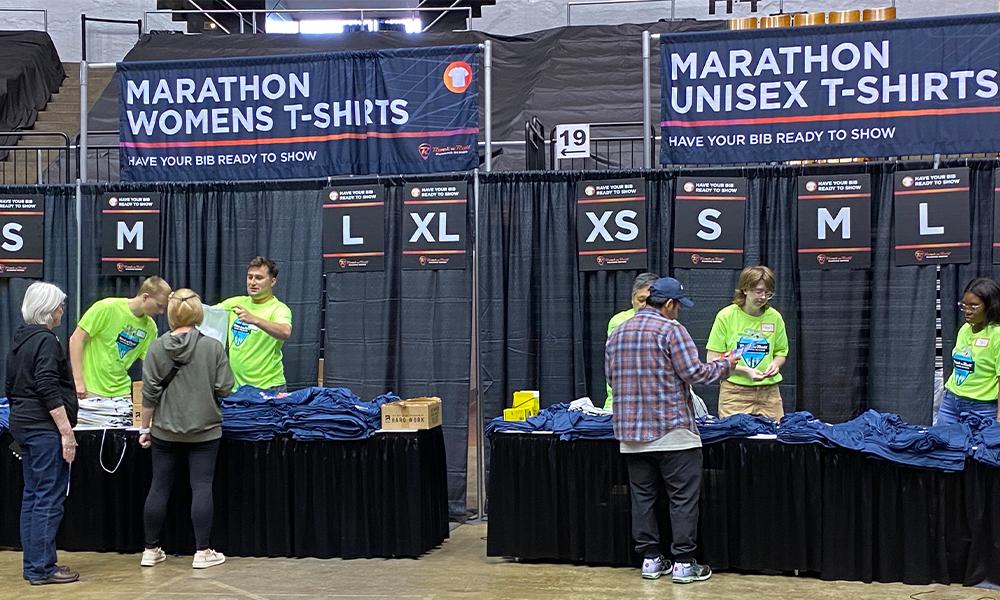 SUMMARY: Nine students traveled to Nashville, Tennessee, to volunteer their time at The St. Jude Rock 'n' Roll Running Series.
---
The St. Jude Rock 'n' Roll Running Series is hosted in cities across the nation, bringing together people who love music, running and celebrating community. With multiple distance options, there is something for the runners who can take on a full marathon and those who want an easy mile. This April, more than 25,000 individuals took over the streets of downtown Nashville to tackle the race, including students from all three programs of study in JMU's Hart School of Hospitality, Sport and Recreation Management.
Nine students, accompanied by Assistant Professor Augustus Hallmon and Assistant Professor Katja Sonkeng, volunteered at the Health and Fitness Expo, a segment of the The St. Jude Rock 'n' Roll Running Series. Volunteers helped runners locate their race bibs and t-shirts and directed participants through the expo, while putting to use their customer service skills. 
Hospitality Management major, Kirsten Hildebrand said, "It was great to see how much the sports and hospitality industries intersect. I learned about job opportunities that I didn't really know existed prior to this trip."
Students also volunteered their time at the finish line of the half and full marathons on race day, assisting runners in finding post-race snacks and drinks, and returning gear bags at the start line to their rightful owners.
One Sport and Recreation Leadership student participated in the half-marathon herself and worked the finish line volunteer shift directly after. Brittany Schulz credits the encouragement she received from professors August Hallmon and Katja Sonkeng with having inspired her to put forth the extra effort she needed to go for it. 
While in Nashville, students also had the opportunity to meet and network with industry professionals and JMU alumni from the Nashville Predators and Nashville SC. Caroline Mancino ('21), event specialist, Ryan Fletcher ('21), senior coordinator for guest experience and Joanna Rose ('17), event manager, of the Nashville Predators led them through a panel session and tour of the stadium. Alexis Rosenberg ('12), senior director for premium & membership services at Nashville SC, also delighted students with a tour of Geodis Park. 
In addition, Joe Richie, associate professor of communications at Tennessee State University, joined students for dinner, sharing insights on working in sport media and academia. Ritchie previously worked with CBS, producing and directing numerous radio and television shows for broadcast and cable, including collegiate and professional sports, and has been a media trainer and consultant for universities and broadcast outlets in Estonia, Latvia, Lithuania, Ukraine and Russia. 
Working at The St. Jude Rock 'n' Roll Running Series gave student volunteers an opportunity to connect with individuals working in the sport and hospitality industry, and demonstrated what it took to produce and run a large-scale event. The chance for students to learn about potential career avenues and to practice their networking skills is invaluable in a hands-on setting.