Learning is abound on the court
News
---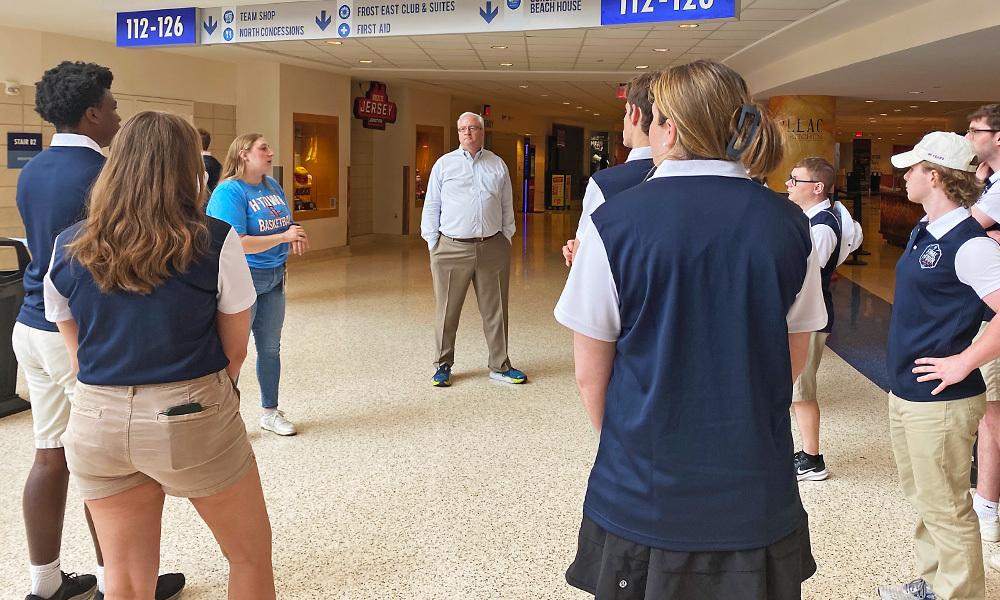 SUMMARY: Hart School students travel to Houston to volunteer their time at the NCAA Men's Final Four Basketball Tournament.
---
One of the major sporting spectacles in the United States each year is the NCAA Men's Final Four Basketball Tournament, drawing massive crowds, no matter where it is held. What starts as 68 teams is dwindled down to just one in the span of a month. Each Final Four game is different and unique; however, one constant remains the same, and that is its reliance on thousands of volunteers.
This year, nine JMU Hart School students traveled to Houston to volunteer their time and learn what it takes to produce an event of this magnitude. The opportunity to attend and engage with the tournament was made possible by Hart School Advisory Board member, JoAn Scott, the managing director for NCAA Men's Basketball.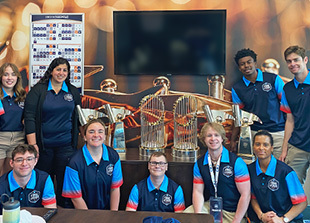 Students from the Hospitality Management and Sport and Recreation Management majors, along with students representing the Hart School's graduate program, Sport and Recreation Leadership, worked three shifts for the NCAA. Students took on a range of duties like assisting fans with event registration and being way finders, all while providing high levels of customer service.
"Hands-on learning is invaluable in terms of actually seeing the event happen in real life versus reading it in a textbook," said Annie Rodgers, a SRM major. "Being able to see how these sports events run, what works and what doesn't, and being able to observe what's going on is an important experience to have," she said.
Speaking to the benefits of this experience, fellow SRM major Justin Cox said, "There is only so much you can learn in the classroom, you have to experience it too. It's a great trip for growth."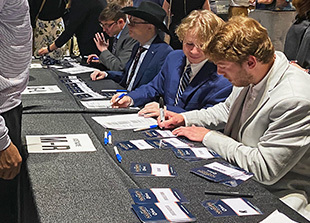 The trip also connects lessons learned in the classroom to the everyday attributes of the industry. Another SRM student on the trip, M.A. Lancaster, said, "I do see things we learn in the classroom translate to the real world, especially in networking. It's a lot different when you have someone in front of you. You have to hold a conversation, maintain eye contact, shake their hand firmly and uphold a level of professionalism. These are all things the Hart School emphasizes."
In addition to the hands-on experience students gained working their shifts for NCAA, Hart School Advisory Board members J.W. Cannon ('98) and Ted Yeschin ('00) helped coordinate networking opportunities with sports agents from Wasserman, and allowed students to attend the Naismith Awards Brunch.
Being able to see firsthand the work and responsibility it takes to host such an elaborate event is invaluable to the learning process. Many Hart School students aspire to organize and work events like the NCAA Men's Final Four, so participating in experiential learning trips like this one provides the opportunity to develop an idea of what career path they might wish to pursue.
Ten other Hart School students attended the NCAA Women's Final Four in Dallas, Texas. Their volunteer work garnered the attention of local news network WHSV. Read and watch WHSV's coverage of Hart School students here.