NASCAR's drive for change
News
---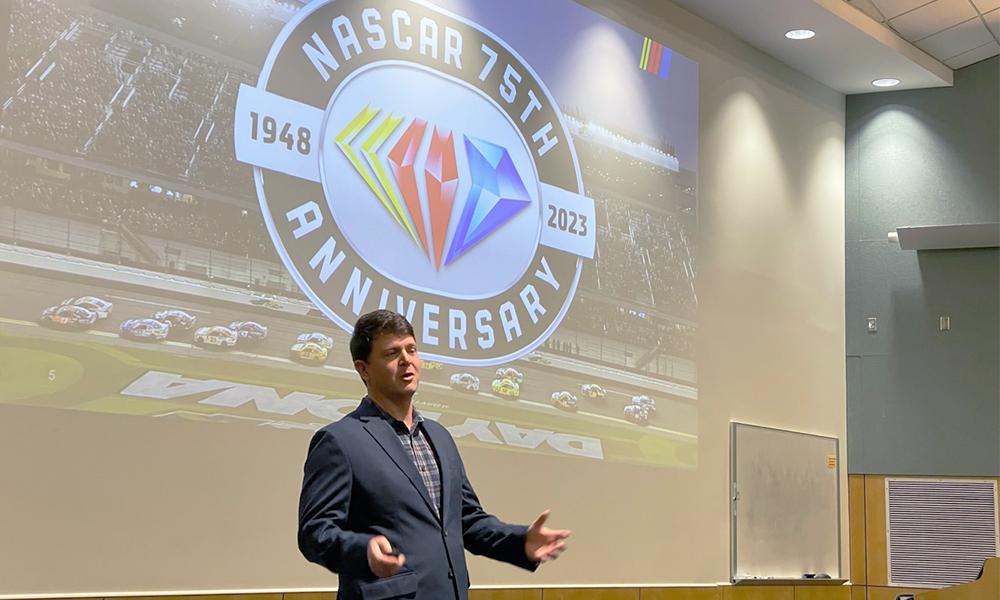 SUMMARY: Pete Stuart ('03), NASCAR's managing director of social responsibility, talks to students about DEI initiatives in the industry.
---
Despite a 20-plus year investment in diversity, equity and inclusion efforts, including three dedicated diversity programs, NASCAR was moved by the unfolding of events during the pandemic to do more for diverse communities. 
In a public statement following widespread civil unrest in the U.S., NASCAR included a call to action: "While our sport has made progress over the years, there remains much work to be done and we fully embrace our responsibility to help bridge the racial divide that continues to exist in our country."
NASCAR's Managing Director of Social Responsibility, Pete Stuart ('03), a Hart School alumni, visited campus to discuss "Driving Progress: Inside NASCAR's Transformation."
Significant efforts have been made to increase diversity across the sport of racing, including recruiting and developing Black, Brown and women drivers and pit crew members, banning the confederate flag and taking races to new cities with large diverse racial compositions, like Los Angeles and the upcoming move to host a NASCAR race in downtown Chicago.
In parallel to an expanding DE&I platform, Stuart is building a new department at NASCAR focused on social responsibility with initiatives designed to positively impact local communities and the environment. The broader strategy includes sustainability efforts, community partnerships and volunteer opportunities for NASCAR's 1,000+ employees across the country.
Following Stuart's presentation, students were invited to participate in a Q&A session, where the discussion of diversity, equity and inclusion continued. The following day, Stuart remained on campus to join students for lunch and continued to meet individually with Hart School students who were interested in learning more.