Hart School - Newsletter Articles
The Hart School faculty publication review
---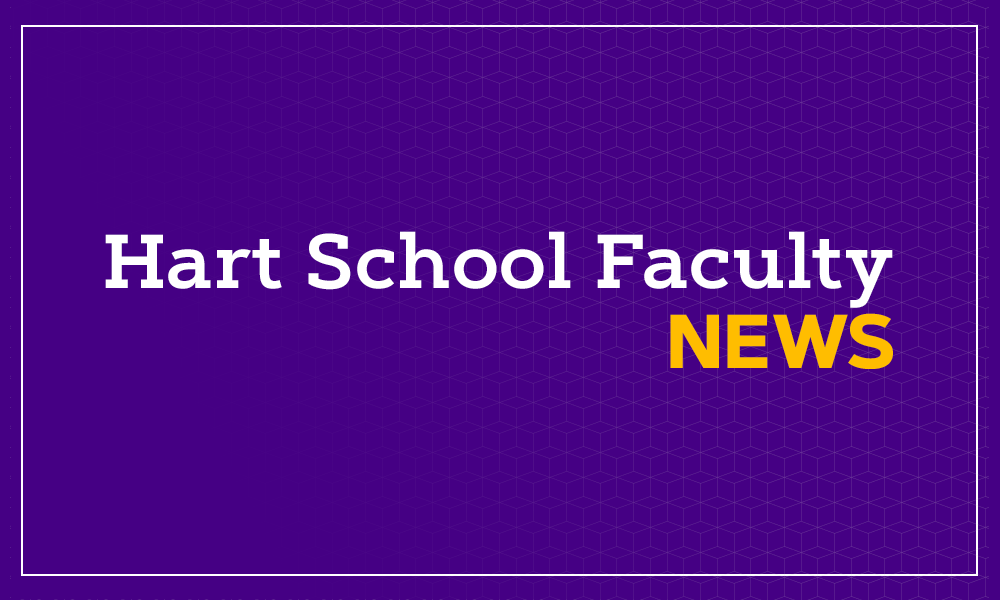 ---
The Hart School faculty do more than share their expertise in the classroom. They take part in important research, and publish their findings to extend everyone's understanding of the latest topics of interest in their chosen field. Here is a look at some of the work that they have published this academic year.
---
SRM Publications
SRM professor Joshua Pate has had a busy research year, with three co-authored publications. One examined campus recreation intramural sport for students with disabilities and found that inclusive weight training was offered most for students, while wheelchair basketball was the longest-running intramural program across the United States.
In another, Pate worked with Hart School colleague Emeka Anaza to research student attitudes and actions following the viewing of a documentary on wheelchair basketball. In his final publication of the year, Pate and his co-authors evaluated the COVID-19 response of NCAA and its members, finding that the conferences and NCAA failed to communicate with each other, abandoning a uniform message.
Anaza also published a co-authored review of regulations and policies similar to Title IX.
---
HM Publications
HM professor Gilpatrick Hornsby's research interest in minority student experiences has resulted in two publications: an article titled "Exploring Minority Sense of Belongingness and Satisfaction in U.S. Hospitality Programs: An Examination of Departmental Cultural Climate," and a co-authored case study titled, "Its Above Me Now: Managerial Support of Minority Front Line Employees," which received honorable mention in the ICHRIE Johnson and Wales Case Study competition last summer.
Pam Li co-authored "Corporate governance in the hospitality and tourism Industry: Theoretical foundations and future research," a systematic review of research on corporate governance in hospitality and tourism literature. The paper explored ways to facilitate scholarly advancement, identify gaps in the current knowledge base, make suggestions for theory development, and provide direction for future research.
Dave Shonk published a co-authored piece in the International Journal of Hospitality and Event Management. Titled "Sport Mega-Event complexity and reputation: Development of a model," the paper proposes a three-dimensional model that examines the inherent complexity unique to sport mega-events.
Professor Tony Kim has published an article titled "The cleanliness of restaurants: ATP tests (reality) vs. consumers' perception" in the International Journal of Contemporary Hospitality Management. The initial research was done pre-COVID-19, so his team recently replicated it, and their findings indicate that surfaces in a restaurant such as dining tables, chairs, silverware, door handles, etc. are cleaner than before COVID-19 and consumers are aware of these changes.
While many classes might transition easily to a virtual world, wine tasting courses would prove more difficult. Professor Tassie Pippert was part of a group of authors who addressed the difficulties and sought solutions for how to teach sensory perception classes during online sessions, which resulted in an ongoing discussion and an article titled "An Inquiry into the Pedagogy of the Sensory Perception Tasting Component of Wine Courses in the Time of COVID-19."
Emeka Ananza co-authored an article on the recreational choices black mothers make for their children titled "Black mothers' recreational choices for their children: A critical race theory story."
---
SRM Book Chapters
Joshua Pate's pairing with SRM major Hunter VanMeter in the Research Experience for Undergraduates program resulted in a co-authored book chapter titled "Governance of the Olympic and Paralympic Games" in the upcoming sport governance textbook Administration and Governance in Global Sport Business. The pair plan to continue working together through Fall 2021.
---
HM Book Chapters
Emeka Anaza authored a chapter titled "Expectations and perceptions of factors that may delegitimize sexist practices within sports programs" for the textbook In Youth, Globalization, and Society in Africa and its Diaspora.
Miguel Baltazar is co-author of "Overview of Hospitality Revenue Management," a chapter for a low-cost textbook and certification materials targeting higher education undergraduate students studying this discipline. This is a Smith Travel Research edition co-authored with undergraduate professors from around the world.
Baltazar and Hart School colleague Pam Li co-authored an operations management book chapter titled "Inventory Management." Unlike manufacturing firms where the production of goods can be adjusted according to the demand of customers, hospitality firms do not have the ability to alter the capacity of the changing demand of guests in a short period of time. Given the relatively fixed capacity or supply, maximizing revenue through inventory control is essential for hospitality operations.