Hart School of Hospitality, Sport and Recreation Management
Sharing the Dukes Spirit with global partners
---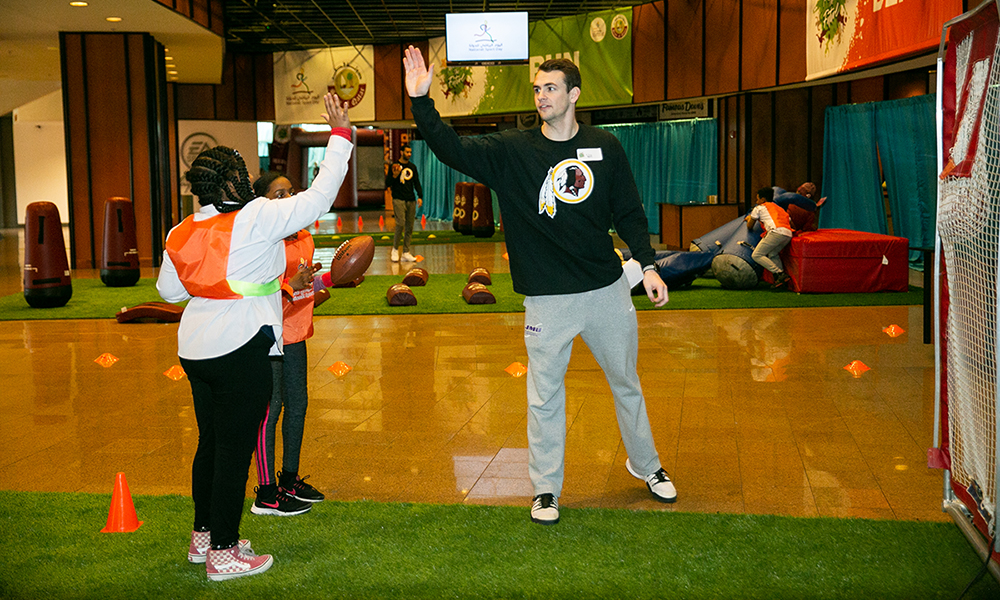 ---
Living up to the part of its mission to "engage in transformational education through innovative…service," the Hart School mustered an enthusiastic group of volunteers from SRM and the SRL graduate program to help 4th and 5th grade students get involved in sports and see the benefits of an active lifestyle. 
In partnership with the Washington Redskins and the Redskins Charitable Foundation, the Embassy of the State of Qatar in Washington, D.C. celebrated a Day of Sport at FedExField on Feb. 12. An annual event for Qatar, National Sports Day—its second largest national holiday, after Qatar National Day—is an active day, one designed to get people up and moving. 
The Dukes volunteer squad of almost two dozen individuals helped in a variety of ways. SRM major Alex Bunnell said, "As a Team Escort, I acted as a team leader to 40+ excited elementary school students as I helped navigate them through all the fun activities," before adding, "Seeing how excited all the kids were to participate in drills and meet some of the Redskins players made the 4:00 a.m. alarm clock that morning well worth it." 
But there is more to an event like this than the fun of doing it. According to SRL graduate student Alli Pinello, "I think it is really important to recognize the difference that sports can make in an individual's life and how we can use what we've learned and experienced within the Hart School to be a part of making that difference." 
Faculty volunteer Alyssa Bosley noted that "The Hart School is fortunate to have a strong relationship with the Washington Redskins and I appreciate Calvin Parson Jr. ('14), a manager of community and charitable programs with the Washington Redskins Charitable Foundation, for making this opportunity possible. This experiential learning trip allowed our students to be involved with a largescale community event with a professional team, and it exposed them to the impact sports has on the Qatar culture." 
As part of the program, Qatar donated $150,000 to the Redskins Charitable Foundation that will benefit a variety of Play 60 and youth health and wellness initiatives, with a specific focus on programs supporting children with physical and intellectual disabilities.