Hart School of Hospitality, Sport and Recreation Management
Ambassadors represent JMU and the Hart School
at the 2016 NY International HX Experience Show
---
Hospitality Management Dukes never stop impressing!
From a pool of more than 20 senior student applications, faculty selected 6 to be ambassadors for the Hospitality Management Program.  These students traveled to New York City where they stayed at the 2nd biggest hotel in the city: the Marriott Marquis.  In just two days, they toured three hotels guided by successful HM alums, had dinner, and networked.  They also had the opportunity to go to the HX Hotel Experience show where they attended conference sessions and a briefing of corporate execs, including a couple of JMU Alumni, concerning current hotel trends.
This once-in-a-lifetime learning experience rewarded students that had consistently shown dedication to the HM program, the industry, and their own studies. The trip had three main objectives:
to provide students with exposure to other young hospitality professionals,
to further motivate them and their learning within a constellation of products, services, and discussions,
and, as a selected group of ambassadors of the Hospitality Management program, to promote JMU and the Hart School.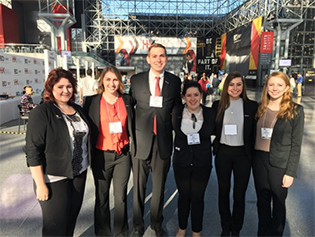 (Pictured, Left to Right: Katelyn Hicks, Casie Hill, Drew Dembek, Emma Curci, Hannah Stivelman, Emily Ogorzalek
This is what a few of the senior students shared about this travel learning experience:
"It was a great networking opportunity and I was able to experience a different side of the industry by attending the conference. I learned a lot about the industry by speaking with JMU alums who are currently working in the field. Speaking with people at the conference was also a great way to inform people about our program at school (…) because it was a small group of people I really got to know some of my fellow classmates very well."-- Ms. Emily Ogorzalek (from the above photo, first from right)
"I learned a lot about the upcoming trends in the industry, which certainly helps with my foresight as a future hospitality professional. Thanks to the show, I know a lot of the top brands that hotels trust and what they look into to update annually. I feel that the networking opportunities with alumni helped us promote the Hart School and helped us as students look into what we can realistically expect during post-graduation. I loved that the show was in New York City; it allowed a lot of us to see firsthand the potential work we can expect ourselves to do in the upcoming years."-- Ms. Katelyn Hicks (from the above photo, first one from left)
 "I've learned so much about the trends in hospitality and what direction the industry is headed. I wasn't aware that 40% more Americans are purchasing smaller houses because they want to use their money to travel, instead of buying big mansions. This I learned from one of the presentations at the Hotel Experience. I also met vendors who showed me where technology is headed in hotels and how it can benefit customer stays. (…) The tours of each hotel highlighted the differences in each brand, gave great opportunities to ask questions and gain a different perspective of each, while also seeing first-hand how hotels operate in the city. I have never been to a large city like NY before and gaining a cultural perspective of it will strengthen my ability to adapt to future career possibilities. I actually fell in love with the idea of starting my career in a large city while on this trip. (…) I would recommend this experience to anyone in the HM Major so they can connect with alums, employees at each hotel, vendors at the HX show, and their fellow students. The connections made will continue to grow the network surrounded by the Hart School."-- Ms. Casie Hill (from the above photo, second one from left)
Bringing the experience full circle was the fact that one alum Ambassador last year - Ms. Alesea Wimmer ('15) – offered to guide the group to her hotel, the NY Park Hyatt, a beautiful, stylish and luxurious new hotel in the city.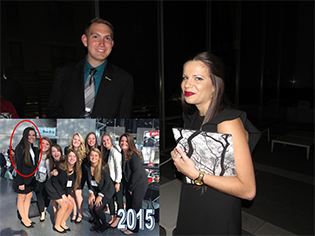 Photo of Ms. Alesea Wimmer ('15), NY Ambassador last year and host this year with one of the seniors, Drew Dembek ('17).  Ms. Wimmer is an HM "foodie" integrated into the opening team of the new NY Park Hyatt, in her last 6 weeks of her Management Corporate Trainee program.
Thank you to all the Hospitality Management alumni working in NY city who helped make this trip so special.  In particular, we'd like to thank Rachel Lewis '15 (Senior Event Manager at the Marriott Marquis), Alesea Wimmer '16 (F. & B. Corporate Management Trainee, Park Hyatt New York), Ally Nurik '15 (Conference Services Assistant at Skadden, Arps, Slate, Meagher & Flom) and Jenny Lucas '92 (Loews Hotels SVP, Operations & Learning).
This trip was a fantastic experience. Go Hospitality Dukes! You make us so proud!!!