Hart School of Hospitality, Sport and Recreation Management
A Day on Campus
OTRC Partnership with CyberCity and Hart School
---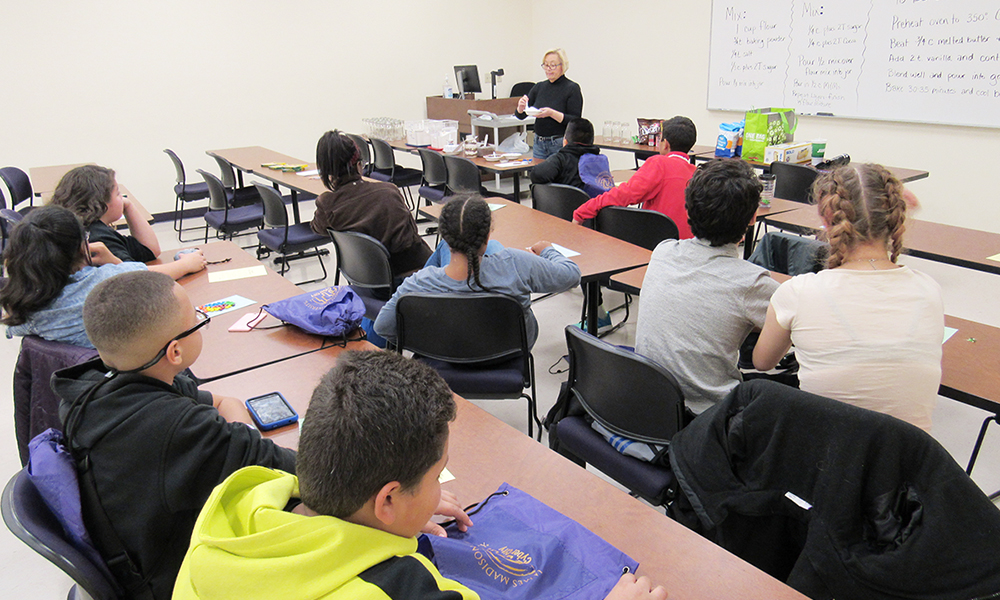 JMU Hart School of Hospitality, Sport and Recreation Management and the College of Business Cyber City worked together to host the On the Road Collaborative (OTRC) middle school youth on campus Saturday, November 12th.  The day on campus provided an interactive and meaningful learning experience for 7th and 8th grade students from Skyline Middle School. The CoB and Hart School project partnership on this project started from a 2015 JMU Innovative Diversity Efforts Award (IDEA) grant application through the College of Business Diversity Council.  While the group of applicants was not awarded the grant, the lack of substantial funding did not dispirit faculty as they moved forward with the same initiative on a smaller scale.
OTRC programs serve more than 150 middle school youth (grades 5-8) in Harrisonburg, most of whom attend Skyline Middle School. OTRC is open for all interested students to enroll and participate while maintaining a clear focus on providing services to middle school youth on the margins, including but not limited to, low-income, first-generation American students, & English Language Learners. Nearly 80% of OTRC participants qualify for free or reduced lunch.  This one-day learning workshop on November 12th targeted local middle school youth who are traditionally underrepresented in the higher education. The project exposed them to possibilities beyond high school and created meaningful connections and bridges between underrepresented local youth and the University.
This day of service exposed these students to a college campus, but also provided engaged learning opportunities in two potential courses of study and career fields: computer information systems and hospitality. Participants were invited to explore and consider education within the high-demand, high-wage, and high-skills STEM (Science, Technology, Engineering and Math), and within the fields of hospitality taught in the Hart School. In the morning the College of Business Cyber City team, lead by Prof. Dr. Daphyne Thomas, welcomed students to Showker Hall.  A group of six CoB students, led by Computer Information Systems faculty members Dr. Tom Dillon and Dr. Harry Reif, coordinated and taught students to program using a tool called Scratch, a free visual programming language originally developed by the MIT Media Lab.  Students created animations and learned how to continue working with Scratch on their school and home computers.
The group explored the campus and had lunch at JMU's D-Hub. From there the group met Hart School faculty, Ms. Tassie Pippert and Mr. Miguel Baltazar, who lead a Bingo game based on the careers in key areas of hospitality.  These careers included all levels of work in Food & Beverage, Lodging, Events, and Country Clubs & Resorts.  After an exciting and fun bingo, this session was completed with the school culinary instructor, Ms. Pippert, leading a session where Prof. Gilpatrick Hornsby designed a cost-based brownie recipe activity and each student was charged with precisely measuring the brownie ingredients into a jar which they took home to share with their families. All returned back to their bus with big smiles, candy from their Bingo game, a brownie mix in a jar, and a JMU t-shirt supplied by the Alumni Association.  For each student, it was a memorable and educational day.
The group took time last week to reflect on their experiences and below are some of their comments:
"The cooking class was really cool, we got to make brownies. My second favorite thing was playing bingo." - Miguel
"The games that we played were a lot of fun" - Luis
"The coding games were my favorite and we got to make our own coding game. Also, visiting JMU was really awesome." -Mikey
"My favorite part of the trip was bingo. Also, the teachers were really nice!" -Lubna
"I liked the second part where we made brownies and played bingo. The teachers were nice and energetic." – Sonya. ...And of course, they all said lunch was their favorite as well!