Hart School of Hospitality, Sport and Recreation Management
Chella Speaker
---
SUMMARY: Dr. Chelladurai's lecture examined models of excellence in sport from a global perspective
---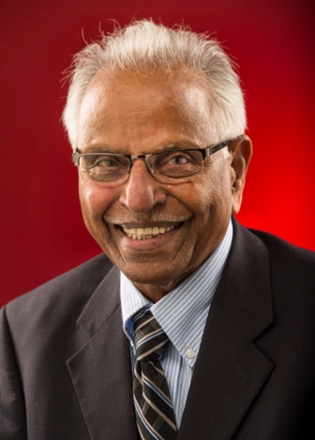 Dr. Packianathan Chelladurai (known as Chella) was at James Madison University on Tuesday, March 22 to speak about his model of excellence in sports that emphasized national psyche and its contribution to the athlete-coach relationship and ultimately excellence in sport performance and management. The Hart School of Hospitality, Sport and Recreation Management hosted Dr. Chelladurai as part of JMU's Visiting Scholars Program.
"We were so fortunate to have Dr. Chelladurai on our campus," said Dr. Miki Sato, assistant professor in sport and recreation management. "Unquestionably, he is one of the prominent scholars in sport management. As shown in his presentation, his curiosity never stops. He is continuously searching for new ideas and topics. He always tries to contribute to the generation of new knowledge in sport management and the sport industry."
Dr. Chelladurai discussed distinct models of national pursuit of excellent in sport based on the extent and type of involvement of respective governments. In addition, he discussed the Sports Policy factors Leading to International Sporting Success (SPLISS) model and suggested that 70% of variance in medal winnings at the Olympic Games are won by wealthier nations.
Dr. Chelladurai pointed out that small and poor nations should not blindly follow the practices of rich nations in their attempts at winning medals in international competitions. Instead, his lecture focused on why nations like Cuba, Lithuania, Tunisia, and North Korea were able to win gold medals in the 2012 London Olympic Games and adopt their best practices.
In response, Dr. Chelladurai introduced an alternative model to sport excellence that emphasized the significance of the "national psyche" and discussed the roles of government, media, and educational institutions in creating national fervor.
"Usually we talk about sports practically as it applies to our future careers, but it was interesting to hear about it in an academic context," said Meghan Burke, a junior majoring in Sport and Recreation Management. "His passion and knowledge of the topic really showed through the presentation and it was a privilege to have him on campus."
Dr. Chelladurai's lecture attracted faculty and students from other programs on campus as well.  "I feel that students and faculty alike should embrace the opportunity to hear from leaders in their respective fields when they get the chance," said Dr. Greg Young, assistant professor in the Kinesiology Department who also directs JMU's Coaching Education minor program. "In my role as a coaching educator, his presentation has allowed me to assess some of the information that I teach to students as to how the coach-athlete relationship needs to be insulated from potential environmental distractions in order to be fruitful."
One of the original founding fathers of sport management as an academic discipline, Dr. Chelladurai's scholarly work established a foundation where more than 300 institutions of higher education now have a sport management academic program.
Dr. Packianathan Chelladurai Biography
Dr. Packianathan Chelladurai specializes in organizational theory and organizational behavior in the context of sport. Dr. Chelladurai has taught at the University of Madras in India; University of Western Ontario in Canada; and the Ohio State University.
He currently serves as a Distinguished Professor of Sport Management at Troy University in the United States. Dr. Chelladurai's contributions have been recognized worldwide. Over the past three decades he has become sport management's "international spokesperson." He has been invited to speak and consult on a worldwide basis, presenting at national and international conferences held in Canada, Chile, Cyprus, England, Finland, France, Greece, Hungary, India, Italy, Japan, Kuwait, Malaysia, Morocco, the Netherlands, Norway, Poland, Portugal, Republic of South Africa, Scotland, South Korea, Spain, Sweden, Taiwan, Turkey, and the United States.
Dr. Chelladurai has also been associated with the Olympic Movement for a long time. He is among the few international scholars offering Olympic Solidarity's Executive Masters in Sport Organizations Management (MEMOS). He has the leadership role in the human resource management module for the MEMOS program. He is also a member of the Sport Commission and Scientific Board of the Olympic Council of Asia, which organized its First Sport Congress in Kuwait City in March 2009.
The European Association for Sport Management recently named its most prestigious award after Dr. Chelladurai. Dr. Chelladurai was the first recipient of the Earle F. Ziegler Award from the North American Society for Sport Management and the first recipient of the Merit Award for Distinguished Service to Sport Management Education from the European Association for Sport Management. He is also the first recipient of the Sport Management Scholar Lifetime Achievement Award from the Applied Sport Management Association.
Dr. Chelladurai has been called an eminent scholar who has published more than 100 articles, written seven books and 36 book chapters, given 33 keynote addresses, produced 56 invited papers, and delivered more than 75 conference presentations.