Hart School of Hospitality, Sport and Recreation Management
A Hart School Wedding
---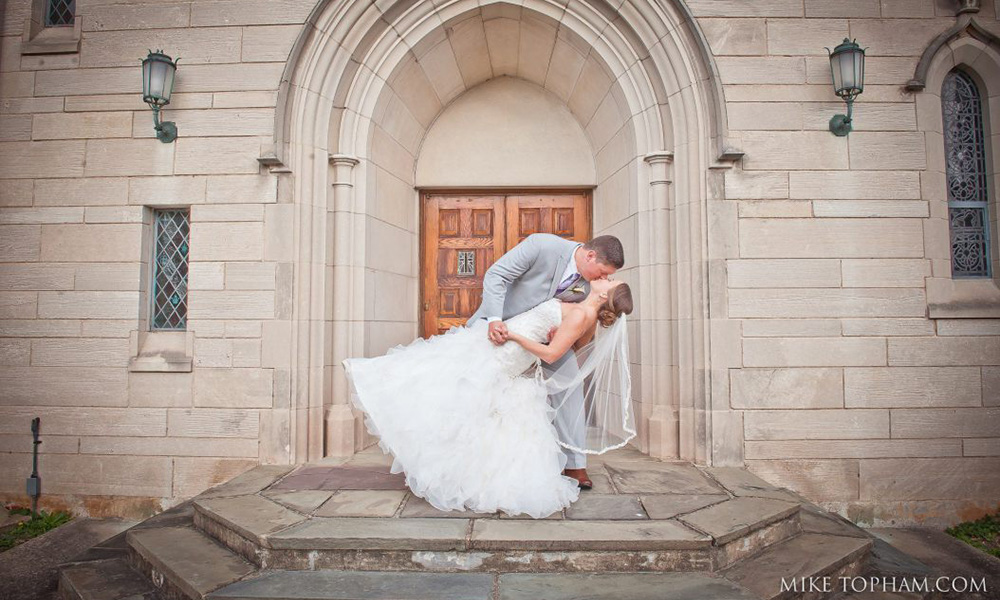 SUMMARY: Hart School grads have special purple and gold themed wedding with Duke Dog among the special guests.
---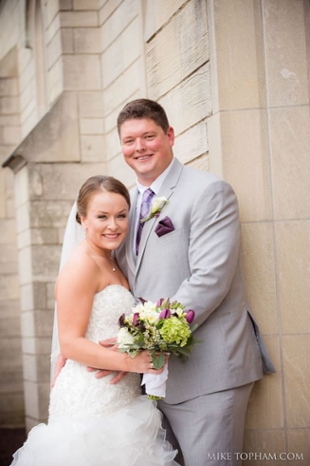 Photos by Mike Topham.
Morgan and Josh Wells met in high school way back in 2008 – he was 17 and a senior, she was 15 and a sophomore. Josh started JMU in the Fall of 2009 and Morgan followed in 2011. He majored in Sport and Recreation Management, she in Hospitality Management.
The couple bonded over football – "Some of my favorite memories of JMU were going to football games. Luckily for Josh, I love football and loved watching him play every Saturday," Morgan said. It was a match made in heaven. Six and a half years later, Josh popped the question.
"It was Morgan's Spring break and I took her down to St. Augustine, Florida for the day," Josh said of the day he proposed. "We went on a food and wine tour and then ended the day with a carriage ride out to the waterfront where I proposed. I had both of our parents there to surprise her and celebrate with us afterwards."
Does it get much more romantic than that?
Morgan suspected something was up, "I knew a proposal was coming because I was about to graduate college and Josh wanted me to move in with him in Jacksonville, Florida right after graduation. However, I didn't want to move away from home until we were engaged so I figured he would propose some time around graduation. He proposed two months before I graduated."
Fast forward to the special day: March 12, 2016. With St. Pauls Catholic Church prepped for the wedding and John Marshall Ballrooms in Richmond, Virginia ready for their ceremony, the couple sauntered down the aisle to say their "I dos."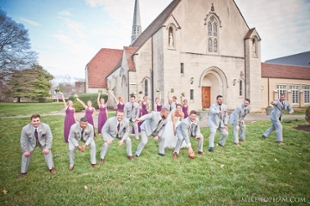 Fittingly, their wedding colors were plum and gold, proving they're the ultimate JMU fans. "Josh likes to joke and say that JMU was the theme of our wedding," Morgan said. Their menu was perfect, too, complete with "a mashed potato bar, BBQ and cheeseburger sliders, fried oysters, and crab
 cakes. And, for dessert, we had hot and fresh Krispy Kreme donuts along with wedding cake." It's every college couple's dream!
But we saved the best for last! The Wells wedding had a special, VIP guest make his royal appearance: our beloved Duke Dog mascot!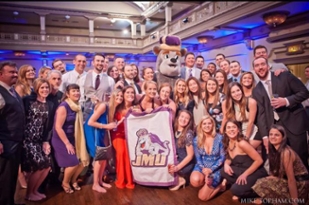 "JMU was such a huge part of our lives. We both graduated from JMU, Josh played football at JMU, and all of our closest friends are from JMU. We also had about 75 JMU alumni at our wedding. Morgan's mom wanted to surprise us by having the Duke Dog make a special appearance at our wedding. She made a few phone calls to JMU and got the Duke Dog to come!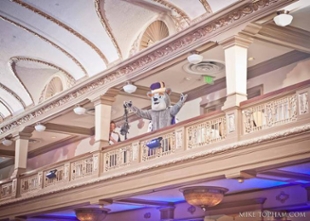 "After the garter toss, the band announced that a special guest that was near and dear to our hearts had arrived. Next thing we knew, the JMU fight song was playing and the Duke Dog came out onto the balcony of the ballroom. All the JMU alumni started chanting the fight song over and over and the Duke Dog came down into the ballroom and spent the rest of the night dancing with everyone!"
For the future, the couple plans to follow Josh's football career as he "is about to start his third year playing in the NFL for the Jacksonville Jaguars."
They hope to "some day start a family of [their] own… full of future Dukes."
We wish you guys all the best!