Hart School of Hospitality, Sport and Recreation Management
Tremont Baseball Camp
---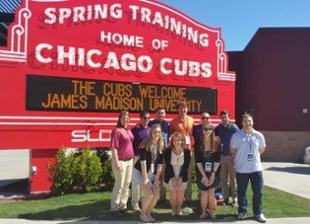 A group of sport and recreation majors from the Hart School has a much better understanding of possible jobs in professional baseball after spending time with baseball executives during spring break.  Dr. David Shonk, associate professor of sport and recreation management, organized the trip for 10 SRM students who went to Arizona, where a number of teams hold spring training to prepare for the upcoming Major League season.
"I was hoping the trip would allow those students interested in working within baseball the opportunity to learn about both the business and field operations side of baseball, which it did," Shonk said. "More importantly, the old saying that 'it is not what you know, but who you know and who knows you' comes into play. I wanted students to have the opportunity to network and meet people within the industry, which is not only a learning experience, but also could lead to a future job."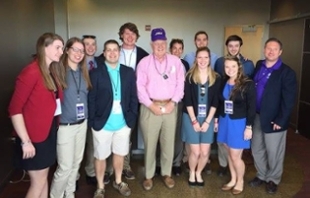 The week was packed with volunteering, talking to various professionals in the field and attending spring training games. Students met with the president and CEO of the Arizona Diamondbacks, Derrick Hall; the owner of the Cincinnati Reds, Bob Castellini; sales and marketing representatives; former general managers of major league teams; stadium managers of the spring training facilities; and even scouts from the Kansas City Royals.
"We also stopped by Paradise Valley Country Club where we met with the head of the food and beverage department and also the manager of the golf department," said Jenna Edwards, a freshman hospitality management student. "Our week was really packed but I had a great experience being exposed to all of the different job opportunities within baseball and the hospitality industry."
Shonk has previously taken students on study abroad to Brazil and has traveled with students to work in volunteer positions leading up to Super Bowl XLVII in New Orleans.  "This particular trip was special for me because I used to work in professional baseball and I had never been to spring training," Shonk said. "More importantly, we had some unique opportunities that came about."  One of these unique opportunities was meeting Bob Castellini.  "He asked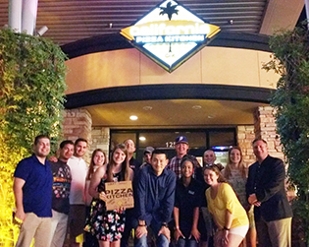 each and every one of the SRM students about their career aspirations and provided helpful advice," Shonk said. "Sitting next to Bob Castellini in the suite was the great Lou Piniella."
Although seeing Castellini and Piniella was by chance, the opportunity to meet with Derrick Hall was a direct result of the Hart School's relationship with G.J. Hart, executive chairman, chief executive officer and president of California Pizza Kitchen.  "My favorite part of the trip was being able to talk with Derrick Hall and other members of the Arizona Diamondbacks faculty at their stadium," Edwards said. "It was awesome hearing about how he runs the team as the president and CEO and how he treats his employees and it makes me want to work for an organization like that one day."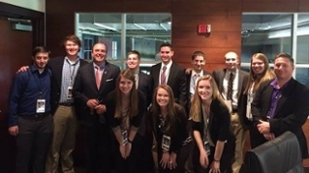 The students also met with JMU alumnus Steve Plante with the Arizona Diamondbacks and Chris Darnell with the Arizona Suns.   "It was cool being able to talk to them about JMU and seeing how they got to the place that they are after graduation and all of the opportunities that we should be taking advantage of," Edwards said.  She mentioned that the trip was invaluable in that the students were able to network with many powerful people in the industry and ask them questions.
"Dr. Shonk and the members from Treemont Global (company organizing the trip) were awesome in organizing the whole trip and making sure we got as much out of our experience in Arizona as we could," Edwards said. "I had an amazing time and am so thankful we had something like this to help me out in finding out what I want to do in the future."
Shonk wanted to thank G.J. and Heather Hart for their generous donation and to Dr. Michael O'Fallon, Director of the Hart School.   "This trip would not have been possible without the generous donation by the Hart's," he said. "These types of naming gifts make a big difference in the lives of our students."  Shonk is in the process of planning a trip to the Dominican Republic for summer 2017, which will focus on visiting and learning about the baseball academies. The students will do various service projects to help the community while they're there.
The Hart School of Hospitality, Sport & Recreation Management aims to develop a community of learners through quality education that integrates theory, practice and personal growth in the hospitality, sport and recreation industries. The Business of Baseball trip undoubtedly accomplished that mission.