Unlocking student success
News
---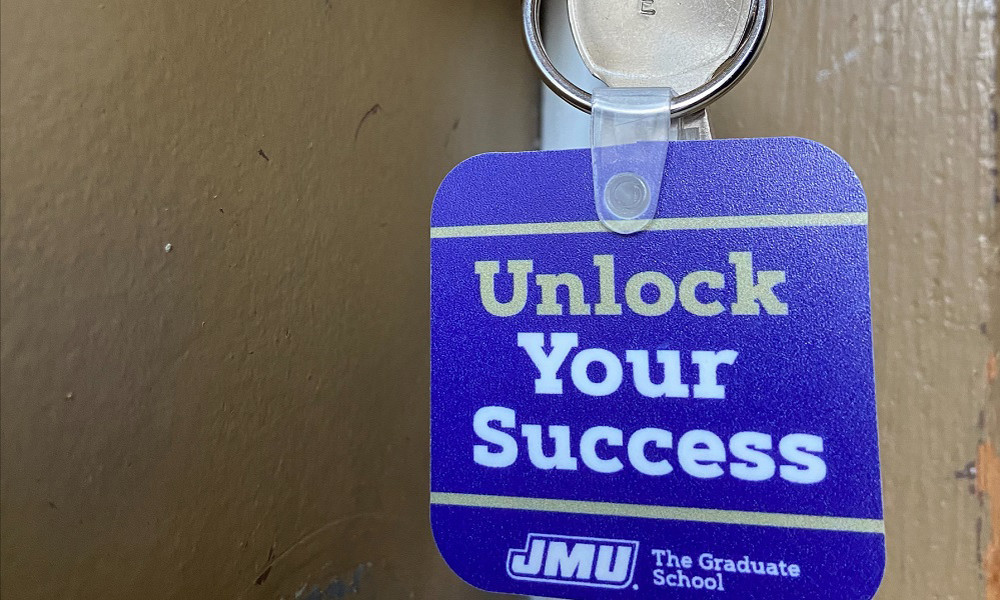 SUMMARY: JMU's Graduate School enhances new student support with "Unlock Your Success" QR code keychains linked to a resourceful website, improving the experience of new students.
---
JMU's graduate alumni and supporters significantly contributed to the success of our graduate students through their contributions to a new resource for our incoming graduate class as part of Giving Tuesday, 2023. JMU is rapidly becoming a destination university for students from around the United States and the world. When students arrive, they are unfamiliar with housing options, bus routes and other local transportation options, grocery and other household shopping options, community events, traditions, academic and university systems, and social-support resources that are available.
Graduate School staff needed to find a way to literally put information and advice into the hands of our new students so they can effectively navigate our university systems, settle in their new homes, find academic success, build community, and continue the professional development journey that brought them to our university.
The traditional solution to this problem may have been a printed guide, but print documents quickly go out of date and they are easily lost. Instead, graduate school staff developed an easily updatable website and handed new students keychains with a QR code token that brings students directly to that page. These "Unlock Your Success" keychains were small, and unlikely to be lost when used to manage the student's keys. When used in conjunction with the student's smartphone, would be available whenever help was needed.
These keychains are intended to be timeless and useful for years as the website's content will continually update to remain relevant. TGS distributed them during graduate student orientation, making it an integral part of every new student's journey. Students also received emails inviting them to pick up these keychains from the TGS offices or the grad lounge.
The project received overwhelmingly positive feedback, with students noting that the "Unlock Your Success" keychain has been helpful in ensuring that they have easy access to essential resources, quickly finding important information, from academic guides to campus services, all in one place, making their new-student journey much more manageable.
JMU appreciates our generous donors for their support. As we plan for the future, we will do all we can to inform and support our graduate students, helping them navigate the challenges of university life.