JMU: Where students from Kosovo earn their master's degrees
News
---
SUMMARY: Marigona Gashi and Jet Godanci celebrate Kosovo's 15th Independence Day while earning their degrees at JMU.
---

Each year, since 2018, JMU has become an increasingly more popular university among students from Kosovo who want to earn a master's degree. To date, every student who has started their program of study has graduated within the anticipated timeframe and has gone on to do great things.

Students from Kosovo have had a tremendous impact on our campus. Like students from many other countries, they effectively use their time by taking advantage of the resources available to JMU students and they explore American culture. As international students, they honorably represent their cultures with fellow students, faculty and staff. They support each other, work and live together, as they earn graduate degrees in their field of interest.

This story features two graduate students from Kosovo, Marigona Gashi and Jeta Godanci. These students share their stories of how they discovered and enrolled at JMU, their experience as students, and they describe how JMU commemorated Kosovo's 15th Independence Day with a celebration on the JMU campus.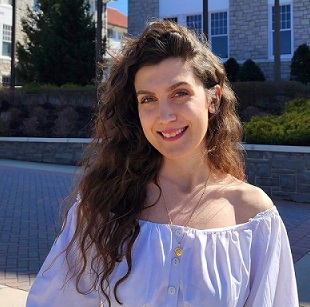 Marigona Gashi's story started when she attended an online info session and learned about the great opportunity for Kosovo students. Marigona applied for admission to JMU's M.A. in Communication and Advocacy program with a concentration in Environmental Communication, and she also applied for the The Madison Vision Graduate Assistantship for the Advancement of Kosovo Scholarship. She says that "I submitted my applications, and the rest is history! I was thrilled to hear that I had been chosen as the recipient of the scholarship."

This scholarship is not the only way for Kosovo students to fund their masters at JMU.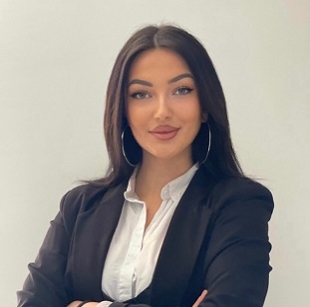 Jeta Godanci first learned about JMU through the University of Prishtina, where she earned her undergraduate and first graduate degrees in Law and International Law. She decided to apply to the Master of Public Administration program at JMU, which she found to be the perfect fit for her career aspirations.

She was a great candidate for the MPA program and she unexpectedly received a graduate assistantship offer from Dr. Jennifer Taylor, JMU's MPA Program Director. Dr. Taylor recognized her potential and offered her a GA position in the Department of Political Sciences. This assistantship allowed her to the come to JMU!

Jeta and Marigona both say that they feel honored to be a part of JMU community. Jeta said that "This experience has been nothing short of extraordinary." She also shared how she and her peers are dedicated to pushing themselves to achieve greatness, and she is inspired by their drive and enthusiasm. Currently, she is proud to serve as the social media manager for the MPA program and is actively involved in research related to public administration.

Jeta hails from a country that is still in the process of recovering from conflict, so her MPA concentration in International Recovery & Stabilization is a deeply personal area of study for her. She feels motivated to use the knowledge she is gaining to make a meaningful impact in her home country. She says that the support and encouragement Jeta has received from the JMU community has been invaluable in shaping her academic and professional journey.

Marigona has found JMU to be more than just a university. For her, it is a friendly and supportive community that values diversity and inclusivity. One of the most valuable aspects of her experience has been the guidance and support of the professors that have allowed her to gain a deeper understanding of environmental communication. She also said that her experience at JMU has enabled her to mature in many personal ways, to grow her network, and expand her career opportunities. She said that "I am thrilled and amazed by enormous opportunities that JMU offers to apply in different grants and professional development opportunities designed for international students." Recently, she was selected as one of the top ten finalists for the Madison Trust Grant with her project "Think outside the trash." This project has the potential to make a positive impact and change in society in Kosovo.

Kosovo recently celebrated the 15th anniversary of independence, and both Marigona and Jetta experienced this milestone while away from home.Both Marigona and Jeta shared how it felt like home when so many people attended to show how they cared and wanted to support JMU's student's from Kosovo. Marigona also shared that she "felt a deep sense of pride as I watched the flag of Kosovo being raised and as I listening the national anthem being played. Overall, it was an unforgettable experience that I will always cherish. It was a reminder of the strength and resilience of my country and its people, and it filled me with hope for the future."

Jeta, who moderated and presented at the event, also shared that "it was a privilege to share the story of Kosovo's journey with everyone in attendance." She explained how this event was an example of JMU's support to Kosovo students.

The event was a great success. Jeta said that it "highlighted the strength of the JMU community and the bonds that bring us all together."