JMU doctoral student develops tool to protect the elderly from falls
News
---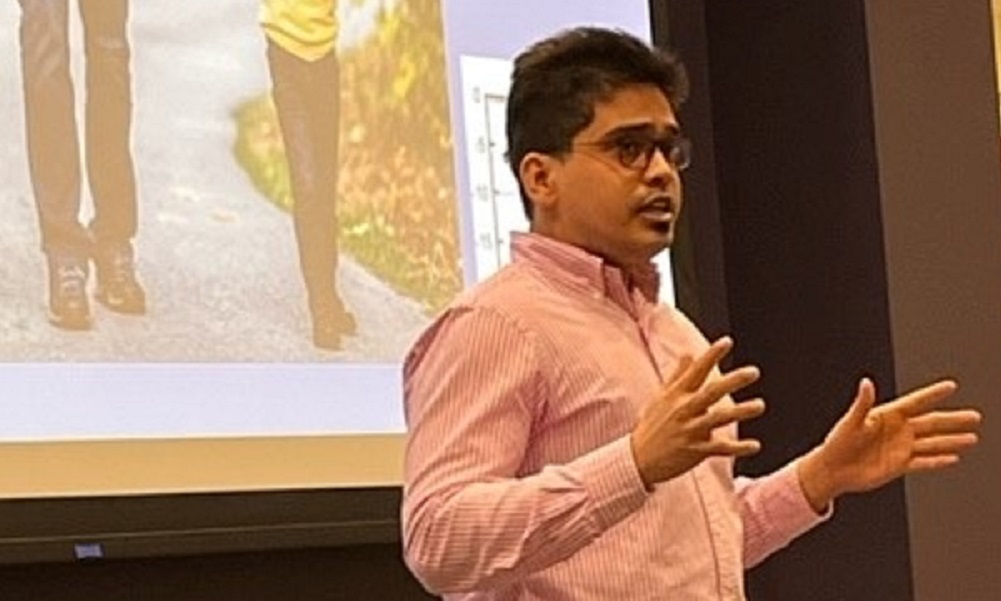 SUMMARY: Raghav Jha, a doctoral student in Communication Sciences Disorders program developed a tool to change the lives of the elderly. He presented his research at the Three-Minute Thesis Competition in January and won the competition.
---
Raghav Jha, a doctoral student in the Communication Sciences and Disorders program at James Madison University, has developed a novel tool that could have a significant impact on the field of diagnostics, particularly in identifying balance-related problems in the elderly. His research explores the connection between the ear and the muscles required to maintain balance, tapping into the ear muscles that can connect to the muscles of the body to identify certain movements that may be dangerous for older people.
Balance issues are often unspecified in diagnostics, and balance mechanics are not well understood. However, Raghav 's tool is the first of its kind to tap into the ear and muscle of the body in this parameter, which has opened various areas of exploration in this topic. Deeper information may be available after going down this research path.
JMU faculty, staff, and students learned about Raghav's outstanding project when he presented his research at the campus-wide Three Minute Thesis (3MT) competition on January 20, 2023. The 3MT competition requires students to present their research in a compelling and concise narrative aimed at engaging a general audience. They must explain their work in 3 minutes using only one slide and cannot use notes.
Raghav was initially drawn to the 3MT competition because he presented his work at national scientific conferences and thought it would be a fun challenge to present the same thing in a shorter span of 3 minutes. However, he quickly realized that this was no easy feat. The most challenging aspect of preparing for the competition was timing. How do you fit in everything you want to say in just 3 minutes?
Raghav prepared for the competition by watching YouTube videos shared by the graduate school and comparing previous winners to base his talk. He thought about punchlines and what would grab the audience's attention. He also recognized that it was important to use the right choice of words to ensure that his presentation was understandable and engaging to a general audience, without oversimplifying his research or findings.
Raghav's presentation, "Effects of Age on Amplitude-Modulated cVEMP Temporal Modulation Transfer Function," was unique in its catchy lines and simplification of complex concepts. For example, he said, "I am an audiologist, but I don't study hearing. I study balance." He also used a broad approach that became more complex in the middle of the speech and became broader towards the end. This helped him capture the audience's attention and kept them focused throughout the presentation.
Participating in the 3MT competition challenged Raghav to think about his research in a new and different way. He recognized that when seeking funds for his policy research, he cannot expect his audience to listen for 20 minutes. They need an engaging quick pitch, and the 3MT competition helped him to think in this direction.
Looking ahead, Raghav plans to take his research into clinics. He has been working on this project for four years and now understands how it works in an aging population. He aims to apply for research grants to continue his work, and his experience in the 3MT competition has helped him gain confidence in presenting his research to a broad audience.
Overall, participating in the 3MT competition has benefited Raghav in his future academic and professional pursuits. He has gained more confidence in presenting his research, and the competition challenged him to think about his work in new and different ways. He also recognized the importance of finding memorable ways to present his research, even in academic and policy settings. Raghav 's experience in the 3MT competition is a testament to the power of effective science communication and the impact it can have on research and policy.