Us in the US
News
---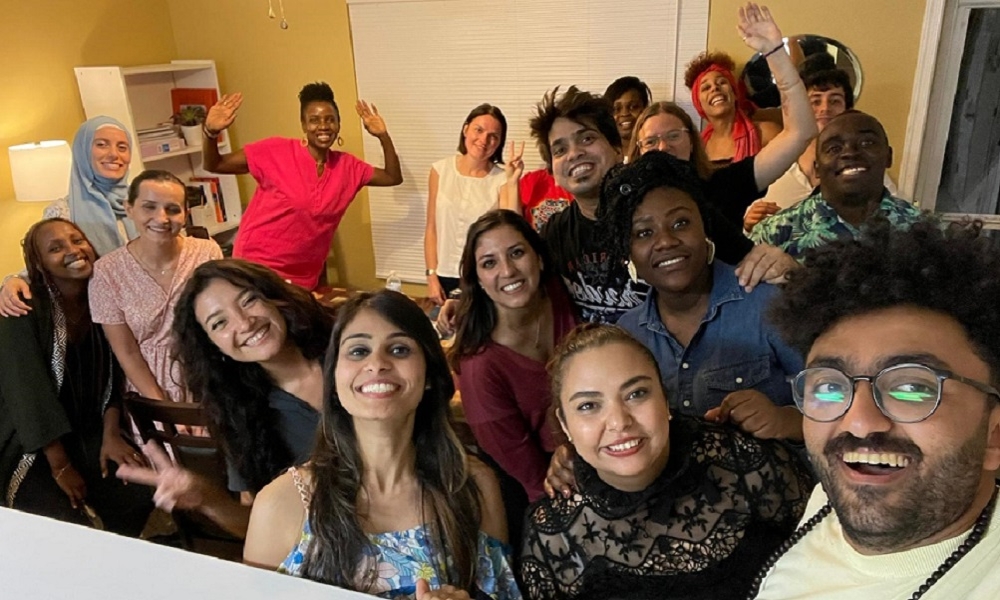 SUMMARY: Dr. Cara Meixner, a professor in the Department of Graduate Psychology was the mentor for the "Us in the US" research project funded by The Graduate School (TGS) at JMU. The project aims to explore the challenges and successes that international graduate students face when they study in the United States. The project seeks to explore their lived experiences using constructivist qualitative methods. We wanted to know what resources do these students have, and what resources do they need? I interviewed Dr. Meixner to better understand the project and what they are learning.
---
How did the project come to life?

I've been at JMU since 2008, and over the years I've had more and more international students who have taken my courses. I've strived to get to know this population well so that I can be responsive to their learning. In the spring of 2021, Raghav (one of my students), decided to interview another international graduate student for a class assignment.

The student he interviewed was from a different academic program, and a different area of the world, yet the student mentioned many challenges faced as an international student. Ironically, Raghav resonated with the same challenges.

Raghav and I talked a lot about that interview, and he ultimately proposed the idea to expand these interviews and host focus groups to explore the experiences of international graduate students. I agreed to be the research mentor. We formed a team with three other international graduate students, and before I knew it, five of us were frequently meeting to plan a full study.

I reached out to the Dean of TGS, Dr. Linda Thomas. She saw the value of this project and was happy to provide some needed financial support to conduct focus groups and transcribe conversations. What she generously provided was needed to help this project succeed!
How did you plan the focus groups?

Once we received IRB approval for the study, I facilitated our first focus group so that the graduate student collaborators could learn the method by watching and by engaging. The students facilitated the rest of the sessions.
It was valuable that these focus groups were facilitated by international graduate students. We wanted to conduct these focus groups in a safe space so that everyone would feel like they could speak candidly.

After the sessions were transcribed, we read all the results and collaboratively analyzed the data using an inductive approach. Participants shared their experiences openly and candidly; they also shared what JMU may need to think about to be more accessible and equitable for international graduate students.

What were some of your key findings?

Major challenges include finding and sustaining housing and locating reliable transportation—particularly during breaks. Access to helpful resources was also a challenge, with mentions of equitable stipends and paid summer opportunities. Faculty can be facilitators or detriments to students' learning; while many are culturally humble and use inclusive teaching methods, others may be less inviting to international graduate students. Those students who felt most successful at JMU were mentored and supported within their department—and had also made connections to other graduate students at JMU.

How will your results impact the university?

I have been really heartened to know that these issues are on the radar of senior administration. The students and I were invited by Provost Coltman to present the results and possible actions. Prominent change makers on campus, who were at this meeting included the President's Chief of Staff, Dr. Mike Davis; the Chief Diversity Officer for Academic Affairs, Dr. Narketta Sparkman-Key, and the University Diversity Officer, Dr. Malika Carter, among key representatives from the Center for Global Engagement (CGE). I was so honored to be at a table with these individuals who are dedicated to creating an action plan. This is what we hoped would happen. It was important to the students that the university took seriously opportunities for both local action and local change.

We also think that there's a story to tell outside of JMU. The team intends to publish our findings so that we can inform other institutions with smaller graduate student populations and smaller numbers of international students. These institutions need to build their infrastructures to support their graduate students—especially their international graduate students, who have needs that are different from the predominant population. I think that that what we have learned is applicable to other schools.

What was the impact of the funding your project received?

That's a really great question. We wouldn't have been able to achieve our aims had it not been for the generosity of The Graduate School.

Though I've always been an ally to this population, this project has boosted my quest to be an advocate. Subtly and directly, I have changed the way I have supported students based on what we've learned.

From this research, I also learned the importance of food as a facilitator of shared experiences. In the past, I often brought food to class to share with students. Food is just very important in my own cultural tradition. Our research team served food during our focus groups. We didn't want focus group participants to feel like we were simply studying them. To encourage authentic conversations among participants we conducted our research by inviting individuals to conversations during a meal. This approach worked very well.

Had we not received funding, I think that the focus groups may have lacked the depth and authenticity that our informal space afforded. Also, the funding allowed us to hire a professional transcriptionist who to listened to our interviews and typed them so they could be analyzed in depth. Funding for food and the transcription services was invaluable.

Personally, I hope that individuals know that fiscal gifts to TGS support teaching, research, service, and other worthwhile endeavors. Gifts support diversity and equity within our community, which are invaluable assets.

Finally, I want to applaud the work of the research team and thank all of the students who participated in the focus groups. I think that that is the most important part of this entire study was the engagement of this community. We had no trouble recruiting participants for this study. Many individuals volunteered to participate; they wanted to share their voice. We now have an ethical responsibility to follow up with their recommendations and to keep them on the radar of our administration.
Mohamed Serry is a graduate student in the Adult Education/Human Resource Development program and a graduate assistant in the The Graduate School.