News
Going to the game with the President
---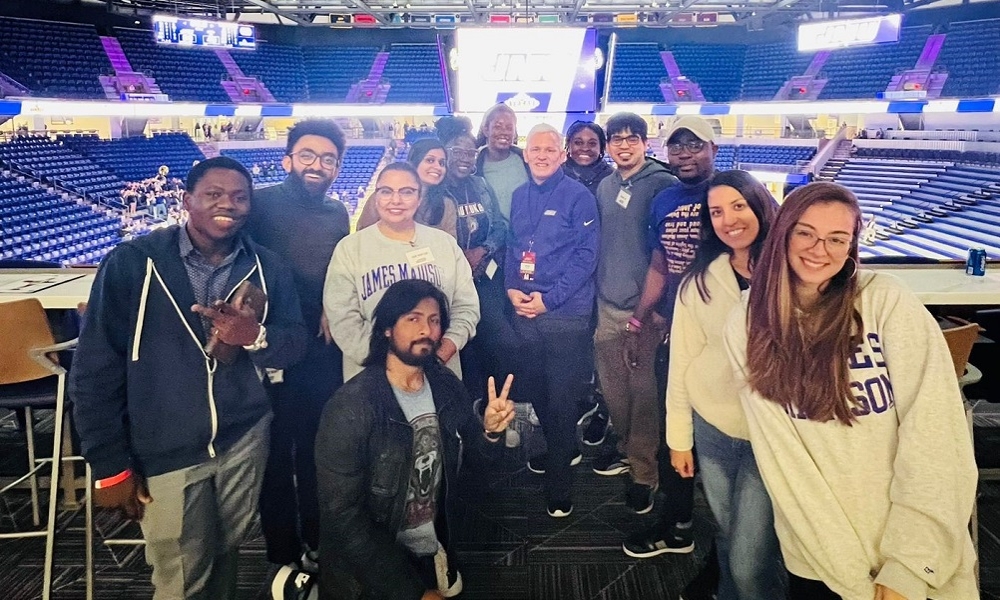 SUMMARY: International graduate student Mohamed Serry shares his experience of attending a women's basketball game with President Jonathan Alger and other international graduate students.
---
During the hectic and challenging times during the semester, I found that a great way to take a break is to attend a JMU basketball game. And attending with the university president is even better. 

Recently, the Office of the President invited a group of international graduate students to watch a women's basketball game as the president's guests in the presidential lounge. The moment I was invited I said "yes!" We attended the game against Queens University of Charlotte Royals. 

A group of other international students and I went to the game together. At first, I thought that this might be a formal event. But the moment we arrived to the lounge, the president and his staff made us feel at ease. After a warm welcome and introductions, we were told about the lounge services which including food and drinks available during the game. It was so nice!

Throughout the game, people from different programs, countries and backgrounds engaged in small chats in every corner of the lounge while we enjoyed the game. It was amazing to see how well students blended with the president and staff members. The event turned out to be a great opportunity for international students to catch up with each other and to learn about people who lead the university.

We had a great view of the game. And making this even better — JMU's Women's Basketball team won 89 to 48!