JMU Graduate Alumnus Joins the Fight Against COVID-19
News
---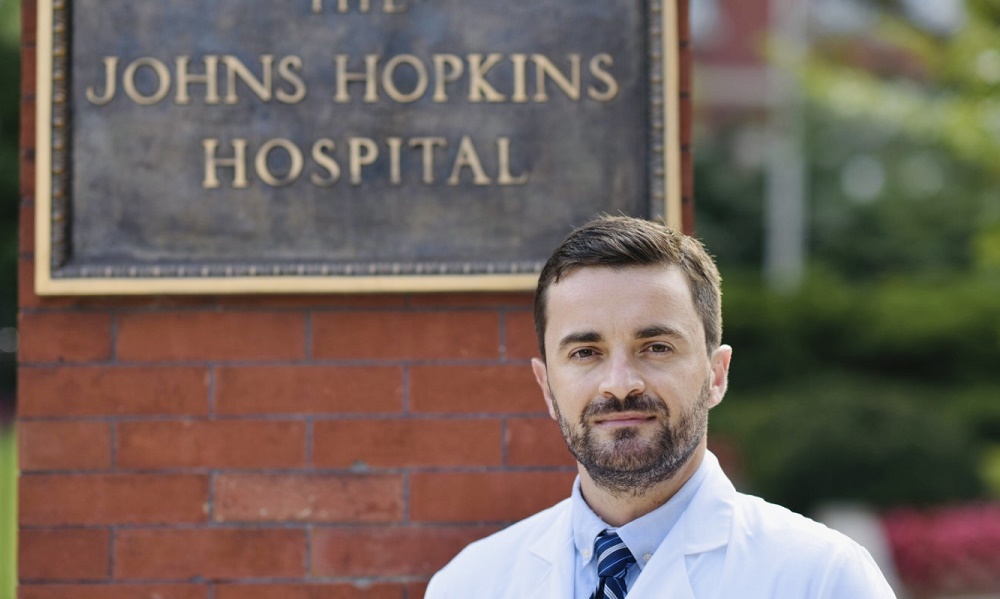 By Mohamed Serry, Adult Education and Human Resources Development, M.A student and 
Graduate Assistant at The Graduate School
Arber Shehu, completed a medical degree in Kosovo followed by a health-research-focused master's degree in nutrition and physical activity at JMU.  With this background, immediately after graduation, he secured a position at The Johns Hopkins Medical School, managing a new lab that was established to conduct research that provides best-practices information to physicians treating COVID-19.
He did not have a background in COVID-19 research prior to securing this position.  Until recently, no one had that background.  However, his medical background, combined with his experience conducting clinical research with human participants was exactly what the Johns Hopkins team needed to participate in multi-institutional research projects that are providing critical information that is needed around the world.
In less than one year, Arber has been a co-author on several publications in top medical journals and several additional publications are in the pipeline. He has become a celebrity on news programming in Kosovo, participating in well over 30 televised interviews on prevention and treatment of COVID-19.
When Arber was 9 years old, his family lived in a small village in Kosovo. Suddenly he had to leave that town with his mother and two sisters because his father and uncles, 40 people from his family, were suddenly killed during the Kosovo war. They escaped to Albania, and then North Macedonia, and from there they became refugees in the United States.  They stayed in the U.S. for 3 months and then returned to Kosovo after their country was liberated and the situation became more stable.
This was the first challenge that Arber spoke to us about, he then described how did he rebuilt his life:
"I went back to school in my village, with the dream to go to medical school." During school he completed the required prerequisite classes, did well, and "thankfully I managed to get into medical school in Pristina the capital of Kosovo."
During his final year in medical school he traveled to the US for a work-study program. Arber said that this was "another great opportunity to experience how to be totally on your own and work to support yourself."  He then went back to Kosovo to finish medical school.
After medical school graduation, Arber returned to the US for an internship in Texas at Midland Memorial Hospital where he was a trainee and observer.  He then returned again to Kosovo to work as a physician.
Arber said that he first heard all about JMU from friends and colleagues in Kosovo.
While in Kosovo, Arber met with representatives of JMU who were visiting there to explore ways our university might collaborate with faculty in Kosovo, the world's newest democracy, to improve their systems of higher education. For example, he learned about JMU's inclusive vision, and the idea of making educational opportunities available to students from different backgrounds and nationalities.
On another occasion, also in Kosovo, Arber met University President Jonathan R. Alger. Dr. Alger and his team encouraged him to be part of JMU.
He explored available programs and the one that excited him the most was the master's program with a concentration in nutrition and physical activity, because he saw a huge gap in nutrition awareness among medical practitioners.
He applied and was accepted, but was challenged to find a way to fund his studies. He found a graduate assistantship in the English Language Learners Services office that covered the cost of his tuition and provided a stipend. He was now ready to continue his life journey at JMU!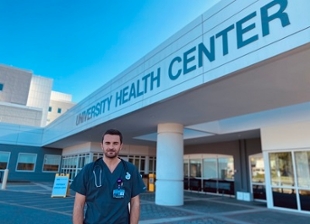 Regarding his JMU experience, Arber said that he learned a lot about his area of study, and he also developed core competencies that are essential for his current position. He learned how scientists effectively communicate. He learned how to present and discuss scientific research with other scientists. He also learned how to communicate scientific findings to the public. Both skills are essential.
He is infinitely thankful for the assistance provided by his Academic and Research Advisors, and all the help they provided as he completed his master's thesis (The Impact of 12-weeks of Nordic Pole Walking on Arterial Stiffness in Sedentary Overweight and Obese Adults). 
 Arber says that during his time at JMU he had the pleasure of connecting on a personal level with a lot of great people who helped and supported me unconditionally, from the President, the Vice President, the Graduate School Associate Dean and many others that shaped my great experience. I also enjoyed the facilities, especially the University Recreation Center with the tons of options and sports activities to do there."
Graduation was just the start of a new adventure for Arber. Upon graduation he looked for jobs as well as Ph.D. opportunities. At that moment, he also felt a desire to apply what he had learned to help fight the pandemic.
He received several Ph.D. program acceptance letters but he also received an offer to help conduct medical research at The Johns Hopkins Medical Center. 
Arber then started this new chapter of his life at Johns Hopkins Medicine "I was lucky to start working with David Northrop Hager, the ICU Director, and other great doctors. We are coordinating research projects, one of them is called IVY Network with a group of the biggest medical institutions in the nation." 
Arber is now a Co-Investigator and Medical Researcher in this group, the largest team in US that focuses on vaccine effectiveness. One of the projects is helping the U.S. Department of Health and Human Services make decisions regarding third vaccine doses.  Another helped specify age groups and medical conditions most needing a third vaccine dose.
"I am very blessed to be working on something with this great impact and value in such critical times. I am honored to be representing JMU in all of this, because my JMU experience played a huge role in getting me in this position now. Without these academic, medical and research skills that I gained in JMU, none of this could've been possible."
Arber is even more passionate about the future "I wish to keep working with this great group and to keep supporting the nation and humanity during such challenging period of time."  In the future Arber hopes to develop the skills necessary to accept a position in healthcare leadership. He says that "It is not only about our level of medical and scientific knowledge, it is also about how to manage and lead."  
Arber hopes to "always live for a purpose, to have a positive impact to keep in the world, and to make the most out of my time." He said that "during this journey I have two options, I either succeed in whatever I am doing, or if I didn't, then I reflect and learn from the experience. When you live with this either win or learn perspective, life is all positive from that point on."