MFA Student Shares Her Photography during International Residency
News
---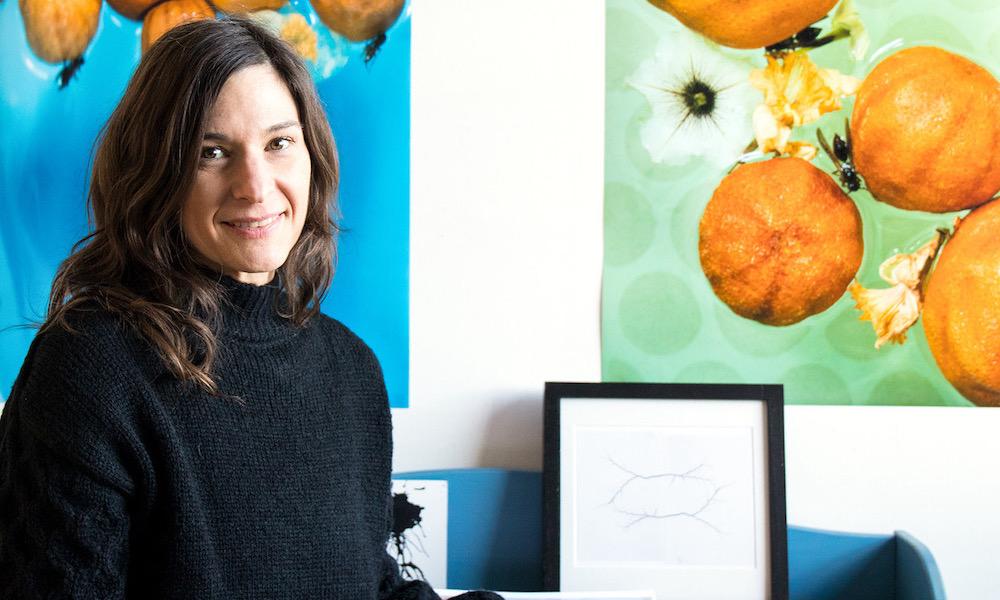 SUMMARY: Aniko Safran, a graduate student in the Studio Art program, recently received an Advancing Intelligent Minds (AIM) Grant that allowed her to participate in "The World of Co" residency program based in Sofia, Bulgaria. Aniko's online participation allowed her to collaborate with diverse artists and create work that culminated in an online exhibit.
---
By Laureta Ramaj, Graduate Student, M.A. in Communication & Advocacy
Aniko Safran was passionate about photography since she was a child. She received her first camera when she was 5 and her favorite thing to do was take pictures of things and go to the Museum of Modern Art (MoMA), in New York City. You might assume that this young artist would pursue a degree in the Arts, but when she started college, Aniko was an Engineering major. One summer during college she worked on a film set with Chuck Norris. This experience strengthened her love for photography. After that, she then worked in the film industry for more than a decade. However, it wasn't until she fell and broke her sacrum that she decided to step away from work for a while and pursue her passion academically. She graduated with a BA in Film and New Media Arts and a BFA in Studio Art with an emphasis in Photography and a minor in Arts & Technology from the University of Utah. From there, she found her way to James Madison University where she is pursuing a master's degree in Studio Art. 
Born in the U.S. to Hungarian immigrants, Aniko was raised speaking Hungarian. She even studied at a Hungarian high school and everything she had learned was from a Hungarian perspective. She wanted to be exposed to different points of view and connect with curators from different backgrounds. That is precisely what the "World of Co" residency program offered. "World of Co" is a month-long artist residency program based in Sofia, Bulgaria. Aniko had her eyes on this program for a while. Being a non-traditional graduate student and a mother, she realized that she qualified for the AIM grant and decided to submit a proposal. "I've been paying attention to THRIVE, and I really like all the work they're doing to help graduate students. So, I decided to apply for the grant, and it made it possible for me to have this wonderful experience where I got to meet really creative and wonderful artists who one day I hope to see in person".
Aniko's art is heavily influenced by the people that surround her during the joyful, gloomy, and even the ordinary moments. Her art is a reflection of her life. The pieces that she worked on during the residency are performative, time-based, documented, and produced exhibitable artifacts. Her work focuses on multitasking, and the woman who juggles her career, motherhood, and household while trying to stay healthy and fit. She calls it pandemic art; art that accepts that chaos can alter the process. Her art emphasizes the importance of learning to let go of control -- something that many people have experienced this year. "That's why I think it's not just my story, it's everyone's story. I want my art and all of my photographs to be not just about me but how my experiences are universal, so people can connect to my art. That part is also important to me." she added.
Aniko hopes that her art will make people feel the way she feels after she has spent an entire day at an art museum, deeply impacted by the things that she has seen. She says that those are experiences that will stay with her for the rest of her life. "The feeling I get left with when I walk out of a museum is the reason I make art. I want to tell stories through art, reflect on what's important to me. It's like my very own journal that depicts experiences that other people can also relate to." To see Aniko's art portfolio and the works that she has created during the residency program, go to www.anikosafran.com. When you visit her website, you will be amazed at how even the simplest and most mundane things in our lives can become beautiful artistic creations.