News
Third Annual Three-Minute Thesis Competition
---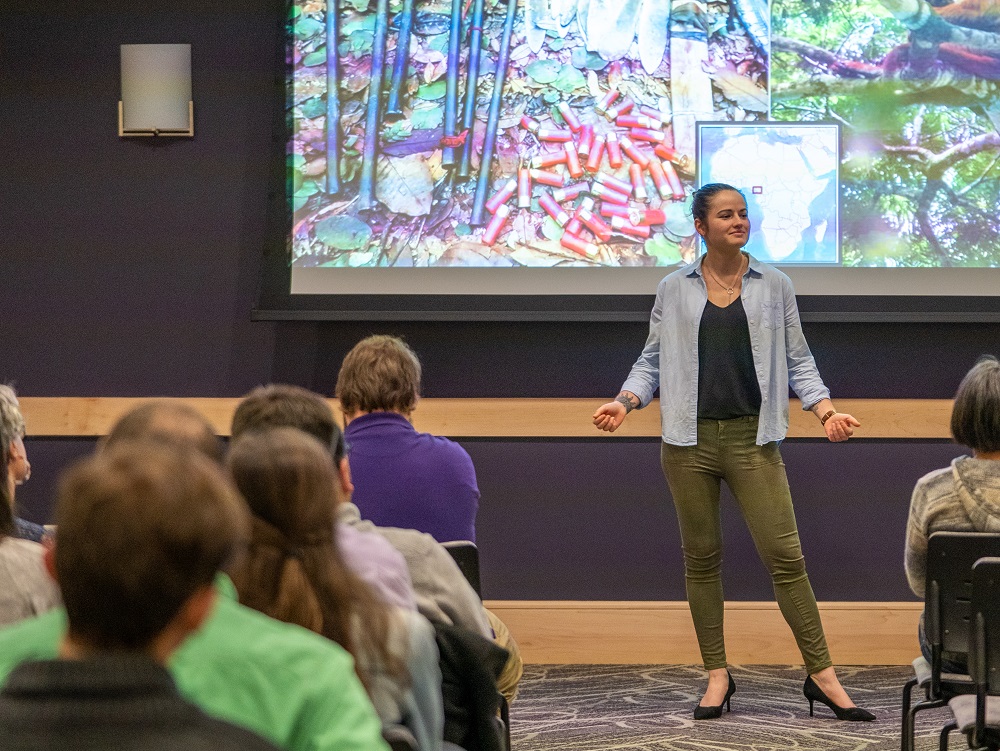 SUMMARY: James Madison University held its third annual Three-Minute Thesis Competition on January 24, 2020. Seventeen students, each armed with one slide and months of research, engaged in this nerve-wracking but rewarding experience.
---
By Laureta Ramaj, Graduate Student, M.A. in Communication & Advocacy
Can you give an answer to a vastly complex question in just three minutes? Can you quickly elaborate the nature and importance of your thesis or dissertation project to friends and family? Now imagine having 3 minutes to  explain your thesis on stage, to a diverse audience and a panel of judges. Sounds like a daunting task, doesn't it?
On January 24, 2020, seventeen students, each armed with one slide and months of research, engaged in this nerve-wracking but rewarding experience. Research is intrinsically hard work, and it is especially challenging to condense 100 pages worth of research in three minutes, where the only thing you can rely on while presenting is a single static PowerPoint slide.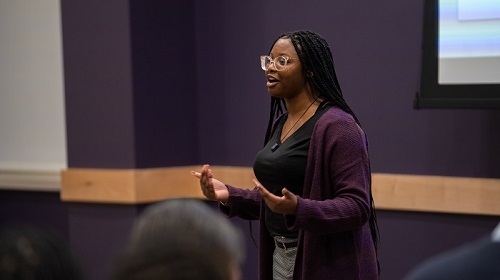 I learned about 3MT my first semester of graduate school. It seemed like a very intimidating challenge. It still does. This task demands substantial time and preparation. It requires breaking down an entire research project. Students need to limit what they say to the most important information, explaining key points, results and conclusions, while cherry-picking the most gripping parts that the audience would find fascinating. Participants must structure their presentation and prepare to deliver it using language that even non-experts can understand.
During the 3MT competition students are judged based on their communication style, comprehension of material, engagement with the audience, delivery, stage presence and enthusiasm.
I have had the opportunity to work with the 3MT participants prior to and during the competition. I witnessed the roller-coaster of emotions that these students went through before presenting. However, seeing them keep their composure when on stage and during the delivery of their killer presentations has been a stupendous experience for me, as a moderator and audience member.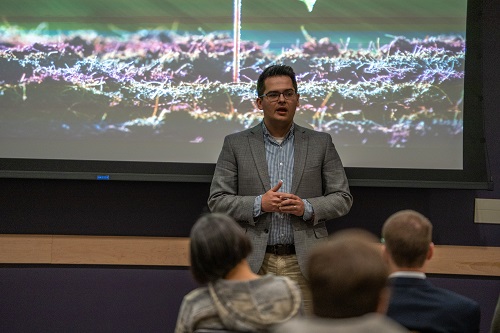 This year's participants captivated everyone present with their research on topics ranging from constraints to access to sport for disabled people to habitat utilization on James spinymussel populations.
The competition was divided into two heats, where three participants from each heat advanced to the final round. There were a first place, second place, third place and People's Choice Award winner. The first place winner received $750, second place received $500, and third place received $250. The first place winner will be sponsored by The Graduate School to attend the regional competition at the Conference of Southern Graduate Schools in Birmingham, Alabama, March 5-7, 2020.
The Graduate School would like to congratulate the winners of our third annual Three-Minute Thesis (3MT) competition:
First Place Award Winner:
Briana Craig "Propensity Score Matching and Generalized Boosted Modeling in the Context of Model Misspecification"
Program: Psychological Sciences, M.A.
Advisor: Jeanne Horst
Second Place Award Winner:
Christine Verdream "Habitat Utilization and Impact of Flooding on James spinymussel (Parvaspina collina) Populations in Virginia Streams"
Program: Biology, M.S.
Advisor: Christine May
Third Place Award Winner  (tied):
Alexander Brooks "Under Cover of Lightness: How Mixed-Race Americans Navigated the Racial Codes of Antebellum America"
Program: History, M.A.
Advisor: Rebecca Brannon
Ruth Bowers-Sword "Assessing hunting pressures and the population status of Preuss's red colobus, Piliocolobus preussi, and other primates in the Ebo-Makombe-Ndokbou forest, Cameroon";
Program: Biology, M.S.
Advisors: Roshna Wunderlich and Joshua Linder
People's Choice Award:
Christine Verdream "Habitat Utilization and Impact of Flooding on James spinymussel (Parvaspina collina) Populations in Virginia Streams"
Program: Biology, M.S.
Advisor: Christine May