News
A JMU Humanities Student Becomes a Rocket Man
---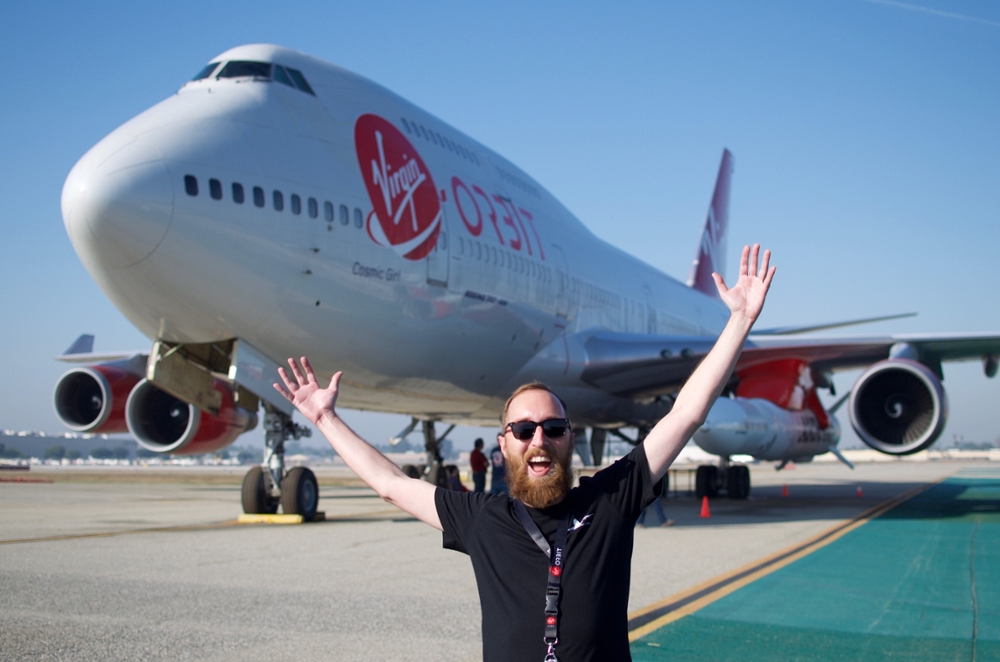 SUMMARY: Raphael Perrino shares his story that began when he was six years old and how he is now using his master's degree as a Senior Business Intelligence Analyst at Virgin Orbit.
---
By Brooke Z. Graham, Strategic Leadership doctoral student
Raphael Perrino (BS '07, MS '09) is a perfect example of how James Madison University attracts and inspires students who crave being the change. He is a Senior Business Intelligence Analyst at Virgin Orbit, a rocket company that is developing a highly flexible, responsive air launch platform. Raphael received his bachelor's and master's degrees in Technical and Scientific Communication (now Writing, Rhetoric, and Technical Communication).
Raphael's path to Virgin Orbit began when he was 6 years old when he attended an event with his dad at his local planetarium in Arlington, Virginia, named "Astronomy for Families." As a child, his family also introduced him to PBS's iconic 13-part series, "Cosmos" by Carl Sagan. These experiences inspired Raphael's desire to work in the space industry. Today he lives in Long Beach, California fulfilling his dream every day as he walks into the rocket factory at his job.
While tasks such as having to develop an algorithm to evaluate business opportunities have been challenging, Raphael found that his technical communication coursework at JMU provided him with a strong background in technical writing, technical editing, design principles, and scientific communication. Raphael believes that as an analyst, the quality of data and documentation is critically important in producing impactful, repeatable analyses. He believes that data analysis requires clearly stated findings and visualization for others to interpret and understand. Raphael says that his JMU coursework provided him with the skills necessary to succeed as an analyst.
When asked what advice he has for those who are thinking about graduate school, Raphael said that "when selecting a university to attend or workplace to apply to, consider not just the name recognition of the organization but the degree to which that university or workplace will enable you to achieve your goals. JMU offered an expansive range of high quality programs from which I could choose — it's why I went back for a master's after completing my bachelor's at JMU."
Raphael suggest that students "Pursue the university program that is the strongest fit. Pursue the position that encourages you to grow". When thinking about the philosophy that seems to have guided his professors, he quoted Richard Branson, "Train people well enough so they can leave, treat them well enough so they don't want to."
When asked what advice he has for JMU students, he suggests "in pursuit of your dreams, put in the extra time and effort that others may not. Aspire to be the most hardworking and efficient worker in your organization. Dreams without hard work remain dreams."
He also suggests that students take care of their health. Eat well, exercise, and sleep. Work hard but also rest. "Your mind also needs rest in order to maintain maximum potential. Good health enables you to enjoy your accomplishments in life."