Four Faculty Members Receive Inaugural Study Abroad Awards
News
---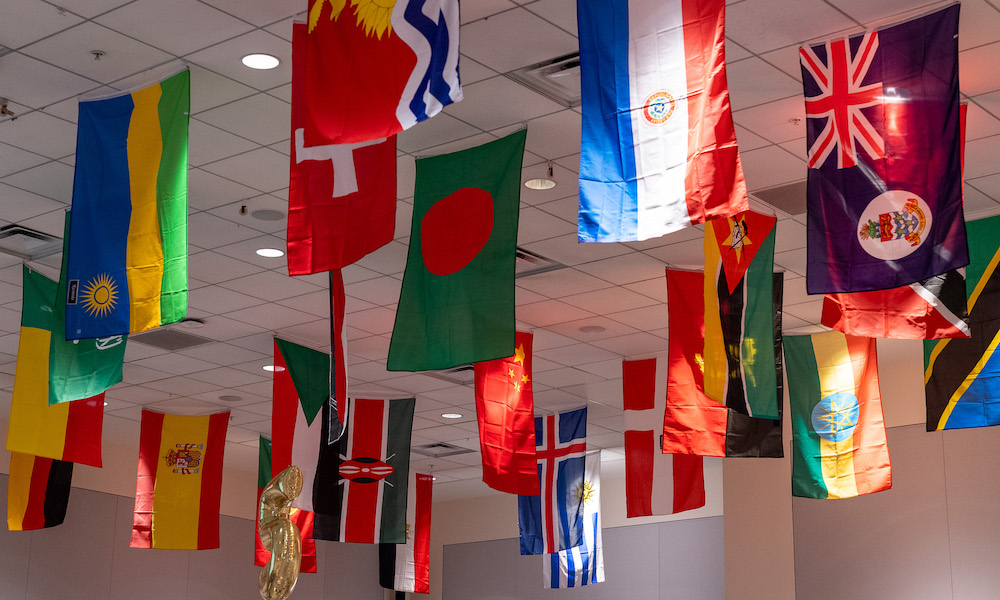 The Center for Global Engagement is honored to recognize four faculty members as recipients of three inaugural study abroad awards. These individuals served as program directors on study abroad programs in summer 2023, and were nominated for the awards by their colleagues and students. These awards serve as a small acknowledgment of the year-long process that it takes for faculty to design and implement a high-quality study abroad program.
The ECHO Award: Enhancing Community though Holistic Opportunities
This award is given to the director of a program which is designed to go beyond the idea of just a "classroom in context," and embraces a "classroom within community" approach to their program. This program has outcomes and learning opportunities meant to create connections between program participants and the community members with which the program engages to create a positive and lasting impact that echoes throughout communities transcends identities and borders.

This year's award goes to Dr. Debbie Sturm.

For several years, Dr. Sturm has leveraged her expertise in climate change and mental health to create a hands on study abroad experiences for both undergraduate students and graduate students. The students regularly are able to engage with international leaders on nature pedagogy and climate change. On her most recent program, "Nature, Creativity & Well-Being Across the Lifespan in Scotland," she integrated the "classroom within community" approach in multiple ways. Students not only learned from local experts, but they had the opportunity to plant trees with retirees and learn about community-inspired nature preservation programs; forage with a local naturist and discuss the impact of tourism on nature and community wellness; and work with children at a nature-based kindergarten. Debbie also arranged for the students to receive advanced training and invited them to consider how they would use their experience abroad to positively influence JMU and the surrounding community.


Catalyst for Transformation Award: Celebrating High-Impact Study Abroad Programs

This award goes to a program director (or program directors) who plans and successfully executes a program designed with a high level of experiential learning. The program could include field work, volunteer work or service-learning, research components, internship opportunities, or other examples of hands-on work-based learning experience in an applied setting.

This year's award goes to Dr. Seán McCarthy and Dr. Rob Alexander

Rob and Seán's program, X-Labs International: Innovative Responses to Sustainability in the Netherlands and Germany, attracted students from 10 different majors for a truly interdisciplinary study abroad experience. They took an innovative approach to study abroad education, focusing on action/problem solving as work products vs. hearing/listening. Rob and Sean participated in training workshops on design thinking and Responsible Futuring at world renown institutions (AMS Institute, University of Twente, and University of Hamburg). The program embedded students in circular economy consulting firms in Amsterdam and Rotterdam and challenged them to engage in design sprints to create innovative solutions to circular economy challenges at JMU utilizing multiple living case studies visited and explored in The Netherlands and Germany. The team used Curating Learning Record portfolios as an innovative assessment for the learning achieved, putting the emphasis on student-driven story telling of student learning.


The Anaza Benjamin Distinguished Director of the Year

This prestigious award is named in honor of Dr. Emeka Anaza and Dr. Tatiana Benjamin, two program directors who died unexpectedly during the 2022-2023 academic year.

This award is given to a study abroad program director or co-director who embodies what it means to put their heart and soul in to their abroad programming. This director provides a high level of student support and mentorship, models resiliency amidst adversity, and shows their passion for study abroad programming by going above and beyond basic director responsibilities.

This year's award goes to Dr. Augustus Hallmon.

Dr. Augustus Hallmon is passionate about working with students, and cares deeply about each student. Like Dr. Anaza and Dr. Benjamin, Gus truly embodies what it means for a faculty member to put their heart and soul into students' growth and development, and specifically in the context of study abroad. He has a deep passion for study abroad programming and values the idea of mentoring students not only within the classroom, but also outside as he spends numerous hours talking to students, taking them on trips, attending meetings to help them, counseling them, and being an advocate for their well-being.

Along with Dr. Ja'La Wourman, Dr. Hallmon agreed to take leadership over Dr. Benjamin's program to Ireland last winter after she passed away just a few days prior to her planned program, leaving only a few days to prepare to lead students to a foreign country. Dr. Hallmon also co-directed a program with Dr. Anaza, who passed away a few days after the program concluded this past summer. Dr. Hallmon isn't just a colleague to these two individuals, but a dear friend.

Dr. Hallmon is a model study abroad leader and mentor, and is passionate about student development and understands the value of study abroad experiences in transforming students.
We appreciate all of the many nominations submitted that highlight the amazing work to promote global engagement and international education.