News
Stepping Into the Unknown
JMU Reflections from Tam Nguyen
---
By Thomas Lavenir
Duc Tam Nguyen, more commonly known as Tam, is a Double Duke from Vietnam who first stepped foot on JMU's campus almost eight years ago. As he is about to earn his MBA at the end of this semester, the International Student and Scholar Services (ISSS) staff are having a hard time accepting the fact that we are to lose our graduate assistant, who has become such an invaluable part of our team!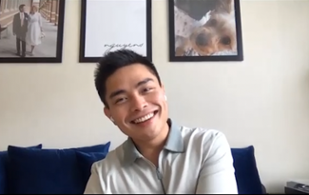 I only considered attending JMU after a good friend of mine, who was attending JMU at the time, had shared a social media post about the quad." It caught Tam's attention and prompted the two of them to reconnect. Architecture was an interest of his, and JMU's distinctive architecture and campus really appealed to him. Tam had applied to 20 universities and narrowed his choices down to five. JMU's College of Business' top ranking, and his gut feeling that "JMU just felt right," were enough for him to choose JMU.
As soon as Tam arrived on campus in August 2012, he knew that he did not want to limit his interactions to the Vietnamese community. He was eager and curious to be involved with the greater international community at JMU; he was ready to burst out of his comfort zone. A natural way for him to do so was through the LINKers he had met during Transitions, the international orientation program. He distinctly remembers how he looked up to them for acting so professionally while being students at the same time. The evening fun and games, while being silly in nature, helped to break the ice and awkwardness amongst everyone. This was a deciding moment for him in wanting "to be a member of a group of individuals who made me feel welcome and include me in as one of their family members…I had to become a LINKer!"
Tam wanted every international student to have a supportive community at JMU, so in addition to serving as a LINKer for three years in a row, he found another way to work towards this goal. Pratik Banjade, who at the time was our office's graduate assistant and had served as the president of the International Student Association (ISA), quickly recognized Tam as a great candidate to fill in the vacant ISA president position. Tam remembers how Pratik convinced him that he possessed the passion and the determination to lead a student organization, despite only being a sophomore. Earning Pratik's trust that he should become the next ISA president meant so much to him: it gave him the extra confidence to believe in himself and lead ISA to a whole new level. This became an important and memorable JMU experience for Tam on many levels, and he feels like he "grew up a lot" from it.
Looking back at his first job right after his graduation from JMU, Tam described it as "an eye-opening experience." Working at a bank job was hard, as he did not feel comfortable selling products and services: "I didn't feel like myself, but you make do with what you have!" He took advantage of this work experience to learn more about his customers' lifestyles and jobs. As a result, he discovered what he wanted – and needed – to do next. This led him to once again pursue his studies at JMU, this time as a Double Duke. Tam was back on JMU's campus in August 2017 and has been a crucial part of our ISSS team ever since.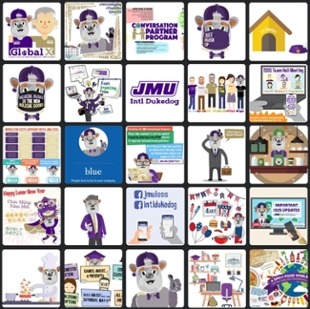 Unlike his job at the bank, Tam fit right into our office. Tam's great ability of putting himself in others' shoes to understand them and find the best way to make content relevant to them make him not only easy to work with, but an efficient and empathetic collaborator. He has served as great source of inspiration to all of us: in fact, the ISSS staff and other students, friends and colleagues sent over 15 recommendation letters to nominate him for Omicron Delta Kappa's All Together One award, which he was ultimately awarded in April 2019. In her nomination letter, ISSS Coordinator Molly McGillis described how Tam "works tirelessly to build community at JMU, not just between international students from different countries, but between international students and domestic students that call the USA home… From his set up and preparation for CGE events to the graphic designs he creates for us, he goes above and beyond to produce his best work and make sure that everyone has a great experience engaging with our office." Needless to say, Tam has been such a great asset to our office and to JMU's global community as a whole.
While he is not sure what the future holds for him yet, he knows that he will be facing new challenges and unknown situations.
He is very much looking forward to being uncomfortable as he thrives in new and unfamiliar situations. We know that he will go far and make his mark wherever he goes, and that he will always bleed purple!