News
Furious Flower Poetry Center Had First In-Person Poetry Reading in Two Years
---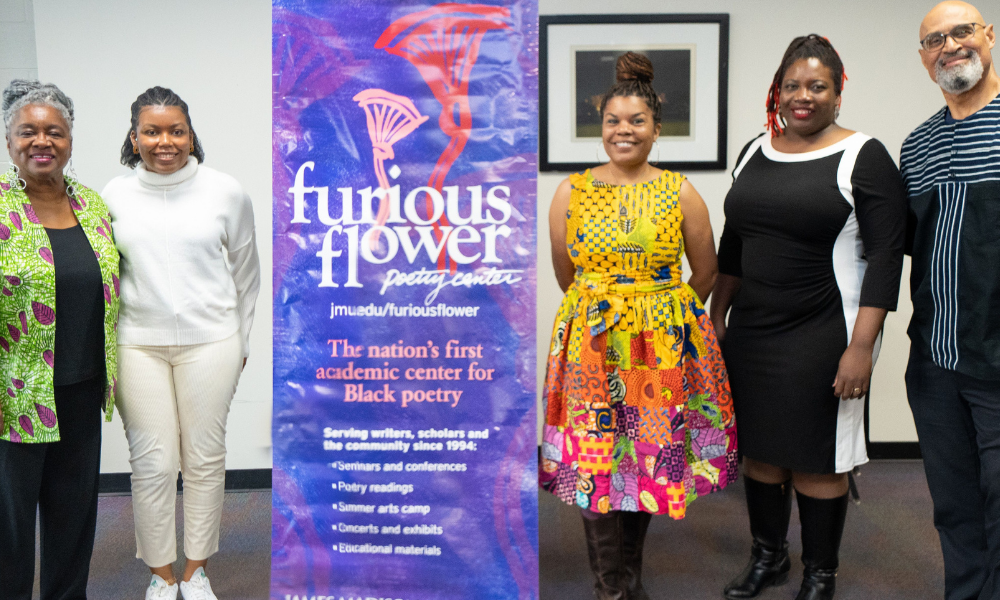 SUMMARY: Furious Flower Poetry Center celebrates the success of their first in-person poetry reading since the COVID-19 pandemic started in 2020.
---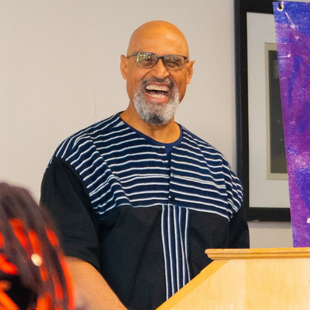 On April 20, 2022, the Furious Flower Poetry Center had its first in-person reading, since the COVID-19 pandemic made all events virtual in 2020. The 2022 Furious Flower Poetry Prize Reading was held in the Highlands Room in Festival on JMU's campus and featured judge, Tim Seibles; winner, Ariana Benson; and honorable mention, Benin Lemus. After each of their readings, Benson and Lemus were awarded their prizes by Center Director, Dr. Joanne Gabbin. The JMU Bookstore ordered copies of Tim Seibles' work to sell at the reading so attendees could have their copies signed by the award-winning poet. 
The 2022 Furious Flower Poetry Prize Reading also marked the first hybrid poetry reading for the Center. The event was simultaneously livestreamed to the Furious Flower Facebook page, allowing poetry lovers everywhere to participate in the event and ask questions during the Q&A portion. The livestream was then saved to the Furious Flower Facebook page for viewers to enjoy at their own convenience. There were over 40 people in attendance between both the virtual and in-person audiences, creating a lively Q&A at the end of the reading.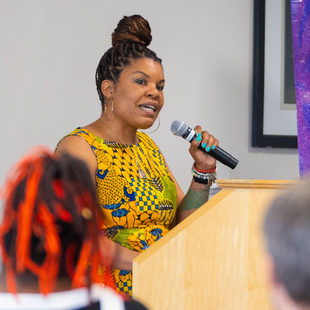 Both Ariana Benson and Benin Lemus were introduced by Tim Seibles, who provided insights into why he chose their work for the prize. About Lemus' work, Seibles said: 
"Benin Lemus writes a poetry of direct engagement. Her poems can be tender or unapologetically ferocious concerning whats what in this life. In one poem called 'On Arthur and August,' [...] she writes 'read and you will have mercy on the people you meet,' which strikes me as real wisdom, particularly if we take words to heart and recognize the necessity of the weight they carry as a marker of what each of us carries. We read poems because we want to feel deeply knowing that whatever weighs us down, whatever electrifies us is shared; that we are not strangers in a strange land, but members of a vast community of souls that suffer and delight in each day. Benin Lemus makes poems that invite us back to our lives; that invite us to see into life with unflinching honesty and compassion."
In his introduction of Ariana Benson, Seibles said of her work: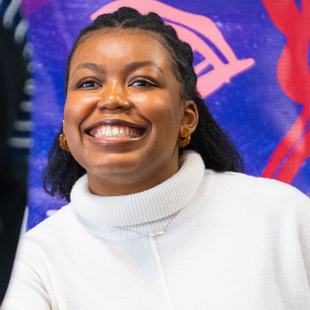 "Ariana Benson's poems are both elegant and raw. In 'Theodicy,' she writes 'You understand, by now, that this God / is one of impossible choices; that His fair / does not match our own.' If one believes our world is under the governance of such a being it is hard to argue this point. And of course truth, small 't' or a capital 'T', matters to all of us. We read poetry hungry for what is undeniably real, for it feels true to our understanding of things. It is certainly hard to live, hard to keep reading or listening if the words you have offered do not help us to know what we know. If the words do not in some way clarify the lies, what's the point? Ariana Benson's poems are fueled by a thirst for clarity, whether she's examining the past or the way that the past lingers in the present. In either case, we feel the intensity of her pursuit."
Before the reading, Seibles led a writing workshop for faculty and staff of JMU that focused on tone and how it is manipulated. In his lesson, he referenced poems by Ross Gay, Louise Gluck, and Lucile Clifton, among others. 
"Not all that you come up with in a writing exercise will be perfect or even usable. The point of writing exercises is trying not to get trapped by the 'givens' in your mind; you never know what you'll unlock by writing what comes to mind"
-Tim Seibles 
The 2022 Furious Flower Poetry Prize Reading was a huge success as a trial run for future Furious Flower events to be held in a hybrid mode and marked a joyous return to in-person, socially distanced events with the Center. You can watch the livestream of the reading below.