News
Furious Flower Poetry Center Announces the Winners of the 2022 Furious Flower Poetry Prize
---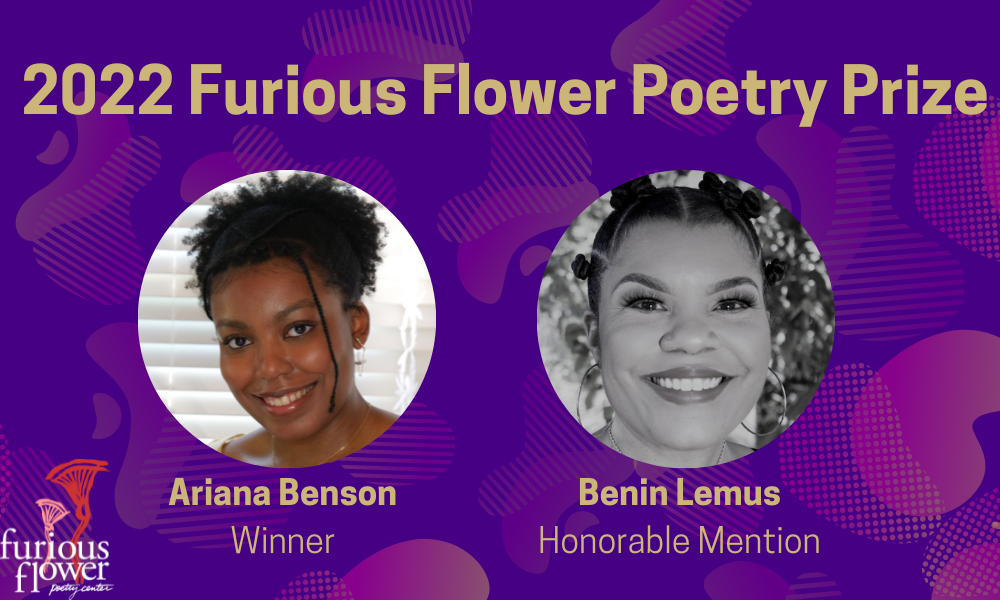 SUMMARY: Furious Flower Poetry Center announces the winner, honorable mention, and finalists for the 2022 Furious Flower Poetry Prize.
---
The Furious Flower Poetry Prize for emerging writers is an annual competition running from December 15 through February 15 open to poets with no more than one published book. Each year, the winner and honorable mention are invited to read as a part of the Furious Flower Reading Series and published along with select finalists in Obsidian.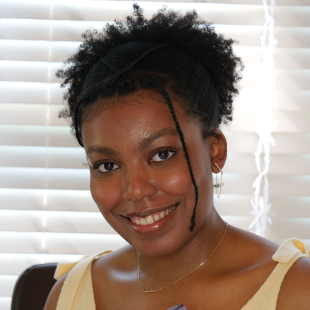 The winner of the 2022 Furious Flower Poetry Prize is Ariana Benson. Benson was born in Norfolk, Virginia and is the recipient of both the 2020 Graybeal-Gowen Poetry Prize and the 2021 Porter House Review Poetry Prize. Her work can be found in such literary journals as Copper Nickel, Colorado Review, Indiana Review, Black Warrior Review, World Literature Today, Tinderbox, Auburn Avenue—where she serves as Nonfiction Editor—and elsewhere. Currently, she is serving as the 2022 Eliza Moore Fellow for Artistic Excellence at the Oak Spring Garden Foundation. Through her writing, she strives to fashion vignettes of Blackness that speak to its infinite depth and richness. When asked about her win, Ariana stated:
"Being a part of Furious Flower in this way is deeply meaningful to me as a poet, and a person, whose life and work are deeply rooted in Southern Black tradition. It is an honor to be recognized by an institution that paved the way for the poets who paved mine."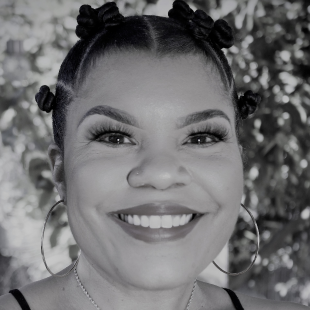 The honorable mention for the 2022 Furious Flower Poetry Prize is Benin Lemus. Lemus is a writer and educator from Southern California that was raised in Portland, Oregon. She comes from a long line of writers and teachers. She earned her BA in English from Bennett College in North Carolina, an MFA in Film and Television Production from the University of Southern California, and a teaching credential in Secondary Education from Mount Saint Mary's University. Lemus's work can be found online and in print, most recently in A Gathering of Tribes Magazine, edited by Quincy Troupe, and Love Letters in Light, a poetry-based public art project curated by Leila Hamidi. A performer as well, she has performed at Pasadena LitFest, Center Theatre Group, and The World Stage Performance Gallery in historic Leimert Park. Her debut poetry collection, Dreaming in Mourning (World Stage Press) will be published in November 2022. As an active member of the Community Literature Initiative (CLI) and the Sims Library of Poetry, Lemus seeks to create social equity and justice through writing. When asked about her honorable mention, Lemus said:
"I think the fact that the Center focuses on Black poetry, Black poets, and all of us are in our own right in different spaces but to nurture the talents of Black poets is incredibly important; so for me, it's really important [that I received honorable mention] because I'm being recognized by people that are my peers but also my mentors. For James Madison University and the Furious Flower Poetry Center to say 'We are crafting, carving, creating a space for this kind of writer and we're going to nurture them and support them and we're going to uplift them' is one of the best things that has happened in my career. It says that we value you, not just the poem, but you as a poet."
The finalists for the 2022 Prize are as follows: Ashunda Norris for "Plantation Etymology"; Vernita Hall for "The Lost Boys"; Amy M. Alvarez for "Queensborough"; Janel Cloyd for "Birthright, Bewitching, Belief"; and Oak Morse for "After We Sip Shug Avery".
The Furious Flower Poetry Center thanks all applicants for submitting and extends congratulations Ariana Benson, Benin Lemus, and all the finalists. Please join us in-person or virtually April 20, 2022 at 5pm for our first reading in-person since the pandemic, featuring our 2022 Poetry Prize winners, Ariana Benson and Benin Lemus joined by the judge for 2022, Tim Seibles. The reading will be held in the Highlands Room in Festival in JMU's campus and livestreamed to our Facebook page.