News
In Conversation with the Furious Flower 2019 Poetry Prize Winners
---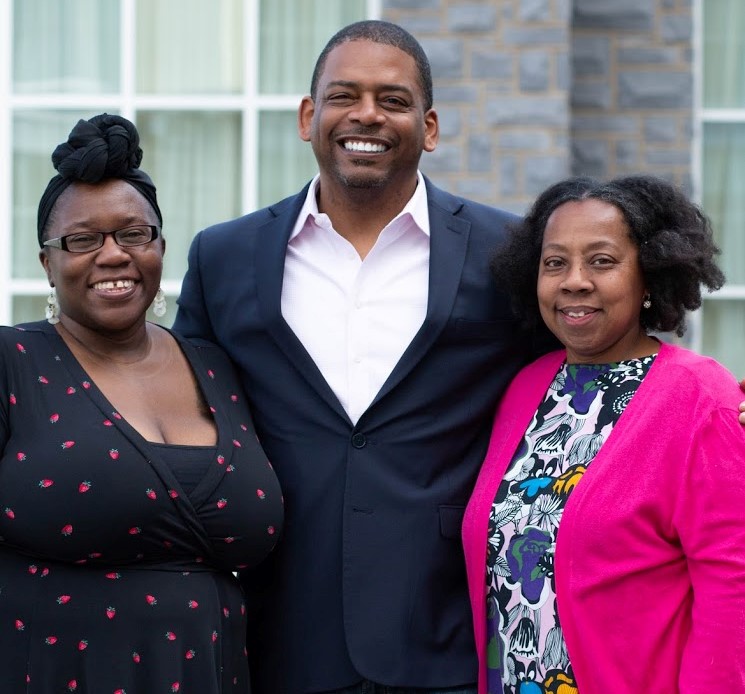 SUMMARY: Student Assistant Jessica Carter interviews prize winners Rachelle Parker (right) and Cynthia Manick (left), and judge, A. Van Jordan (center).
---
On Wednesday, April 14th, Furious Flower held its 2019 Poetry Prize Reading with winner, Rachelle Parker, honorable mention, Cynthia Manick, and the prize judge and distinguished poet, A. Van Jordan. I was fortunate enough to get to sit down with both winners before the reading to talk to them about their lives, their poetry, and their inspirations.
---
Individually, what are your guys' writing processes like?
Rachelle: It changes, actually, but right now I'm in the mindset of getting up in the morning and starting a poem and then I kind of carry it with me all day. I do more editing after work. I do that a lot, shuffling poems around. You know, you have this one batch of poems attending to this [specific] voice, if you will. I have metaphysical things that I do and then I have legacy poems. I'm methodical at times, and I write in the morning at times. I always get something out, but creating is kind of more off the cuff.
Cynthia: I'm the exact opposite [of Rachelle]. I am a night writer, so I usually start writing around 10:30, 11:00. I'm used to the city sounds being loud and I'm also used to working full time, I 've always worked full time my whole life, either with going to school and working or just working full time, so I'm used to doing everything else during the day and then at night doing writing. I would like to say I write everyday, but that would be a lie. I've tried 30/30 April  [a poetry writing challenge where you write a poem for 30 days] and I always fail.
Oh my gosh, I'm trying it too!
Cynthia: Oh, good luck girl!
Thank you!
Cynthia: I always try and they always end up being a bunch of humbled haikus. I just can't produce that much so usually, if I'm in a workshop, that's the best time for me to do writing. It helps me focus and also I do so many other things besides my writing, like between working full time and my reading series I'm also east coast editor of this tiny, tiny press in California so when I'm writing I have to be focused on that one thing. So that's usually at night.
Where do you both usually draw inspiration from?
Cynthia: I think it's a lot of things, number one: just the world around me, depends on where I am. We just came from 150 Franklin Street Art Gallery and there was a painting that's called "Picking Pecans." That's gonna be a poem. I don't know how, but that's gonna be a poem. So that kind of stuff will stick with me for a long time. Sometimes it's just assignments or questions. Right now I'm working on a suite of self portrait poems and also I was challenged to write about love; and as people of color, I don't think we write about love that often, because I think we're so -- I'm not going to say used to it -- pain has become accessible because we know it so often, where we take love sort of, not for granted, but we see it there in the background, we don't focus on it. So right now, I've been challenged to write love poems.
Rachelle: I think I do the same thing [as Cynthia] throughout the course of the day. I mean, I think I'm more of an action person, like I will see someone's behavior and compare it to something that I've seen before or something that's on a larger scale, like a societal scale, because that's what my work plays with. It plays with past lives, it plays with future worlds. And so I think that's what I've been doing. Not think! That's what I've been doing. [sic] So, making comparisons and possibly taking [on] persona for lots of different things that are out [there]. And I talk to my grandmother a lot, I have those kind of poems. So when [Cynthia says] love poems, I don't think I write love poems either but then there's love in there.
Cynthia: Yeah! There's so many different kinds of love, how the body expresses love for society, for the clothes they wear. It's interesting how you stretch that word; it doesn't have to be, "roses are red, violets are blue," you can sort of branch out of that in different directions and see where it takes you.
Rachelle: Yeah, because I would think writing about love in this present state [I'm in] would be tough, I don't think my parents and grandparents were able to explore that in that way so I don't think I was taught that. So we see love in how we're handled, we see love in our interaction with different people.
---
I was also lucky to get to speak to A. Van Jordan for a brief moment and ask him about selecting the winners of the poetry prize:
Why did you choose Rachelle and Cynthia's work?
Van: Oh, that one's easy! Well, in both of their works I can see where their minds were turning and working, inside the syntax of the poems and, you know, I thought, "These are poets who are writing the kinds of poems that I as a reader am attracted to." And so I wanted others to share that experience.
And the experience was a breathtaking hour of poetry with each poet bringing a unique form of love to share through their words. Rachelle, in her winning poem "Monsoon," witnessed the transatlantic slave trade through the perspective of a storm and explored the feelings of guilt and helplessness these sublime forces of nature might feel: "I downpored over iron linked mahogany ankles, wept through keyholes, wept through lashes batting drops, wept through tiny bodies too far from their mamas." Cynthia, in her poem "Self-Portrait No. 5 (Phoenix and Lullabies)" from her series of self-portrait poems, assumed the graceful persona of "a brown belly song bird who knows the tongue can be a land not beaten," among others. And Van stunned each one of us with the difficult truth that, "A weak lover is more dangerous than a strong enemy," in his poem, "From."
To all three poets, for helping Furious Flower to celebrate the milieu of Black poetry, thank you.
By Jessica Carter