Furious Flower 2019 Poetry Prize
And the winner is...
News
---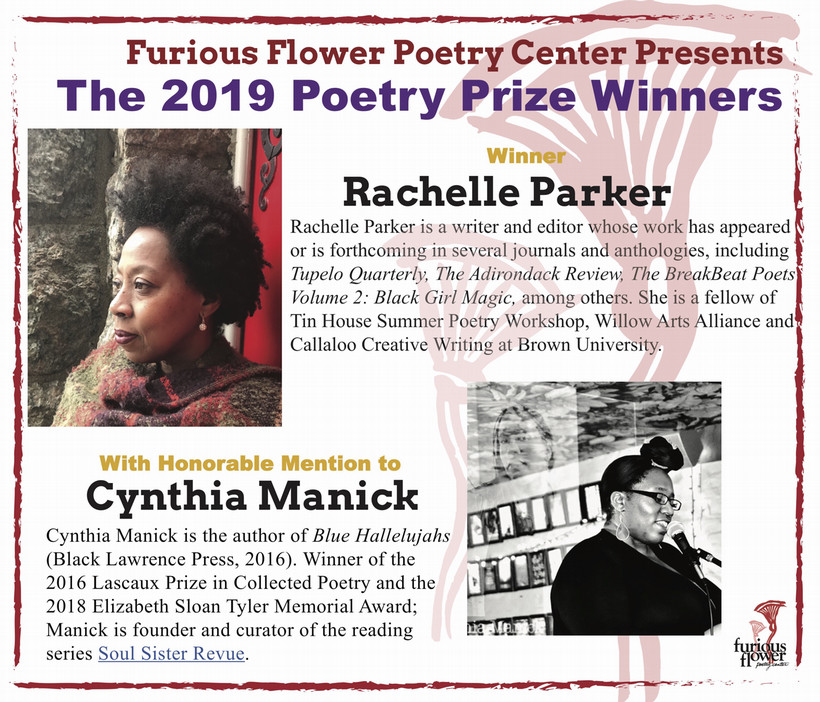 SUMMARY: Judge A. Van Jordan selects winners for the 2019 Furious Flower Poetry Prize.
---
The annual Furious Flower Poetry Prize is given in honor of Gwendolyn Brooks' sprit of nurturing emerging poets. Carrying on Brooks' legacy, Furious Flower shines light on up-and-coming poets and supports them with a monetary award, a reading at James Madison University, and publication in the renowned literary journal, Obsidian: Literature and Art in the African Diaspora. This year, Judge A. Van Jordan, a distinguished poet with four poetry collections and professor at the University of Michigan, selected Rachelle Parker as the 2019 winner of the Furious Flower Poetry Prize, and Cynthia Manick as the honorable mention.
Rachelle Parker is a writer and editor whose work has appeared or is forthcoming in Tupelo Quarterly, The Adirondack Review, Paterson Review, Lips, Creations Magazine, The New Jersey Council of Teachers of English Journal, as well as the following anthologies: The BreakBeat Poets Volume 2: Black Girl Magic and Poeming Pigeons: Poems From The Garden. She won the Fourth Annual Pat Schneider Poetry Contest and earned honorable mention in the Allen Ginsburg Poetry Contest and the Patricia Dobler Poetry Award. She is a fellow of the Tin House Summer Workshop Poetry, Willow Arts Alliance, and Callaloo Creative Writing at Brown University. In his remarks, A. Van Jordan writes about Parker's poem, "I Was a Monsoon Just Once": "This poet's line and syntax intersect to bring a surprise with the turning of the mind in the poem. The figurative language never feels forced, and the formal gestures- the control of the line, the music of the line- feel as natural as the spoken word."
Cynthia Manick is the author of Blue Hallelujahs (Black Lawrence Press 2016) She received fellowships from Cave Canem, Hedgebrook, the MacDowell Colony, Poets House, and the Saltonstall Foundation for the Arts, among others, and won the 2016 Lascaux Prize in Collected Poetry and the 2018 Elizabeth Sloan Tyler Memorial Award. Manick is founder and curator of the reading series Soul Sister Revue.
A. Van Jordan also selected Zakia Henderson-Brown, Kimberly Reyes, Nia June, Jordan Franklin, and Azia Armstead as finalists, and they will each have one poem published in Obsidian as well.
Furious Flower celebrates Rachelle and Cynthia with an award ceremony and reading with A. Van Jordan on April 17th at 4pm in the Highlands Room in the Festival Building on JMU's campus. A light reception will follow. This event is free and open to the public.
By Catherine Carson