News
Samuel W. Allen (Paul Vesey), 1917-2015
---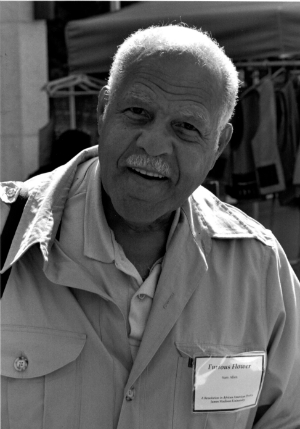 July 7, 2015 — As a student at Fisk University, the poet Samuel Allen took a class with James Weldon Johnson. Half a semester in, he dropped it so he could join the basketball team. Allen admitted, "It was a nutty thing to do, but I know that now. When you're seventeen, you don't."
Despite being in it for only half a semester, the class left an impression on Allen. It made him shed his attraction to polysyllabic Latinate words and left him with a love of the "harsh consonants" of the English language.
In "To Satch," his praise poem to the great Negro League baseball player Satchel Paige, he writes:
Till one fine mornin
I'm gonna reach up and grab me a handfulla stars
Swing out my long lean leg
And whip three hot strikes burnin down the heavens
And look over at God and say
How about that! 
The son of a poet and a pastor, Allen (pictured right in a photo by C. B. Claiborne) was born December 9, 1917 in Columbus, Ohio. Growing up he was "in the heart of the black community" and never "insulated from its problems or deprived of its energies or resources." After graduating from Fisk, he attended Harvard Law School, served in the military during World War II, studied at the New School of Social Research and the Sorbonne. 
"Sam Allen broke the bar. He travelled in his poetic genius not under the bar or over it, but beyond it. In his passing the world lost a sweet hallelujah for great poetry and the genius of a quiet man who gave to all things great and small." —Dolores Kendrick, Poet Laureate of the District of Columbia
While living in Paris, he met many members of the ex-patriot community, including  James Baldwin and Richard Wright. Allen's first published poems appeared in Wright's journal Présence Africaine. Allen later worked on the magazine, learning about and translating Francophone African writers. 
Even after returning to the United States to work as an attorney, Allen remained connected to those communities. His first book of poetry Elfenbeinzahne was   published in 1956 by a publisher in Germany as bilingual edition. He was not published in the United States until 1968, when Poets Press released Ivory Tusks and Other Poems. Despite his world travels, Allen remained connected to his upbringing as the son of an African Methodist Episcopal bishop, citing the communal spirit and elegance of the black church as a major influence on his poetry.
Allen published under the name Paul Vesey to keep his writing separate from his legal career.
In his criticism, Allen contributed important works that explored the shared history of the black diaspora, regardless of geography. His 1959 paper "Negritude and its Relevance to the American Negro Writer" has been widely reprinted and remains a major text on Negritude.
In 1968, he left his job as an attorney for the federal government to take a teaching post at Tuskegee Institute. He later joined the faculty at Boston University. In 1994 he was honored with the Furious Flower Lifetime Achievement Award, and Edward A. Scott wrote insightfully about his poetry in "Bardic Memory and Witness in the Poetry of Samuel Allen," published in The Furious Flowering of African American Poetry. He died in Boston earlier this week.
ALL THE BEST
In memory of poet Samuel Allen
Last survivor of the best quartet
of our most senior poets: Brooks,
Randall, Walker, you
who was our stand-up father
in our crux-of-a-craft, our ardent art,
who back in the day knew W.E.B. and J.W.J.,
who had the collegial respect of Hughes, Brown
and Wright, yes. No, no celebrity poet surrounded
by fawning sycophants and spotlighted by fickle fame
with a name in "the moment." Among us, your work alone
is etched in stone in Wheatley's and David Walker's Boston. 
You were not poet-as-stand-up-comic, no
mere showman. Instead your name
is on a masterpiece: "A Moment
Please." Yours was no cult
of personality in lieu
of good poetry.
Yours was mot juste diction,
lines enjambed just so, a passion
for adjudicated justice, applied excellence,
artful testamentary texts, songful praise poems
that sing negritude. Yours is just the best auction
block poem since Frances Harper's, just the best
poems ever about Nat Turner, Harriet Tubman, about
the revolutionary Jesus, about us in the U.S. at our best.
Yours is surely the eternal rest of the righteous, Sam.
You were and are just the best, Sam, just so.
As you so often said to us, we say to you,
All the best, Sam, all the best.
Everett Hoagland
July 22, 2015 
Posted with permission from the poet.