News
Michael Szymanski honors his professor
---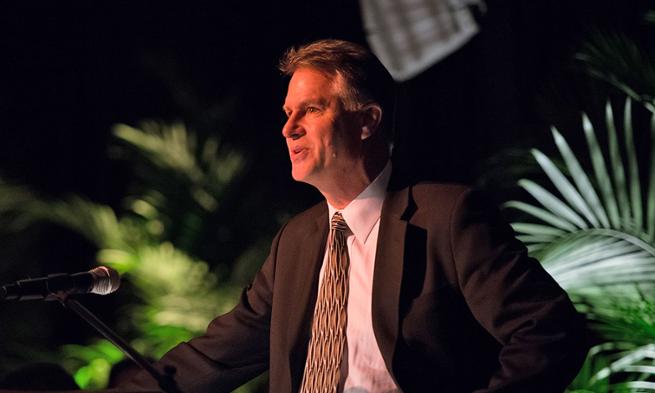 Intensely grateful to the professor who made a difference in his life, he shares why giving to JMU can help to create more incredible relationships between students and faculty.
Michael Szymanski honored his professor, Lee Congdon, at the Stewardship Luncheon with a testimonial and a scholarship gift.
"My name is Michael Szymanski. Forty years ago, I arrived on the campus of Madison College with long hair and the misguided belief that college would be easy. My first semester was a big wake-up call. Without a change in academic effort, it would be my last.
Fortunately, someone was there to help guide me. I made it through my freshman year thanks to a special professor, Dr. Lee Congdon, who is sitting here beside me today. Today he is an emeritus professor of history. I took his World History class and never looked back.

We were a strange combination at the outset. He was a conservative Midwestern professor and internationally recognized scholar on topics ranging from baseball to 20th century Hungarian intellectuals. I was a liberal East Coast kid with bad study habits, but lots of intellectual curiosity. I had no idea what it took to survive at college, let alone succeed. In fact I was seriously considered dropping out of college. But, for some inexplicable reason, we connected. I came to him seeking knowledge and guidance, and he graciously listened and took the time to help me understand how to excel.

Dr. Congdon, you helped shape my attitude toward work, a lesson that has continued to bring me success throughout my career. I remember once that you told me that the library was for studying, not for socializing: "You study for hours; you get a sip of water; and you study for more hours." Although I personally did not think that anyone in their right mind would study like that, I understood your message. You were challenging me to strive for more.

Ever since I graduated in 1977, I have been wanting to thank you. And as I became more successful in my career—thanks in large part to your influence—I wanted that thank you to go beyond words. So I chose to create the Lee Congdon Academic Scholarship. This scholarship will reward a history student who lives up to the standards you set for me and will honor your personal and professional legacy at JMU. It gratifies me to know that that future Madison students will benefit from the wisdom, knowledge and personal guidance of your successors in the history department.

I came from California today not only to honor Dr. Congdon publicly. I also came to say that every alum has a professor who has made a difference in his or her life. At Madison this phenomenon is the rule, not the exception. Those of us donors here today understand that when we create a scholarship or fellowship we're doing so much more than signing a check. We're helping to ensure that these life-changing educational relationships endure at the core of James Madison University.

So I encourage you to spread the word to your friends and colleagues who may have the capacity to create their own scholarship at JMU. Tell them about the importance of giving to Madison. Tell them that if we help one more long-haired, directionless student with bad study habits find focus and meaning, we've succeeded. Who knows, perhaps the relationships created by our gifts—like ours, Dr. Congdon—will transcend campus and transcend time."