News
Dip it in the Sauce: My Gratitude for Jayne Cortez
---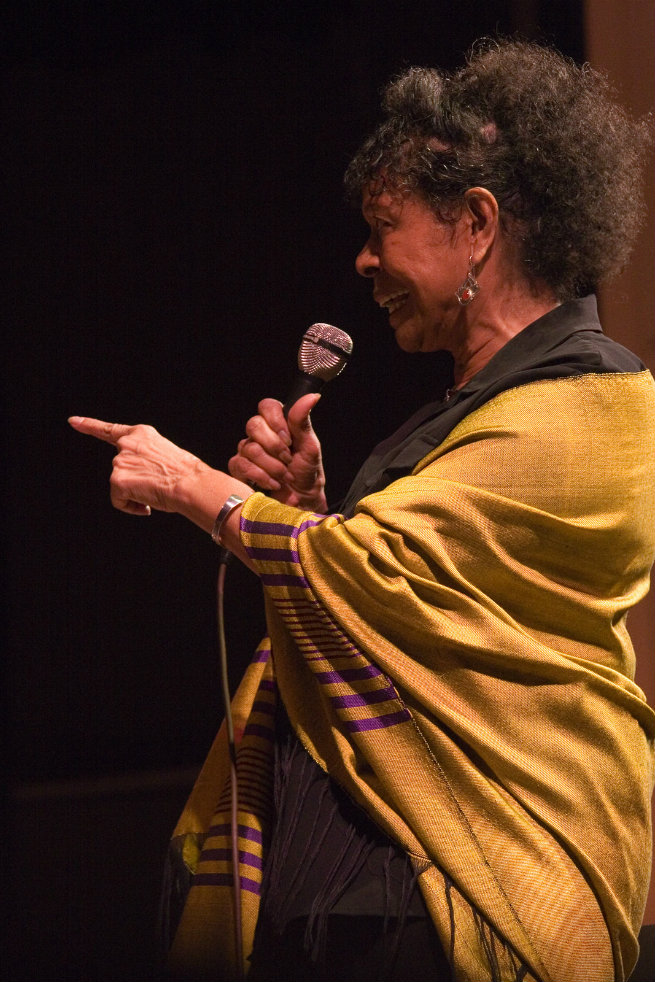 by Renee M. Kingan
Two weeks prior to November 10, 2006, I was searching for a subject for my master's thesis. I wanted to write about collaborations between jazz musicians and poets, but I kept unearthing disjointed recordings of monotoned men reading nihilistic bluster over bebop that might as well have been spinning on a turntable for the amount of connection evident among poets and musicians. Then I received Joanne Gabbin's e-mail invitation to hear Jayne Cortez and the Firespitters perform at James Madison University, and their unique brand of jazz poetry, it turned out, was exactly what I had been searching for.
That evening, Gabbin beamed as she greeted and then invited me to dinner with Cortez and the musicians after the show. Thrilled by her generous offer, I accepted and hurried to find a seat in the theater. Cortez and her band took the stage, and within minutes, both the audience and performers were in it. Cortez's luminous smile and shimmering eyes acknowledged her band mates and gave cues to start solos and end tunes—their obvious chemistry creating a fluid connection severely lacking in recordings of so-called jazz poets with far more acclaim.
Following the performance, several scholars—some of whose work I knew—gathered near the stage waiting for Cortez. While I stood to the side, trying to figure out who was who, Gabbin invited me to join the group and introduced me to Jayne Cortez, proclaiming I was writing my thesis on her work. Semi-speechless, I managed a "Thank you," to which Cortez replied a radiant "Thank you!"
After that I floated to the Thai restaurant, playing with titles for my newly proclaimed thesis, such as "Singha and Lad Na with Jayne Cortez." My friend Kevin and I were among the first to arrive, so we sat across from her. I couldn't believe Gabbin's e-mail had turned into a real, live thesis topic—right in front of me!
At first I listened to everyone chat, enjoying the community and sharing among the assembled guests. Food began to arrive, and Cortez offered Kevin and me some of her fried oysters. I don't particularly care for oysters, but I certainly wasn't going to turn down an offer to share food with the subject of my thesis. With the help of a little sweet-and-sour sauce, the oyster was, naturally, delicious. Kevin also took one and was about to eat it sans sauce, when Cortez interrupted his motion, exhorting him to "dip it in the sauce." This simple gesture was a natural extension of the hospitality we had enjoyed all evening; indeed, this spirit is the very essence of my voyage through Jayne Cortez's life and work.
So I shared my Lad Na and accepted chicken satay from Cortez's son, drummer Denardo Coleman. I complimented bassist Al MacDowell on his playing, and he told me how much he loves working with Cortez. After similar conversations with most of the band, saxophonist TK Blue asked us for a ride to his hotel. We were delighted to help, and after Gabbin graciously took care of our tab, we loaded Blue's sax and suitcase into my car and left the restaurant. During our short drive, Blue said he would love to help with my thesis and invited me to get in touch after he returned from an upcoming trip. Thus, my first experience with Jayne Cortez and the Firespitters began my deep appreciation for Cortez's collaborations with people who share her spirit of radical kindness.
Still in the early stages of research the following October, my work brought me to City University of New York's Langston Hughes Festival with keynote speaker Joanne Braxton of the College of William and Mary. Despite our being from the same university, Braxton and I had never met, and it was serendipitous that our work should carry us 400 miles from home to our first meeting. Besides meeting Braxton that weekend, I had a short but memorable conversation with Chris Winks that included hearty encouragement to pursue my work and to get in touch with his good friend Jayne Cortez, who, he assured me, would be happy to talk with me. My world, it seemed, was growing smaller, and I was beginning to understand the scope of the community I had first experienced at JMU the previous fall—everyone seemed connected and took an interest in my thesis on Jayne Cortez. Despite Winks's encouragement, however, I wanted to know more about the context for Cortez's writing before I made contact a second time.
The following summer, I reconnected with TK Blue and Cortez's guitarist Bern Nix. Both gentlemen granted me generous interviews and spoke with great warmth about their collaborations. A few months later, I heard them collaborate onstage with Cortez again at New York University's Slave Routes symposium. In that performance, I witnessed everything Nix and Blue had described in their interviews executed with grace and ease: poet and musicians listened and responded to one another—their connection and interplay again thrilled the audience and embodied the essence of jazz poetry.
Since my introduction to Jayne Cortez at JMU, I have had several serendipitous exchanges with literary and musical heavies who have helped me with my work, many of whom are giants upon whose shoulders I aspire to stand. All have encouraged me to contact the lovely Cortez, who would, undoubtedly, be delighted to talk with me. Still wanting more preparation for this essential contact, I again found myself among giants at the University of Massachusetts's Art and Power in Movement conference in 2010.
To date, little has compared with delivering a paper on Cortez's evolving Black Arts aesthetic to her peers. Just before the panel commenced, Sonia Sanchez, Askia Touré, Everett Hoagland, and Napoleon Henderson-Jones entered the room and sat down in the first row to listen. My heartrate quadrupled when Sanchez approached the panelists and asked us to sign her program. As she returned to her seat, I wondered what I could possibly presume to tell Sanchez and her colleagues about their friend Jayne Cortez. During the question-and-answer period following the panel, my heart felt like Denardo's kick drum as Askia Touré urged scholars to talk to him and his aging contemporaries rather than engage in detached academic speculation about their motives 50 years ago. "Ask us before it's too late," he exhorted. Sanchez and the others nodded in vigorous assent.
When the panel concluded, Touré and his friends actually complimented my work and thanked me personally, "for Jayne." Hoagland offered to send me a poem he wrote for Cortez in 1970. The next day, a twinkling-eyed Eugene Redmond told me he had phoned Cortez to let her know I had presented a paper about her work. I was floating again—this time, with unsolicited affirmation from Cortez's peers. Ask us before it's too late rang in my ears, yet I still didn't feel ready to contact Cortez to talk about her work.
My final meeting with Jayne Cortez came through the generosity of Joanne Braxton in February 2012. Cortez was to be the guest speaker in Braxton's class, and she invited me to play my saxophone as part of a collaborative choral reading. As Cortez spoke to the class, she read poems ranging from politics to okra, her voice, a pure, unfiltered light, illuminated the small lecture hall and resonated with everything I continue to learn about her extraordinary worldview. When asked why she writes, she told us her poetry is simply her act of responding to everything she experiences and putting it together. "I have the desire to say something all the time," she chuckled. She encouraged us to follow suit, so I finally did.
At the end of Cortez's talk, the class performed one of her poems as a gift to her. Joanne Braxton began to sing Cortez's words: "How long has Trane been gone ..." and I let my saxophone take me into Cortez's world. The bassist and I exchanged ideas, and we responded to Cortez's call: "You takin'—they givin' / You livin'—they / creating starving dying / trying to make a better tomorrow." Rolling into variations on "A Love Supreme," I was finally saying something to Jayne Cortez—it was time for me to talk to her about her work.
That gorgeous day culminated in Cortez's public performance with Denardo, followed by another meal in treasured company, thanks, this time, to Joanne Braxton. I floated again as Cortez complimented my playing and personally solicited an e-mail correspondence regarding the thesis that had become a dissertation. I look back on this evening as part of my incredible journey, and Everett Hoagland's proffered words from "To Jayne Cortez Before She's Dead Too" both haunt and motivate me: "love us always Jayne and pick up on / a spirit mirror and ride your bad self on home Sister."
For all of these exchanges, and for the serendipitous encounters Jayne Cortez will undoubtedly facilitate from beyond, my deepest gratitude...
Renee M. Kingan is a candidate for a PhD in American Studies at the College of William and Mary. She earned a bachelor's degree in English from James Madison University, a master's degree in English from George Mason University, and a master's degree in American Studies from William and Mary. Kingan teaches at the York County School of the Arts in Williamsburg, Virginia, and works as a freelance musician specializing in woodwind instruments. Kingan's research interests include jazz music and American literature, and she is writing her dissertation on Jayne Cortez's collaborations with the Firespitters.
Reprinted with permission from The Black Scholar (Spring-Summer 2013)
See photos of Jayne Cortez and The Firespitters at JMU, and read more about the poet's life and work here.