News
Yona Harvey does not need a brand
---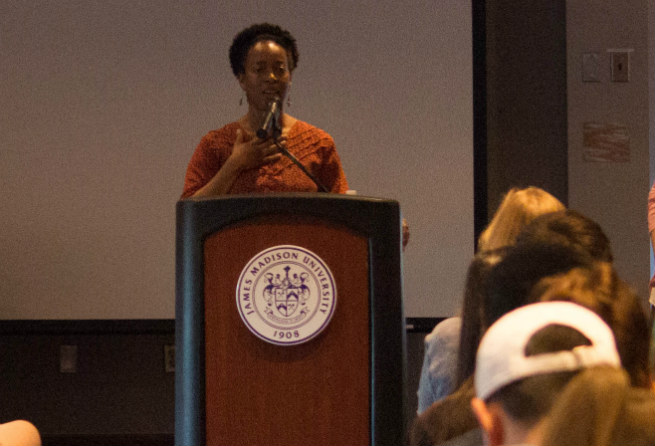 by Elizabeth Hoover | Photo by University Marketing
Yona Harvey opens her debut collection Hemming the Water with a girl in a red scarf. She "stands apart from the others." The girl understands that "sound is God." Harvey writes, "What does a girl with a red scarf hear? Only she knows, approaching the world from the inside in."
This image could be a portrait of the author. Harvey's poetry arises from carefully listening to the sound of language. While she cites as influences the rhythms and repetitions she heard growing up in a Pentecostal church, Harvey has found her own idiosyncratic cadence that makes her work impossible to categorize into known movements or schools.
In the words of Carol Muske-Dukes writing for The Huffington Post, Harvey "has come up with her own jazz rhythms, something ecstatically freed from itself."
She shares this freedom with her muse, Mary Lou Williams, a pioneering pianist from Pittsburgh. Born in 1910, Williams spent her career innovating, constantly expanding her style from the bebop of the 1940s into the dissonance of avant-garde jazz in the 1960s and beyond.
Rather than imitating Williams' style, Harvey emulates her restless innovation and constant need to discover new idioms in which to compose.
Harvey now lives not far from where Mary Lou Williams grew up and is an assistant professor of creative writing at the University of Pittsburgh.
Hemming the Water received the Kate Tuffs Discovery Award from Claremont Graduate University. Harvey is the recipient of an Individual Artist Grant in literary nonfiction from The Pittsburgh Foundation. Her poems have appeared in Gulf Coast, Callaloo, West Branch, and various journals and anthologies, including A Poet's Craft: A Comprehensive Guide to Making and Sharing Your Poetry.
In this three-part interview with The Fight & the Fiddle editor Elizabeth Hoover, Harvey discusses how she has come to embrace her chaotic life, use her attraction to polyphonic writing, and find the power within doubt and uncertainty.
Power of Doubt | Harvey describes the 10-year process of finishing Hemming the Water, her investment in polyphony, and how she found power in her own inconsistent voice.
.
What you hate and who you love | Harvey talks about the importance of sound and repetition in her work, her unique performance style, and the importance of resistance and stubbornness in her writing process.
.
Rolling with Change | Harvey reveals what she learned from the pianist Mary Lou Williams, how she navigates a literary culture that devalues women's writing, and the role of her mother in her work.