News
On the border: Interview with Nadine Pinede
---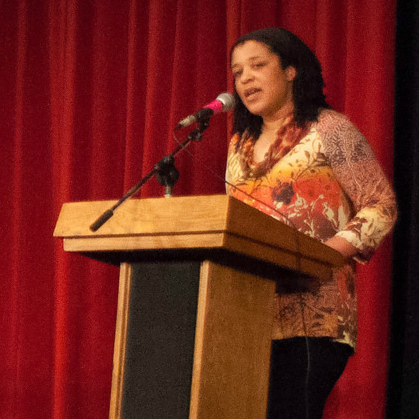 by Hannah Vaughn
As a writer Nadine Pinede finds inspiration "on the border" between cultures. Born to Haitian parents living in France, she grew up in Canada and the United States. At home, she spoke French and was surrounded by the art, music and literature of Haiti, while at school she participated in North American culture.
As an adult, she continued to cross borders in her writing and scholarship. The first Rhodes Scholar of Haitian descent, she received her master's degree in English and French literature from St. John's College at Oxford. She also has a doctorate in the philosophy of education from Indiana University. She studied with Haitian writer Edwidge Danticat at the Whidbey Writers Workshop, where she received an MFA in fiction.
While at Whidbey she heard the news of the earthquake that devastated Haiti in 2010. In her grief she turned to poetry. With the encouragement of her teacher David Wagoner, she wrote "The Nameless," a poem included in an anthology that raised money to aid earthquake survivors. This foray into poetry grew into her chapbook, Invisible Geography, published by Finishing Line Press in 2012.  
In her poem, "On Hunger," she writes, "Prose is the wish to travel in a straight line. Poetry is a ladder to heaven." Pinede has created a body of work that honors both those impulses.
Her fiction was included in the anthology Haiti Noir and her nonfiction in Becoming: What Makes a Woman. She has contributed articles to the New York Times, San Francisco Chronicle, Radcliffe Quarterly, International Herald Tribune, and other publications.
In this two-part interview with Elizabeth Hoover, Pinede talks about her poetry, prose, and Haiti's influence on both.
Poetry is a ladder to heaven | Pinede talks about her journey to poetry, her investment in prose poetry, and the relationship between her writing and activism.
In 2014, Pinede read her work as part of Furious Flower's spring reading series; she also read and discussed Amiri Baraka's poem "Kenyatta Listening to Mozart" as part of The Fight & the Fiddle's special issue on Jayne Cortez and Amiri Baraka.