News
The Life and Legacy of Amiri Baraka
---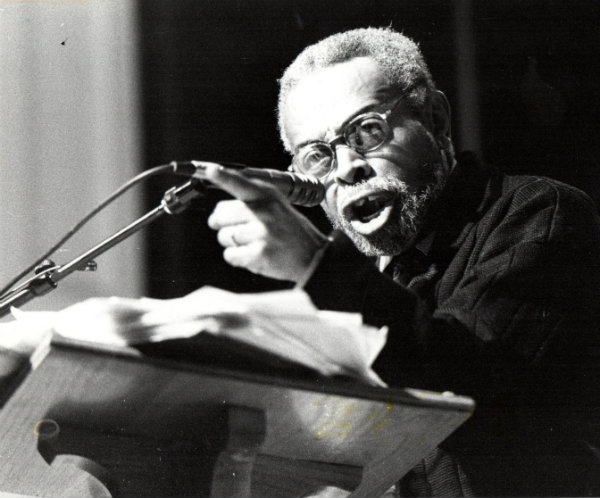 by Andrew Dudka
From arrests at demonstrations to calls for him to resign as poet laureate of New Jersey, Amiri Baraka's life and career were often controversial. But that should not overshadow the importance of his writing and his contribution to American literature as one of the architects of the Black Arts Movement.
Born LeRoi Jones in 1934 in Newark, New Jersey, he attended Rutgers University then Howard University but never graduated. Instead, he counted his stint in the Air Force as his literary education. As a base librarian, Baraka read capaciously including the works of Marcel Proust, Franz Kafka, and Karl Marx. When his superiors found his collection of books, including a copy of Marx's The Communist Manifesto, they discharged him.
Baraka had begun writing poetry in the Air Force and continued after he moved to New York City, settling in Greenwich Village. His first publication came in 1958: an essay defending the techniques of the Beat writers. He developed relationships with prominent members of that movement, most notably Allen Ginsberg. In keeping with the Beat aesthetic, Jones' earliest works were focused on self-expression and revered for their lyricism.  While living in Greenwich Village, Baraka met Hettie Cohen, a young Jewish woman whom he later married.
During a trip to Cuba in 1960, Baraka met young writers committed to using their art to prompt and support social change. In his essay "Cuba Libre," he relates an exchange with Mexican poet Jaime Shelley, who criticized Baraka's passive orientation to his art. He writes that Shelley tells him, "That ugliness you live in, you want to cultivate your soul? Well, we've got millions of starving people to feed, and that moves me enough to make poems out of."
Upon his return to the United States, Jones continued to associate with Beats and collaborated with Diane di Prima on the creation of the underground magazine The Floating Bear. However, he spent more time participating in the social life of Harlem. Inspired by the rise of Malcolm X, Jones assembled a group of black intellectuals in New York. In his essay "The Black Arts Movement," he describes this group as wanting "an art of struggle, an art that related to the reality of our history, and the real life of the world, particularly of the Afro American people …". In 1963, he published Blues People: Negro Music in White America, an analysis of the impact of black music on American society.
Following the assassination of Malcolm X in 1965, Jones split decisively with the Beats. He wrote pieces like the poem "Black Dada Nihilismus" and the play Dutchman, which reveal his loss of faith in the possibility of racial harmony. He separated from his wife and two children, changed his name to the Islamic Imamu Amiri Baraka, and started the Black Arts Repertory Theatre and School in Harlem. After police raided the school, suspecting it contained an illegal cache of firearms, Baraka moved to Newark with his wife, Amina Baraka. There he continued to write poetry and music criticism and became involved in Newark politics.
As a founding member of the Black Arts Movement and author of "Black Art," which became a kind of manifesto for the movement, Baraka shifted the focus of African American artists to making art rooted in the black experience, celebrating the struggle for Black liberation, and honoring African American culture. As he describes in "The Black Arts Movement," the founders of the movement "wanted ultimately, to create a poetry, a literature, a dance, a theater, a painting that would help bring revolution … as artists we felt that was our chief function, to reshape the minds of the people. To move them to revolutionary positions …".
Baraka received awards from prestigious organizations including the Guggenheim Foundation, the National Endowment for the Arts, and the Rockefeller Foundation. However, he also faced harsh criticism from those who struggled to see the value of his work in the context of history. They lambasted his poetry and plays, accusing him of anti-Semitism, sexism and anti-white rhetoric. Until the end of his career he remained a polarizing figure. In 1990, he was denied tenure at Rutgers University, leading students to take over an administrative building in support of him. (They were unsuccessful, and he took a teaching job at Stony Brook University.) He also faced pressure to resign as poet laureate of New Jersey in 2002 after a reading his poem "Somebody Blew Up America," which detractors saw as anti-Semitic. When he didn't give up the poet laureate position, the state government abolished it and hasn't reinstated it since.
When Baraka died in 2014 at the age of 79, he had completed an impressive body of work. He was the author of 12 books of poetry, seven plays, three volumes of short stories, and ten books of nonfiction. 
Andrew Dudka is a senior School of Media Arts and Design major at James Madison University.