News
Our beautiful, decrepit selves: Interview with Ross Gay
---
by Elizabeth Hoover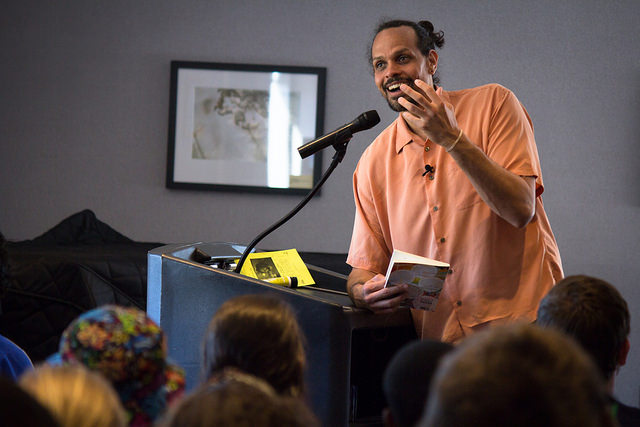 In an essay published in The Sun, Ross Gay describes his first foray into beekeeping. He writes, "I took off my shirt and wore my thinnest-soled shoes, so as to be both as close to the earth as I could and as vulnerable to the bees as they were to me. I was trying to convey to them my good intentions." He admits this seems "crazy," but he also knew it was "right."
This is also how Gay approaches the poem, fully present and unprotected by cynicism or wit. And he approaches it with good intentions: to celebrate, to assert the sacredness of the body, or, in his words, to try to be "as un-brutal as I can." He does this even while exploring brutality and asking how the violence around us shapes who we are. In fact, the beautiful image of bees concludes an essay about the unrelenting psychological and physical damage people of color suffer at the hands of the police.
And often his poetry seems just on the edge of crazy—sentences pushed to their fullest extent, similes swerving the poem into new directions, and a pile-on of joyful descriptions. But the poems are also right, the product of endless revision, studying of syntax, and willingness to combine play and prayer.
His work is complex, both in its craft and in its emotional range. As francine j. harris writes in her review of Gay's third collection of poetry, "Nothing quite prepares you for the emotional spectrum of Catalog of Unabashed Gratitude."
Gay is the author of two other poetry collections: Bringing the Shovel Down (University of Pittsburgh Press, 2011), and Against Which (Cavankerry Press, 2006). He has received fellowships from Cave Canem and the  Guggenheim Foundation. He is a founding editor, with Karissa Chen and Patrick Rosal, of the online sports magazine Some Call it Ballin', in addition to being an editor with the chapbook presses Q Avenue and Ledge Mule Press.
An avid gardener, Gay is a founding member of the Bloomington Community Orchard, a free-fruit-for-all orchard committed to improving food security and engaging the community in sustainability issues.
In this three-part interview with Furious Flower's assistant director, Elizabeth Hoover, Gay talks about how gardening has changed his approach to writing, the importance of the body in his writing, and his advice to young writers.
The Garden as Lyric Space | Gay describes how working in a garden has opened up new possibilities in his poetry and what writers can learn from gardens.
Terrifying Tenderness | Gay talks about how male intimacy is often mediated by violence, why it is important for him that the body be present in his poems, and how line-breaks speak to our mortality.
Listening in Strange Ways | Gay offers advice to young writers, explores the relationship between the sentence and the line, and describes how he engages audiences at a poetry reading.