News
Construction underway on "Heroic" Arboretum Stream Restoration
---
By Brooke Covington ('13), ('15M)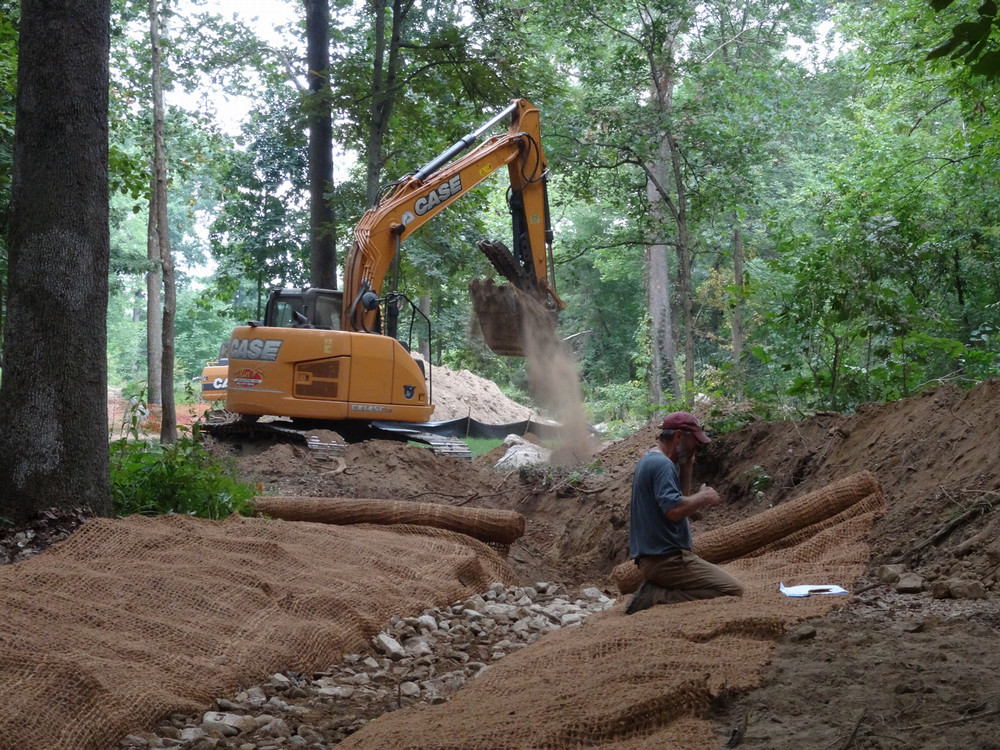 In the wake of two successful stream restoration projects in the last five years, a third restoration project in the Edith J. Carrier Arboretum has begun.
The initial two projects restored 3,000 linear feet of stream channel on the JMU campus. The current project will restore 1,000 feet of linear stream in the arboretum to stabilize the eroding channel, improve aquatic habitat and reduce the amount of nutrients and sediments being transported to the Chesapeake Bay.
Initial Phases
The first phases of the project began after the Center for Watershed Protection conducted a storm water retrofit study in 2013 to assess and rank over 30 public land sites based on opportunities to reduce pollutants and improve storm water management and quality. Of those sites, JMU's Arboretum ranked number one, gaining heroic status on the list. Estimates indicate the restoration project will reduce the Chesapeake Bay pollutants of concerns by more than twice as much as any of the other public land sites and at less than half of the cost.
According to JMU's Energy Conservation and Sustainability Manager Abe Kaufman, the Arboretum stream restoration gained momentum quickly. "We knew the Arboretum stream was in need of restoration," said Kaufman. "But once we realized just how impactful this project would be, we partnered with design firm Ecosystem Services who helped us to locate grant funding and design the project."
With the help of Ecosystem Services and the Central Shenandoah Planning District Commission, JMU applied for and received two grants from the National Fish and Wildlife Foundation—a $40,000 grant for the project design and a $200,000 grant for the actual restoration construction. In addition to these grants, JMU has also contributed $100,000 to help support the initiative. Once funded, Ecosystem Services launched the design phase in late 2014
Construction
After the design phase was completed in early 2015, construction plans for restoring the degraded urban stream channel began to take shape. Stormwater Coordinator Dale Chestnut explained, "Over time the stream channel has been straightened to maximize developable land, but this has caused the stream to become entrenched and destabilized—it is no longer natural, which has caused severe erosion and increased pollutant loads." Establishing a meandering stream pattern and making the stream level with the floodplain, Chestnut said, will improve water quality by reducing excess nutrients from pouring into neighboring Blacks Run and Cooks Creek watersheds, both of which filter back into the Chesapeake Bay.
Unfortunately, a number of trees must be removed from the Arboretum to make way for the heavy equipment needed to perform the restoration. "We are saddened by the fact that we must remove some trees," said Kaufman. "But once the stream has been completed, we will replant trees and native vegetation, ultimately leaving the site in much better condition."
Restoration plans also call for establishing a riparian buffer and creating wetland areas adjacent to the stream, which will improve water quality by preventing some of the urban runoff from entering the stream channel. A $7,550 grant from the Virginia Department of Forestry will cover much of the new plant material costs.
Currently, the construction phase is expected to last until late fall, with additional long-term post-construction monitoring to ensure that the stream is still functioning as designed.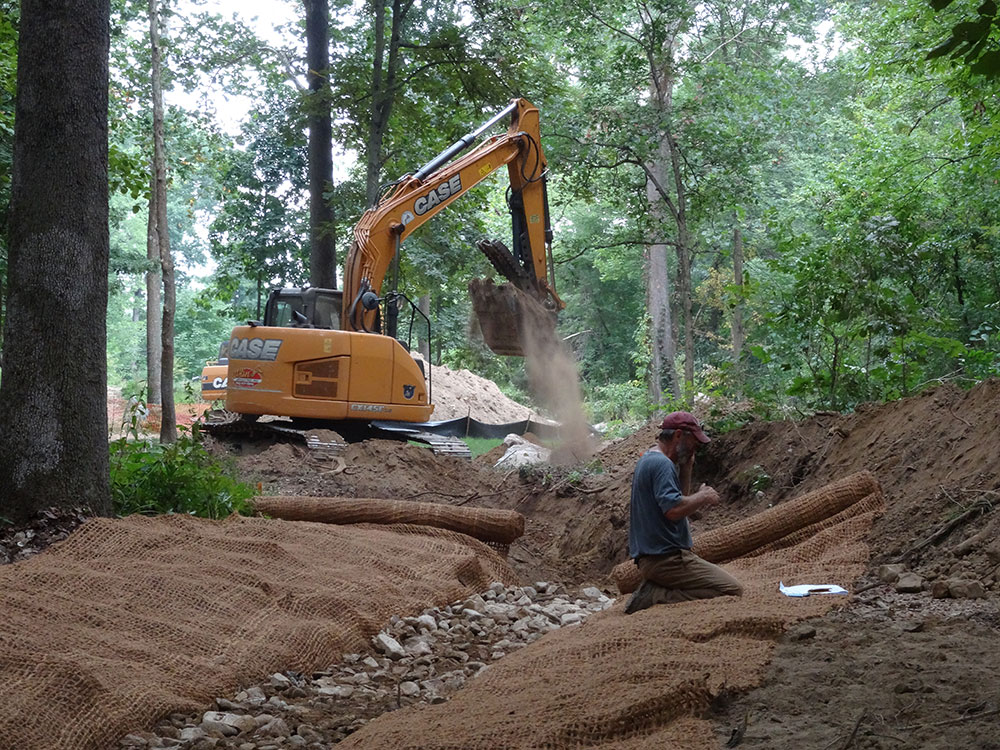 Education and Outreach
Though better for the environment, this restoration project also offers opportunities for research and educational outreach. From the early design phases, Ecosystem Services and JMU invited Eastern Mennonite University and JMU students to participate and learn about the various on-site engineering design principles of stream restoration.  Ecosystem Services co-founder and principal engineer Kip Mumaw explained, "We wanted to include students because the practice of restoration is still evolving and the methods that we are proposing represent important new tools for improving water quality and biological communities.  It is extremely important that students in the sciences gain perspective on how practitioners and scientists are working together to tackle ecological problems."
Within the JMU community, both faculty and students will continue to use the Arboretum stream and its surrounding areas as a living laboratory for research studies and field samplings. Moreover, a grant from the National Fish and Wildlife Foundation has funded post-restoration water quality monitoring to be completed by ISAT professor Dr. Robert Brent and a team of student interns in the summer and fall of 2015. Providing students with experiential learning opportunities outside of a traditional classroom setting is a staple value of the university. "Restoring the Arboretum stream is an excellent way for students to be engaged in applied science and learn how professionals are conducting restoration projects," said Mumaw. "This type of sustained involvement will hopefully influence their perspective on our responsibility to the environment and our collective impact on aquatic resources."
Reaching beyond the JMU community, permanent informational signage in the Arboretum will educate visitors on the stream restoration and the innovate measures being taken to manage stormwater in the Arboretum.  "Ultimately the Arboretum is an educational resource not just for students, but also for other contractors who can visit and learn more about stream restoration projects and constructed wetlands," said Chestnut. "Really, JMU is a great one-stop place for visitors to see innovative technologies at work in the field." Because of that fact, the CSPDC, along with other local project partners, will hold workshops in the Arboretum to train storm water practitioners on the technical methods used to assess streams for potential restoration. 
A Sustainable Future
Welcoming over 18,000 visitors each year, the Arboretum is a well-suited place to promote environmental stewardship. As natural resources diminish, the significance of sustainable practices grows—and this stream restoration is just one effort among many that JMU has implemented to facilitate ecological resiliency on campus and in our community.
With hopes of removing the Blacks Run and Cooks Creek watersheds from Virginia's impaired waters list, this restoration is a heroic feat to say the least. But JMU and its project partners are confident that this project, upon completion, will not only enhance the sustainability of this site, but also the instructional value and beauty of our on-campus botanical oasis.