M.A. in Political Science, European Union Policy Studies
Life is a Marathon, Not a Sprint
Seth Tallvik's journey from DC to Amsterdam
---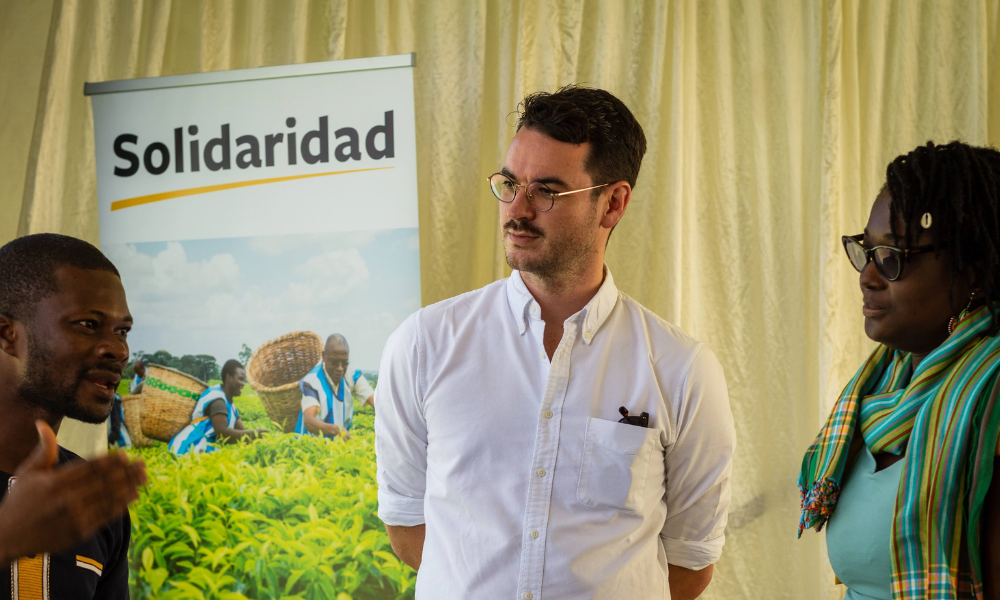 ---
Graduate Assistant Francesca Ragonese (EUPS 2023) sat down with Seth Tallvik (EUPS 2010) to discuss how his career path led him back to live and work in the EU. Below is a summary of their conversation:

The EUPS program provides students with a unique connection to the European Union and opens doors for future career opportunities abroad. EUPS alumnus Seth Tallvik is a wonderful example of a former student who has taken advantage of the skills and connections gained throughout his time in the program to pursue a meaningful career abroad. Seth sat down with current EUPS student Francesca Ragonese to discuss his career path after the program and share some words of wisdom with current students. 
Seth, like myself, is a double duke! He received his Bachelor of Arts in Political Science from JMU in 2009. His interest in political science started at a young age, but his undergraduate studies exposed him to European politics and allowed him to look at politics through a more comparative lens. This exposure inspired his particular interest in studying the transatlantic relationships established following the Cold War. In order to continue these studies and delve deeper into the European project, Seth decided to pursue his M.A. in Political Science through the EUPS program, focusing specifically on social and migration policy in Europe. 
Reflecting upon his time in the program, Seth expressed gratitude for the ways in which the program helped him to grow academically, professionally, and personally. Capturing the core principles of the program he said, "the opportunity to speak with academics and practitioners from various backgrounds and experiences opened my mind to why the EU is so important -  despite its faults, complications, and shortcomings." Seth, like many alumni, noted that these studies and experiences set him up to navigate the nuances and complexities of a multicultural work environment, which has been crucial throughout his career. On a more personal level, the opportunity to live abroad and be immersed in a different culture allowed him to appreciate the history, values, and way of life in a different part of the world. It gave him a better perspective of where the US and he, as an individual, falls in the global context.
Following his graduation from the EUPS program, Seth began working in Washington DC. From 2011 to 2016 he worked in the international development sector, but focused on USAID market analysis and business development for different international development organizations. This allowed him to gain practical experience in his field of interest to build his resume before moving on to work in program management. Though he felt unsatisfied with the work culture in the US, he enjoyed working in the international development sector, so he decided it was time to make a career shift, and returned to Europe to pursue his passions in a new setting. In 2016, Seth moved to Sweden and began working for Plan International, focusing on EU-funded development programming, first as a Business Development Manager, and later as a Program Manager on women's rights and empowerment. His time at Plan International provided him with hands-on development program management experience and ultimately led him to the next step in his career. Seth currently lives and works in the Netherlands as a Gender and Social Inclusion Advisor at Solidaridad, an international civil society organization with more than 1,000 staff and eight regional offices implementing sustainable and inclusive supply chain development programs in more than 40 countries. These programs are often multi-year, multi-million dollar initiatives funded by multilateral donors, like the EU Commission (DG INTPA), as well as bilateral donors like the Netherlands Ministry of Foreign Affairs and other private sector partners.
In discussing his career shift from DC to the Netherlands, he offered insightful comparisons of his experience living and working in the EU after his time in Washington. Culturally, the US is known for encouraging "hustle culture," where employees are rewarded for being the first at their desk and last to leave. However, in parts of Europe there is a stronger appreciation for work-life balance that is possible when work expectations are results-based. Seth has found this type of work environment more suitable and enjoys living and working in the Netherlands, where he is able to achieve an adequate balance between his career and his personal life, which is spent mostly walking his dog! 
Some of the organizations he had previously worked for, like Plan International, take a more human rights-based approach to development that prioritizes people's right to certain items or aspects of life, which are typically defined by the UN. Solidaridad takes an economic development-based approach, working to improve people's economic livelihoods. So it is important that in his current position Seth works with local partners and experts to ensure that Solidaridad's programs do not forget the importance of positive social change. "We are not just [concerned with] improving the lives and livelihoods of those who are already set up for success, but we also work with local partners to create space for those [who are] typically excluded." He highlighted the importance of prioritizing both equal opportunity and equal benefit for everyone, including marginalized groups, when implementing programs focused on developing global supply chains. Therefore, his day-to-day task is to ensure that programs are meeting or exceeding European donors' standards and requirements on gender and social inclusion. 
Seth's advice to young professionals, particularly the current EUPS cohort, is to "take the time in your early career to explore your interests and find what you are passionate about." You have your entire life to work, so it is important that you truly love what you do. Getting your foot in the door is half the battle, and Seth believes "it is better to be a few steps removed from what you want to be doing while remaining in the broader sector of your interests, rather than taking a position solely based on salary or a prestigious company name." He highlights the importance of taking the time to explore your true passions (inside and outside of work) and ensure the places where you work are aligned with your values and goals, ultimately guiding you toward a meaningful career. 
Thank you, Seth, for taking the time to share your experiences and insights. I hope you remain an active and connected member of the alumni network, and I look forward to seeing how you continue to grow in your career!