The Gardens of City Life
Exploring the Boboli and Bardini Gardens
M.A. in Political Science, European Union Policy Studies
---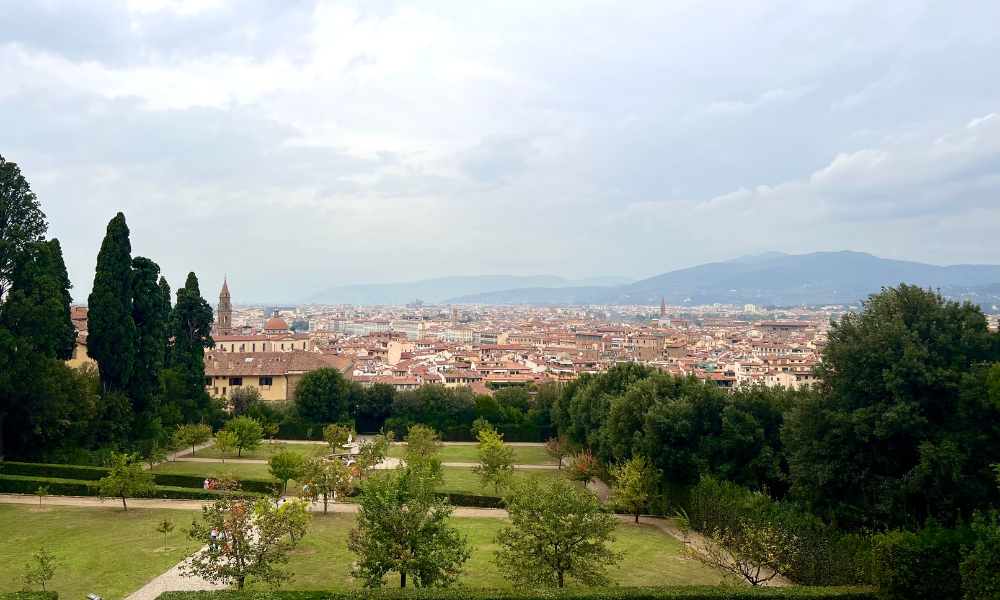 ---
By Francesca Ragonese

As the days lengthen each spring, the city slowly thaws out and new life begins to bloom again. The inevitable stress of the end of the semester and the beginning of tourist season leaves many students searching for a corner of peace and quiet. The Boboli and Bardini gardens are where they find refuge, soaking in the sun to the sound of birds chirping as flowers dance throughout the fields. Not only are the gardens a walled oasis to escape the city center, but they also display pieces of history that take you on a journey through time. 
The Giardino di Boboli is a classic Italian Renaissance style garden that also operates as an open air museum full of statues, fountains and grottos. Designed in the 1500s by Niccolò Pericoli for the Medici family, Boboli is one of the first and most famous examples of the Italian garden, serving as a model for many other European courts. It sits on top of the hillside behind Palazzo Pitti. t At the very top sits an 18th-century pavilion with a breathtaking view of the rolling Tuscan hills. Whether you are looking to stroll through botanical gardens, read a book in a patch of grass, or admire historical artifacts, Boboli has something to offer for everyone. As graduate students with demanding schedules, many of us enjoy spending our free time at the Boboli garden, either sprawled out on a blanket with a book or playing cards with friends. 
Right next door to the Boboli garden is the Giardino Bardini. Originally constructed for agricultural purposes, it was used in the early 1900s by Stefano Bardini to entertain his guests. Now the Bardini garden serves as an oasis within the walls of Florence. It is comprised of three different styles of garden to represent different eras. First is the Italianate Garden with an impressive Baroque staircase. Second, the English Garden, which represents a rare example of Anglo-Chinese landscaping. Last but not least, the Agricultural Park, which is home to the famous Wisteria Pergola. From April to May, these majestic flowers create a purple canopy forming a magical passageway within the garden. Shades of lilac, violet, and pink fill the scene as you overlook an incredible view of the Duomo, city center, and surrounding Tuscan hillside towns.
These gardens offer a slice of serenity when the students need it most. There is nothing better than being surrounded by the sights and sounds of nature. Anyone could spend hours there admiring the flora, taking a catnap in the sun, and making memories with friends.
---
Francesca Ragonese is an EUPS student pursuing the Economic and Social Policy track and the EUPS program's Communications and Recruitment Graduate Assistant. In May of 2022, she received her Bachelor of Arts from JMU in International Affairs, with a concentration in Global Human Development and a minor in Sociology. After graduation, Francesca hopes to pursue a career in the non-profit sector, particularly focusing on international development.