Pursuing a Transatlantic Career
From Brussels to the Bertelsmann Foundation, Meet Sara Leming!
M.A. in Political Science, European Union Policy Studies
---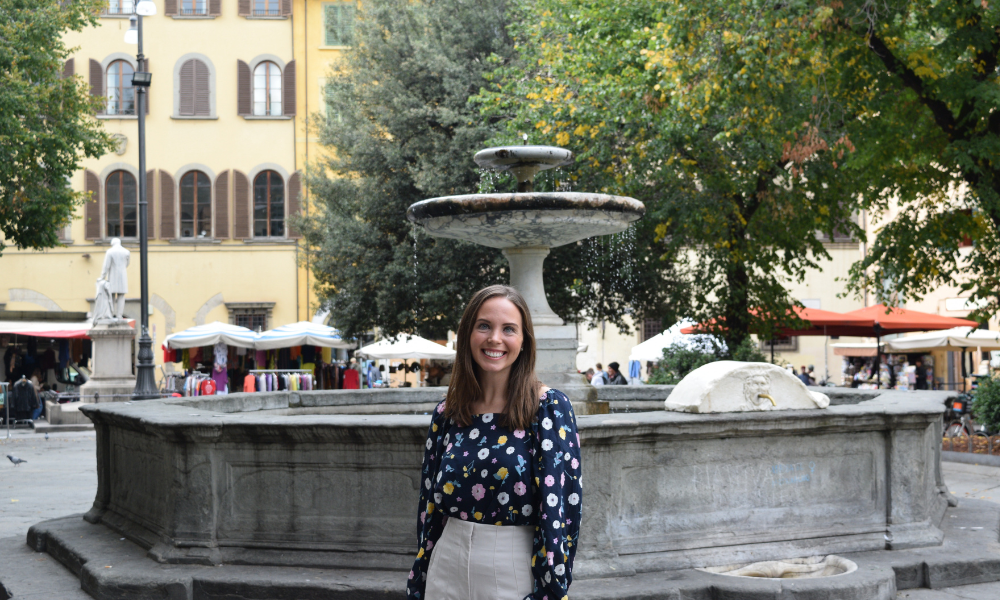 ---
By Francesca Ragonese

A core objective of the EUPS program is to cultivate a deeper understanding of the relationships between states, the world around them, and of themselves. As she works to better understand the ever-changing transatlantic relationship, Sara Leming, EUPS alumna class of 2018, is a perfect example of this. 
Sara received her Bachelor of Arts in Political Science and Leadership from Christopher Newport University in 2015. During her undergraduate years, she spent a semester abroad in London studying political science and Italian studies at Richmond, the American International University. Following her graduation, in 2017 she worked as a Guest Relations Professional intern at the Walt Disney Company. This experience helped Sara "to appreciate interaction with a variety of different cultures" as she worked and communicated with people from all over the world. 
Feeling inspired by the world around her, Sara joined the 2017-2018 EUPS cohort to pursue her M.A. in Political Science and learn more about the European Project. While in the program, she had a desire to provide a good impression of the US and present a side of the American view that valued transatlantic relations. The EUPS program provided her with a stronger understanding of the complex relationships within and outside of the EU. 
Following her graduation from the EUPS program, Sara continued her endeavors across Europe and dove deeper into the inner workings of the European Union (EU).  She worked in Brussels for three months as an intern in the Commercial Service department at the US Mission to the EU. This work directly immersed Sara in the everyday tasks of the EU, showcasing the complexity of European governance and international relations. Sara then remained in Brussels for another year and worked on transatlantic projects for the Wilfried Martens Centre for European Studies. Here she was also able to apply her EUPS studies and experience living abroad as she assisted with reports for the online journal, The European View. 
After her time in Brussels Sara returned to the US, but she remained connected to the EU. Starting in September of 2020, she worked on sustainable development goals (SDG) as a Policy Adviser for the EU Delegation to the United Nations in New York. Again, she was able to fulfill her desire to put forth a positive representation of Americans in transatlantic affairs. Since November 2021 Sara has been working as a Research Analyst in transatlantic relations for the Bertelsmann Foundation in Washington DC. Part of her job within the Bertelsmann Foundation involves the development and management of two digital interfaces which provide information useful to the knowledge and promotion of transatlantic relations between the US and EU member states. The first website, called the Transatlantic Periscope, is focused on providing reputable information, from partners on the ground, to the public regarding transatlantic affairs. It focuses on bilateral relationships between countries and provides different measures of relation on a scale of 0-10 (0 being negative, 10 being positive), and also provides relevant news articles. Additionally, the second website, Transatlantic Barometer, puts out trending news and themes each month including stories, quick facts, and analysis. Sara's role in the process includes managing the 'deep dives' section of the websites, recruiting partners, and facilitating coordination between partners. 
Throughout Sara's academic and professional career path she consistently pushed herself outside of her comfort zone. Most people from the US do not live outside of their home country for as long as Sara did, and her experiences were clearly advantageous to her. Sara mentioned that her "selling point" when applying to jobs at international companies was her unique perspective of the EU as an American who studied political science in an EU member state. She is the perfect testament to the value of outside perspectives in international academics and careers. 
In a guest lecture she recently gave to the 2022-2023 EUPS cohort, Sara provided the students with practical life, academic and career advice. Generally, she advised students to take advantage of the opportunity they have to be living in Italy for a year, to be open to new experiences, and urged them to meet and interact with locals in an effort to have a broader and more authentic experience. She encouraged students to seek out a career that challenges them, allows them to pursue their passions, and enables them to apply their best skills. Working at the Bertelsmann Foundation, Sara is doing just that - pursuing her passions and applying problem-solving and communication skills in a challenging international environment.