M.A. in Political Science, European Union Policy Studies
Brothers of Italy, Giorgia Meloni and the Future of Italian Politics
---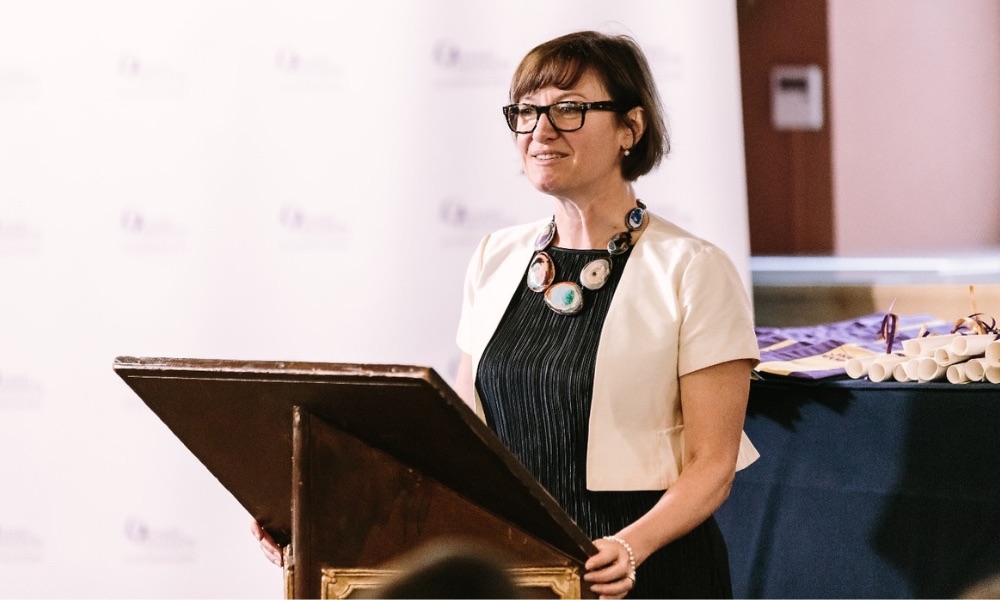 ---
By Dr. Caterina Paolucci

On September 25, 2022, Italians voted in a snap election that produced two historic results: the country's first female prime minister, as well as the most far-right government since the birth of the Republic in 1946. The news all over the world have portrayed Italy as a country that has shifted to the extreme right, with political consequences that could negatively impact the relationship with the EU as well as the country's international alliances. Should we be surprised that Italy has elected a female prime minister? And should we be worried about the first government in the country's recent history headed by the far-right? What will the policy implications and the effects at the EU and international level be?
Having a female prime minister for the first time is a historic effect of the victory of the far-right party Brothers of Italy, which has become the country's largest party. Giorgia Meloni, the party's leader, is the new head of a center-right coalition government with the allied parties of Forza Italia and Lega. Interestingly, Brothers of Italy was the only major party headed by a woman during this election. The leadership of political parties, and politics in general, is still predominantly a male job in Italy. Nevertheless, thanks to specific legislation mandating the presence of women on everything from lists of electoral candidates to corporate boards, in the last decades it has become more common to see women in top societal positions. In politics, the number of women parliamentarians has increased significantly, and it has become normal to see women ministers, speakers of the lower house and the senate, presidents of the constitutional court, etc. This trend will probably continue and may lead to a woman next conquering the last male-only post, the presidency of the republic. Meloni's prime ministership therefore, while historic, is in line with ongoing legal developments towards a full gender equality of access to top positions in Italy. There is a difference, however, between occupying top positions and wielding real power. Women often have filled important posts as mandated by egalitarian legislation and societal trends towards gender equality, but have not been able to exert power like men who have held the same positions. Whether Meloni can wield power like a male prime minister is an open question. She is surrounded by power-hungry leaders, such as Berlusconi and Salvini, who have never shared power with women, let alone been led by them. A famous saying by late 7-times prime minister Giulio Andreotti, according to whom "power exhausts those who don't have it", is there to remind us about how politics works. Especially when women lead men, this dynamic will continue to be a real problem for women accessing power positions for the first time.
What has appeared to European and international observers to be even more historic, and worrying, following this election is the nature of the party that will lead the country: a far-right force, whose roots can be traced back to the fascist movement. And yet, is this a major upheaval? Has Italy suddenly shifted to the far-right and have Italians become fascist again? Actually, from 1994 to 2011, a post-fascist party, the National Alliance (AN), was a junior member of all the center-right governments led by Silvio Berlusconi. The then leader of the AN party, Gianfranco Fini, served as deputy prime minister and minister of foreign affairs. Giorgia Meloni, herself a member of the National Alliance, has been both deputy speaker of the lower house (2006-2008) and later minister for youth policies in Berlusconi's 2008-2011 cabinet. She was a young political activist of the far right when in 1996, at 19, she became the leader of the youth movement of the National Alliance. The party, a successor to the neo-fascist postwar party Italian Social Movement, had transitioned to more traditionalist-conservative positions after swearing off fascism in 1995. Under the leadership of Fini, it had distanced itself radically from its former ideology, leaving behind authoritarianism and becoming democratic, conservative, pro-EU. However, the transition from authoritarian to democratic was not painless. Many of the former neo-fascist activists stayed within the party, raising suspicions of a not so sincere conversion from anti-systemic to democratic politics. Nostalgia about the fascist period continued to define the psychological attitude of many activists and sub-leaders vis-a-vis their culture of origin, with which they maintained some links, and layers of ambiguity continued to persist about the relationship of the party with extreme far-right fringe forces. As the National Alliance continued moving towards more centrist positions, Meloni and a few of the old guard, who did not want to see their party completely absorbed by Berlusconi's Forza Italia, created the Brothers of Italy party to preserve a more distinct right-wing identity. This identity was based on nativism, nationalism, and Euroscepticism. Its main keywords were sovereignty, border protection, support of the police, control of immigration, defense of the Italian identity, economic protectionism, patriotism, and the traditional family as the foundation of society. The party could not really put its ideas to the test, as it remained a small fringe opposition party until the 2022 electoral cycle.
Eventually, when the political attractiveness of Berlusconi's leadership declined and Salvini's unfitness to lead became more apparent, the stated repositioning of the far-right towards mainstream conservatism convinced several party members and activists to leave Forza Italia and the League for Brothers of Italy. In September 2022, the voters also massively shifted their support from the League and Forza Italia to Meloni's party. Brothers of Italy went from just over 4% of the votes in 2018 to 26%, while Matteo Salvini's League (8.8%) and Berlusconi's Forza Italia (8.1%) saw their electoral support halved when compared to 2018. Meloni's party today accounts for 60% of the vote of the center right. The League lost over 40% of its votes and Forza Italia lost about a third of theirs to Brothers. This means that there was a sort of cannibalization of the center-right by Meloni. Have all of these politicians and voters suddenly become fascists? Probably not, and here one should look at the recent history of the country's electoral results and political outcomes.
Over the last decade, a mounting wave of populism has turned against both mainstream parties and non-political, technocratic cabinets led by high level civil servants, instated to govern difficult economic circumstances that the political parties were too weak to tackle. The populists of the Five Star Movement seized the government in 2018. But that government did not solve, and actually worsened, existing structural problems such as low productivity, deindustrialisation, high unemployment in the South, and huge fiscal imbalances. Then, the pandemic hit. Intricate circumstances led to a new technocratic government being sworn in in 2021, headed by former ECB President Mario Draghi. Following the energy crisis exacerbated by the Russian attack on Ukraine, the public became both more prone to the populistic promises of Eden and more disenchanted as those did not materialize in the ways they hoped. With their discontent, voters were ready to follow any new leader, provided the person was not part of the political mainstream, that now included the populists of the Five Star Movement as well. Not surprisingly, then, political parties, right and left, mainstream and populist, that have been in power in the last decade did not fare well in the 2022 election, while Brothers of Italy, the one and only party that has opposed all the governments formed since 2012, capitalized upon its lack of involvement in executive action. Meloni's political vagueness, her pro-American, pro-NATO stance, vague approach to migration issues, promise to better represent the interests of Italy within the EU, and other extremely generic and relatively non controversial statements, helped her attract voters from all political areas. 
As is always the case when an untested force has taken power, expectations are very high, but largely unfounded. Nobody really knows what Meloni will do and how she will act once she accesses the Chigi Palace, seat of the Italian government. Circumstances, mistakes, and political opportunism have, once again, taken the country into uncharted waters, in the latest in a series of attempts to entrust an individual, irrespective of their ideology, to magically solve all of Italy's structural and contingent problems. 
Another way to see things, is to look at numbers: Meloni's consensus is not as wide as it appears at first sight. Meloni's party Brothers of Italy got around one fourth of the vote (26%), and is the largest party, but one has to consider that only 63% of eligible voters went to the polls. The expressed consensus in the electorate at large is therefore much smaller (slightly over 15% or 1/6 of the population). A big "shift to the right" of Italy has not taken place, if one looks at those numbers. Moreover, her two coalition partners, Forza Italia and the League, in spite of having lost millions of votes, have taken advantage of the first past the post electoral system. Driven by Meloni's success, they have gained a disproportionately high number of seats partly offsetting their defeat, allowing them to exercise a strong influence on the government's direction. Therefore, Meloni will have to act carefully to maintain her precarious position. She will have to guard her back from her allies' knives. If someone is going to sabotage her leadership, it will more likely be them rather than her opponents on the left, who are in complete disarray. In conclusion, Meloni will almost certainly have a hard time being the government head, since being a woman in politics is very difficult when politics is still controlled by men that are unhappy to have ceded power to a woman. Brothers of Italy's electoral results are not sufficient to give Meloni autonomy from her coalition partners, and she will have to negotiate each decision with them. 
Let's take a look at the policies that this government can be expected to adopt. The post-fascist far right, that will now lead executive action, has stood for a combination of nationalism, sovereignism, and traditionalism on social issues. The main ideological tenets are nativism and nationalism, while the main objective of the party is to promote and defend national identity, intended as a very traditional one, although not further specified, within the European and global contexts. In foreign policy, it has oscillated between Euroscepticism, even with calls to leave the Euro during the Euro Crisis, and mild pro-European positions that have recently prevailed, while keeping a consistently filo-American and pro-Nato posture. 
As far as domestic policies go, Giorgia Meloni will have to address huge issues: rising inflation, high energy prices, and more generally a looming recession. The policies that have been announced in the campaign would be very costly and may spark a speculative attack on the financial markets, as we have just seen happening in the UK. Electoral promises such as the introduction of a flat tax rate and the elimination of the unemployed basic income introduced by the 2018 Five Star Movement government are very controversial and complicated to pursue. With regard to migration, surprisingly it was not a campaign focus, as one might have expected from a far-right party. Meloni could push harder for common European solutions, while trying to find new ways to tackle the issue, because Covid-19 has changed the Italian labor market and migrants are perceived as necessary by business. Small business and the self-employed are a big part of Meloni's voters. 
On the other hand, social rights, like LGBTQ rights, the rights of migrant children, etc. will most likely be put on the back burner. Existing legislation will probably not be reversed (i.e. abortion law, civil unions). But new laws proposed by the left such as citizenship based on school attendance for migrant children, the law against homophobia and transphobia, other laws to regulate euthanasia, and the proposed legalization of cannabis, will not move forward. The traditional family ("on which the motherland is founded" according to the Brothers' electoral program) will be placed at the center of the government's actions. 
Turning to foreign and European policy, if we listen to what Meloni states, there should not be any changes in Italy's traditional foreign policy alliances. The relationship with the US within NATO and the G7 should remain strong. Meloni professes a pro-American stance, which puts her on the same line as other traditional, conservative, center-right parties in Europe. Her pre-electoral trip to the US, and Secretary of State Blinken's positive endorsement after the election, together with Meloni's support for sanctions against Russia, testify to this. Her allies nevertheless are more lukewarm, to say the least, towards Ukraine and this creates tension in the coalition. Pro-Russian statements, attitudes, and positions by Salvini are well known. In turn, Berlusconi has cultivated a special relationship with Putin while he was prime minister. Both could de facto undermine Italy's foreign policy coherence and posture. 
Pro-US sentiment may become more controversial, as this winter progresses and many Italian homes suffer a cold winter. As time progresses, the priorities of the US and Europeans may increasingly diverge. The United States will likely continue to support Ukraine without much consequence, while Italians endure reduced heating levels and high energy prices that may cause social protests, strikes, and unrest. It would be hard for the Meloni government to manage such a scenario. The US could help by providing more natural gas, although the growing strength of the US dollar increases import costs for Italians. 
Meloni's pro-US posture, moreover, could be instrumental as Meloni constructs a new approach towards the EU, similar to those of countries led by populist or far-right, nationalistic, Eurosceptic parties. It is hard to predict which side Italy will take in the European fight between Europhiles and Eurosceptics. The energy crisis may have made this divide obsolete, at least for the time being. All EU governments seem to be pursuing more nationalistic policies to address the gas crisis, with each country putting the interests of its economy before the common interest. The recent "nationalistic" move by Germany to address the gas price increases [by relying on coal for energy and pushing 200 billion Euro into the Germans' pockets] has been criticized by European partners as being anti-European and detrimental to the Union. A more nationalistic position of Italy vis-a-vis Brussels accordingly could be just one among many others. In any case, the "national interests of Italy'' within the European Union will be pursued more openly by a new government led by a far-right leader. A "sovereignism" (sovranismo), meaning defending or gaining back national sovereignty by a country that had given it up through globalization and supranational developments, such as the EU integration process, is yet another -ism that will become very popular. What this will mean, in policy terms, remains to be seen. As her first two significant moves indicate, Meloni seems for the time being to have taken a more moderate turn. She has nominated Antonio Tajani, former centrist President of the European Parliament, as Foreign Affairs minister, and she has met with President of France Emmanuel Macron, to confirm the Franco-Italian alliance on the current European hot dossiers, such as the energy and Ukraine ones. 
In conclusion, many open questions remain on the possibility of Giorgia Meloni to lead Italian politics and of her government to last under extremely challenging circumstances, like the ones the country is going to face in the next months. The biggest question marks regard not so much her far-right origins, but her nationalistic attitude and her sovereignism, which do not bode well for the future of the country nor for the EU. Especially since the UK left the community, Italy's role in the EU has become more crucial. Giving up a major role in the EU to adopt a protectionist, nationalistic posture would be detrimental for both sides. Meloni's first steps, while going in the right direction, may antagonize both some of her allies and her core far-right supporters. Her chameleonic attitude seems to be her main characteristic so far. It will need to stand the test of cabinet policy-making and parliamentary approval votes. The next months will certainly be interesting to watch for political scientists. Italian politics never disappoints! 
Caterina Paolucci serves as the on-site director and academic coordinator for the EUPS program. She studied at the European University Institute (EUI) and the Catholic University in Milan, where she specialized on Italian and European politics, with a focus on issues of representation and political parties.