M.A. in Political Science, European Union Policy Studies
La Bella Figura
Adapting to the Italian standards of everyday style
---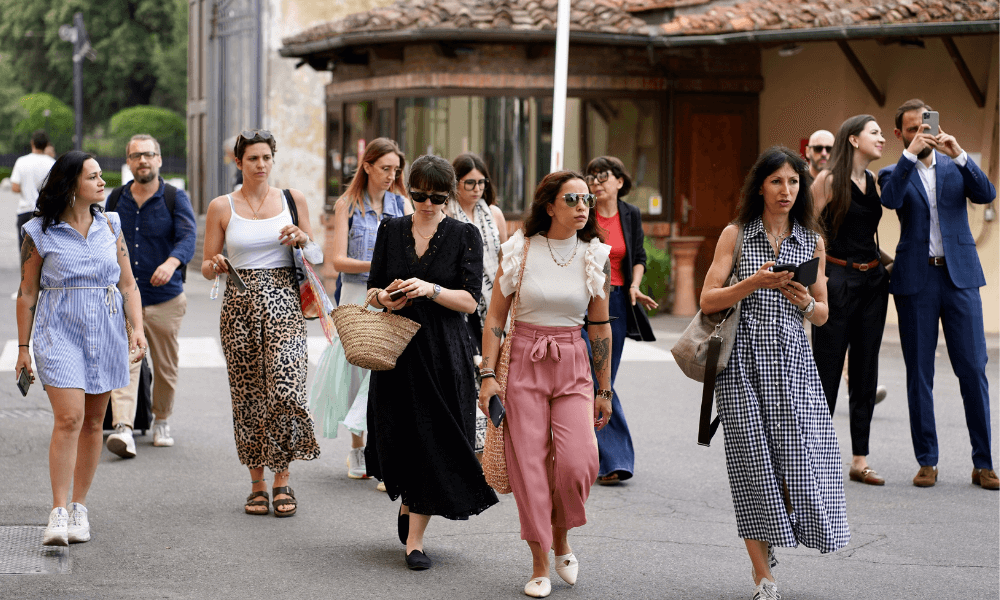 ---
By Francesca Ragonese

As an undergraduate student, my wardrobe for the past four years was defined by casual athletic wear commonly referred to as "athleisure." I am an avid runner and I spend most of my free time in the gym. So my style has always reflected that. Athleisure is common and widely accepted in the US for most occasions. But, it is not your typical, day-to-day street wear in continental Europe. After I was accepted into the EUPS program I spent some time researching Italy's culture — the food, art, history, and fashion. I came to the quick realization that if I wanted to blend in with the locals, I would likely have to abandon my athleisure and loungewear collection to adopt a more European look. Piece by piece, I consciously built a more European wardrobe in an attempt to feel more confident in my style upon arrival in Italy. 
On-site director, Caterina Paolucci, explained that "In Italy, for better or worse, the way you look sends a message about who you are. What you wear, your body language, and how you interact with others is essential." This attribution is what Italians refer to as La Bella Figura. Translated to "the beautiful figure," La Bella Figura more broadly means to dress well and make a good impression. Italians have perfected the art of elevating classic wardrobe staples to look fresh and fashionable. On a typical stroll around Florence it is common to see women draped in long skirts and dresses, or trousers and blouses. Men are typically adorned in well-tailored suits, but even casual wear is clean, well-fitting, and stylish. Linen is a classic summer staple, and a timeless way to beat the Mediterranean heat. Not only is clothing important, but hair, makeup, and general appearance play a role in how you present yourself. No one dares to step out of the house with wet hair for fear that they will either appear unkempt, or that they will be hit by a colpo d'aria ("catch a chill"). However, my first month in Florence has taught me that it is about more than what you're wearing. La Bella Figura is a lifestyle that promotes dignity, self-respect, and decency. As noted in La Gazzetta Italiana, "looking good and feeling good about yourself goes hand in hand with the essence of what it means to be Italian." 
As an American, this is quite literally a foreign concept to me. I had never thought to dress myself each day to make a good impression on the strangers around me. I dressed instead for practicality and comfort. Despite my preparations this summer, it has still taken some time to mourn the loss of my hoodies and sweatpants and adjust my wardrobe to blend in with the locals. Dressing to the Italian standard, particularly in the heat, has proven to be a trying task but it gets easier everyday. The more I explore the city and observe the style of those around me, the more I am able to learn from the locals. I have particularly enjoyed people watching at Piazza Santa Croce near our apartments. My mission is not to completely abandon my American background, but to be inconspicuous among the crowds so as not to attract tourist traps — or a side eye from a local nonna (grandma)! 
In a professional sense, understanding and living by the standard of 'La Bella Figura' is a wonderful soft skill to possess. It is one thing to be confident in your competence, but it also matters how you portray that to others, particularly potential employers. When you look put together and feel good about how you look, you appear more confident in both your appearance and your abilities. Additionally, you never know whom you will run into or talk to when you're out and about, so why not aim to present your best everyday? 
Day by day, I have continued to take a new page from the Italian Look Book. Although right now I still feel as if I am out of my element, I am determined to make this lifestyle my new normal. I have grown to love when the local baristas speak to me fully in Italian before I can utter my coffee order. Although it is terrifying in the moment, it is a sure sign that I'm starting to look the part. I am excited to look back ten months from now and reflect on both my personal and professional growth as I adapt to the lifestyle of La Bella Figura.
Francesca Ragonese is an EUPS student pursuing the Foreign Policy and Internal Security track and the EUPS program's Communications and Recruitment Graduate Assistant. In May of 2022, she received her Bachelor of Arts from JMU in International Affairs, with a concentration in Global Human Development and a minor in Sociology. After graduation, Francesca hopes to pursue a career in the non-profit sector, particularly focusing on post-conflict recovery and refugee resettlement