Meet the New Residence Assistant: Zoey Wilson
M.A. in Political Science, European Union Policy Studies
---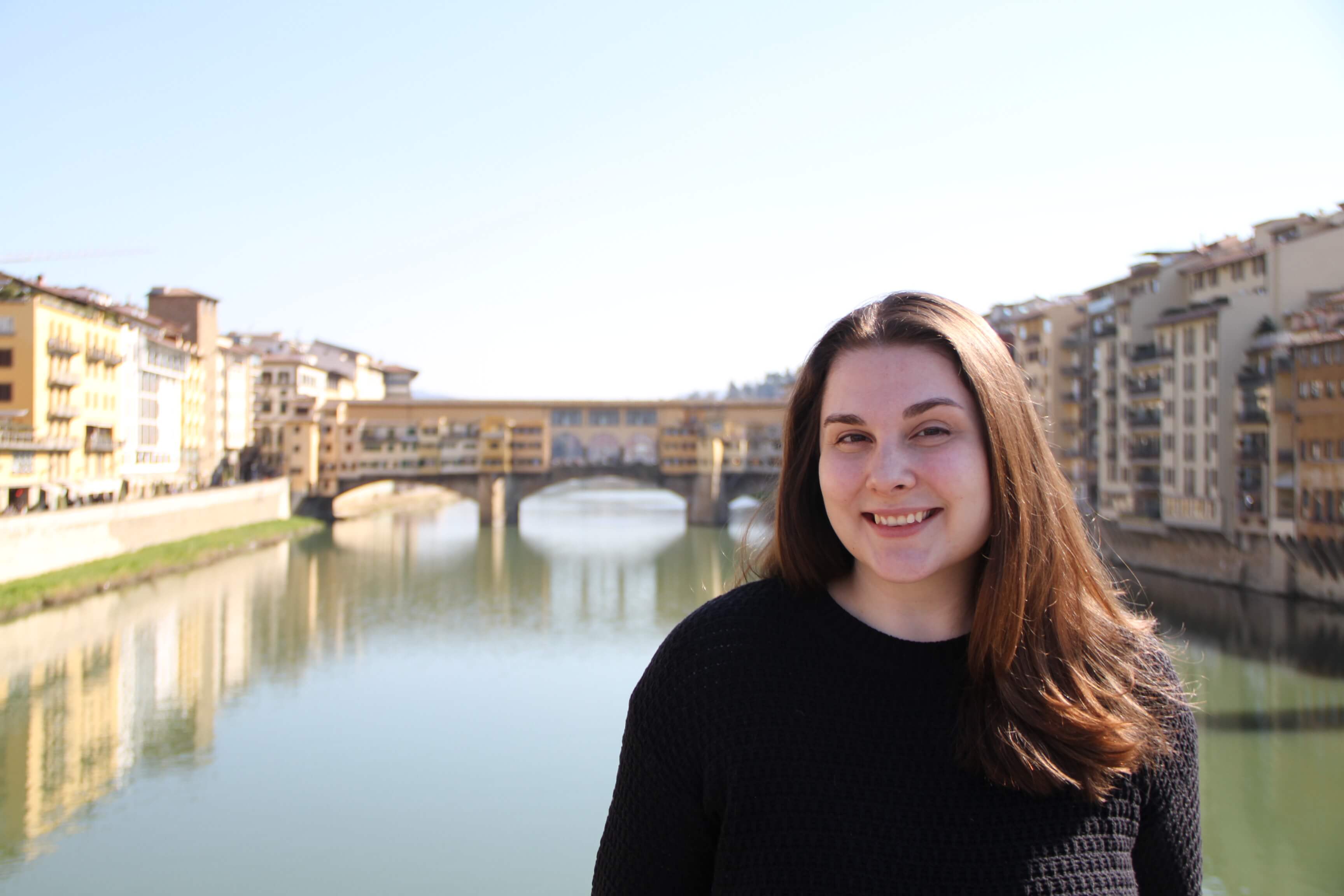 ---
By Elizabeth Rolen

This Fall, students and staff welcomed a new member to the JMU Florence team: Residence Assistant, Zoey Wilson! EUPS Student Elizabeth Rolen sat down with Zoey to learn more about how she ended up in Italy, her passion for assisting students, and her best recommendations for a panino or gelato in Florence!
Interview
Elizabeth: Thanks for joining me today, Zoey! Please introduce yourself.
Zoey: I'm Zoey! I'm from Columbus, Ohio and I first came to Italy when I was in undergrad junior year. I came to study in Cortona, a small hill-top Etruscan town for three months to study art and art history. After that, I was completely converted to Italian culture. Once I graduated college I applied for the residence assistance position at the same school in Cortona.
Elizabeth: What school held the program in Cortona?
Zoey: The University of Georgia! I worked there for a full year as a residence assistant, living in the dorms and helping students. Then, the University of Georgia created a new position so I could stay on another 8 months to help with the program and in general, and to help with all of the event planning for the program's 50th anniversary.
Elizabeth: What would you say are the biggest differences between living in a small Italian city like Cortona, as opposed to a bigger Italian city like Florence?
Zoey: Actually, there's a big difference. For example, in Italy now it is wintertime and in Florence you can tell there are fewer tourists, but there's still a good bit of people around, especially on sunny days. In Cortona, it's very small and there's a small permanent population. In the summer it opens more, but right now there's very few shops that are open, very few tourists that come through, it's a quiet and tranquil little hilltop town. One great part about Cortona is that it's nice, very quiet… you're up on a tall hill so you have a beautiful view of the valley, the air is fresh and clean. You get to know everyone in the town well, especially as a foreigner living there the whole year, they'll say "Oh there's that American girl!"..."I know your coffee order, cappuccino!" So it's nice in that respect, you really get to know people. But the hardest thing for me was branching out and meeting people my age. What's nice now about living in Florence is that it's a truly international city, there's diverse food and so many different restaurants. It is much easier to meet people in Florence.
Elizabeth: From the perspective of an American, what are the best things and the most challenging things about living in Florence?
Zoey: It's nice living in Florence because it is a slightly bigger city, not a big city per se, but still an international hub. It's small enough that it's  easy to walk from one side of the town to the other but there's a lot of different stores and diversity in the restaurants and culture and it's easy to meet people and make friends.
Maybe the most difficult part of living in Florence is, more personally, I prefer the countryside to big cities. I prefer the quiet life to the night life…so living in Santo Spirito is very interesting. Maybe also the amount of people, especially in the Summer, Florence is packed with people and tourists and it's hard to get around and hard to do all the things you would want to do.
Elizabeth: What are the biggest differences in your lifestyle having lived in Italy, compared to your lifestyle back in the States?
Zoey: I drink a lot more coffee here than I do in the U.S. I love the Italian culture, having an espresso after lunch is nice. I think my habits here are very different than they are in the US. I think in terms of energy and recycling, I'm not as conscious about that in the US, where energy is  plentiful and I can do a full load of laundry, take a shower, and run the dishwasher at the same time. Here [in Italy], if I run the dishwasher and have the washing machine on at the same time, my power goes out. So…. It's quite a big difference. I'm definitely more eco-conscious and recycle much more consciously, I'm more so aware of my ecological footprint. 
Elizabeth: Have you been converted to espressos and cappuccinos over the typical American drip coffee?
Zoey: Definitely while I'm in Italy, though there's something I really miss about U.S. culture where you can just get a big to-go drip coffee and carry it with you throughout the day or sit in a cafe all day and have endless amounts of coffee while you work. I often drink drip coffee back in the US, but when I'm here it's easier and I prefer the cappuccinos and espressos, it's nice. 
Elizabeth: Could you describe your title and your role here at JMU's campus in Florence?
Zoey: Yes, my title with JMU Florence is "Residence Assistant." Essentially, I live in the palazzo where the Semester in Florence students live for 3 months. I am on call for those students, and the EUPS students, in case of emergencies or in case the students need anything, or want to just talk about Italian culture. It's fun for me to watch everyone come and adjust to Italian culture. For some aspects of my job, I focus on managing the palazzo, fixing things that need fixing, daily management, and event planning. I have to wear many hats.
Elizabeth: You've served in a similar Residence Assistant position at the University of Georgia's study abroad program in Cortona, what has led you to join the staff here at JMU in Florence?
Zoey: Very simply, my old boss at UGA sent me the job posting for this position and eventually I got the job, which was exciting. When this job came around I was glad that I was able to get it because coming back to Italy and being with my family here was important to me…. I've gotten more comfortable being [in Italy] because my fiance's family is back in Cortona so when I miss my family back in the U.S. I get to go say hi to his mom and be with them, which is a nice support.
Elizabeth: As someone who has been a Residence Assistant for a few years, what advice would you give to students considering studying abroad in Florence?
Zoey: I feel very lucky to be in the unique position where I studied abroad as well in undergrad, so I know the weird, raw emotions you can feel, which can be hard to process. I'm familiar with how hard it can feel, but I'm also familiar with how life-changing and what an amazing experience it can be, which is why I've tried to stay in Italy as long as possible and why I'm still here now. The advice I would give is just to be open to all possibilities that can happen. Try to assimilate as much as possible into Italian culture, something that's very different from American culture in many different ways, and at least just try it. And if you make mistakes along the way, if you make a cultural blunder - it's okay, because you're learning as you go!
Elizabeth: What have you learned from the students you've worked with, and what has been the most rewarding thing from working with students.
Zoey: Working with students is the thing I like most about my job. It's my favourite part of the job to see how [students] are experiencing the culture for the first time. It's nice to see through your eyes again. Part of me envies the new experience that you get to have, and I'm excited to be able to help you along the way.
Elizabeth: Does this job take you back to your time studying abroad?
Zoey: Yeah, it takes me back to when I was a student. I try to be the residence assistant that I might've needed at that time.
Elizabeth: Now we're going to head into the quickfire round: What is the best sandwich at All'Antico Vinaio in Florence
Zoey: They have a really good vegetarian sandwich that isn't always on the menu, but they'll make it for you if you ask. It has artichoke cream and a bunch of different vegetables and it is killer!
Elizabeth: What do you prefer - Italian gelato or American soft-serve?
Zoey: Italian gelato!
Elizabeth: What's your go-to flavour?
Zoey: I like the Pan di Stelle - it's based on the Italian stelle chocolate cookies, it's like chocolate ice cream with cookies and it's delicious.
Elizabeth: Last question - what is something from Italian culture you wish we had in America, and what is something from American culture you wish you had in Italy.
Zoey: I wish Italians had dryers for their clothes!! I hate waiting three days in the winter for my clothes to dry, I'd love that aspect of American culture to come over here!
In terms of the US, I think it'd be nice for people [in the US] to slow down a bit… For example, don't just take your coffee and go but sit, have your coffee for a moment, enjoy that moment, and go on. I like that aspect of Italian culture, it's a little slower and nicer in many ways.
Elizabeth: Thank you so much for your time, Grazie Mille Zoey!! 
Elizabeth Rolen is an EUPS student pursuing the Foreign Policy and Internal Security track and the EUPS program's Communications and Recruitment Graduate Assistant. She earned her Bachelor of Arts in International Affairs, with a Middle East Regional concentration and minors in Arabic and Economics from JMU this May. After graduation, Elizabeth will begin her career in post-conflict recovery and international diplomacy at the U.S. Department of State Bureau for Political and Military Affairs.