Alumni Spotlight
Briar Dunn
M.A. in Political Science, European Union Policy Studies
---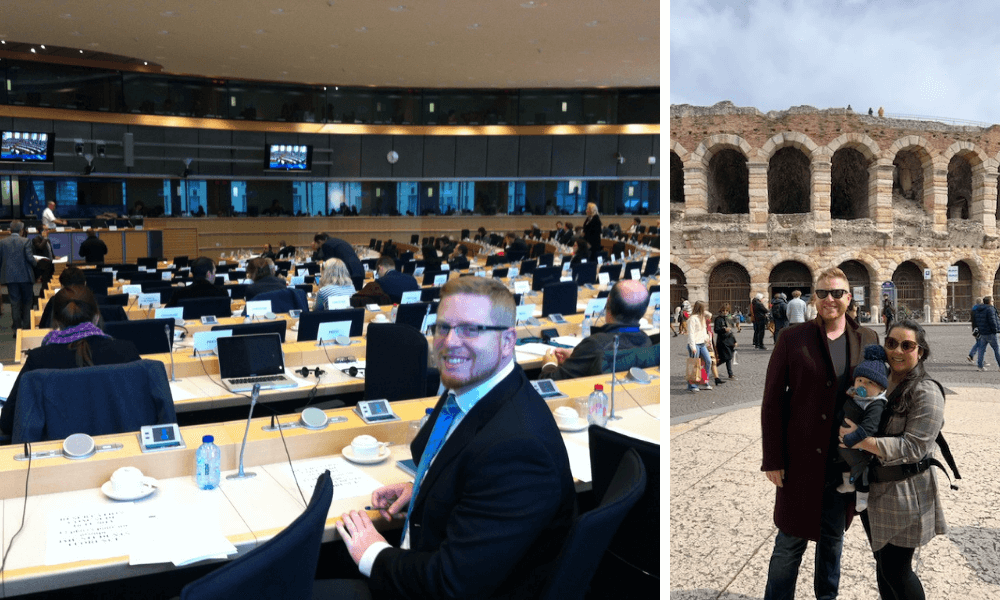 ---
By Elizabeth Rolen

The EUPS program is fundamentally designed to promote a better understanding of the often complicated transatlantic relationship. If there's one man who understands what it's like to live a transatlantic life, it's Briar Dunn. EUPS Class of 2014, he first met Italy's enticing shores in 2005 during a study abroad program in Sicily through his undergraduate alma mater, University of Texas at Austin. Briar soon fell in love with the rich history that seemed to pave each street, becoming a sponge, soaking in the overflowing cultural experiences every chance he could. He found himself watching every documentary, enthralled by every museum, and consumed in the cascading culture overflowing on every corner. Living in Italy ultimately became "The Dream" but it would take Briar a few years before he could make this dream a reality.
During his undergraduate studies, Briar completed an internship at the University of Texas' Lyndon B. Johnson School for foreign policy where he envisioned his passion for life as a public servant in the U.S. government. After graduating from the University of Texas, Briar found himself in a recruiting position within the Human Resources department of Southwest Airlines. He quickly realised that this was not getting him closer to his dream. When looking for graduate programs that could get him the international skill set he needed for his career, and that would bring him back to Italy's beckoning shores, the EUPS program fit perfectly.
Briar joined the 2013-2014 EUPS cohort and returned to the country that had been tugging on his heart strings since that first day in Sicily. This time, Briar had the time to dive deeper into his own professional and personal development. The EUPS program taught him practical skills that would prove to be integral to the success in his future career. Living in Italy taught him the value of learning about other cultures, sharing your own culture, and slowing down enough to fully appreciate the pros and cons of both cultures. 
After graduating from the EUPS program, Briar was awarded a U.S. Presidential Management Fellowship where he was exposed to an array of public service career paths in the executive branch of the federal government. The collaboration and professional communication skills that he learned in the EUPS program were important to his success as a young professional in a new career field. Over the course of his fellowship, an offer from the Department of Homeland Security brought Briar back to Texas as an Asylum Officer. While this job fulfilled his dream of a public service career for the U.S. government, it didn't fulfil The Dream of living in Italy. Briar began asking to work on every detail abroad to develop his international skill set to better leverage himself into the European focused roles. Eventually, in 2021, in the middle of the gloomy days of quarantine, Briar received a job offer to work in regional affairs and security cooperation for the U.S. Army in Vicenza, Italy.  
This time, he's not the wide-eyed 19 year old wandering the streets of Sicily. It took Briar 14 years to fulfil The Dream, a dream that he's now able to share with his wife and their beautiful baby. Today Briar sees his 19 year old self in some of the young couples who live in the military base, a little lost but so enthralled with Italy. Briar's now able to pass on the knowledge he learned in EUPS and bestow the value of slowing down and fully enveloping yourself in another culture. He now looks forward to sharing Italian culture with his wife and child as he now, in his own words, is "Living The Dream!"
Elizabeth Rolen is an EUPS student pursuing the Foreign Policy and Internal Security track and the EUPS program's Communications and Recruitment Graduate Assistant. She earned her Bachelor of Arts in International Affairs, with a Middle East Regional concentration and minors in Arabic and Economics from JMU this May. After graduation, Elizabeth will begin her career in post-conflict recovery and international diplomacy at the U.S. Department of State Bureau for Political and Military Affairs.