M.A. in Political Science, European Union Policy Studies
Letter from the Director
---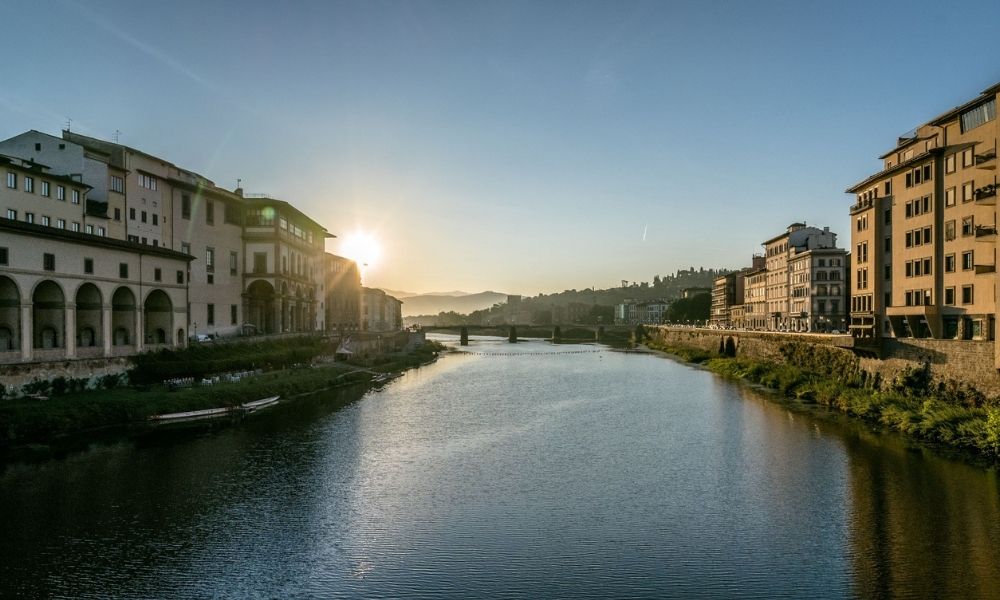 ---
Dear EUPS Alumni and Friends,
The end of any calendar year inspires people to look back upon the past year, while also preparing for new initiatives in the year to come. Such reflection and planning are key aspects of life. They help us to connect with our roots while we dream of new experiences yet to come. Meanwhile, we must also make time in the present to celebrate the people in our lives who bring us joy and support.
With that same desire for reflection, planning, and celebration, we share this newsletter with you. These articles illustrate the vitality of our current students, our faculty, our alumni, and the community of Florence. Malik Smith (Class of 2022) discusses how Italy shifted from being the initial European epicenter of the COVID-19 outbreak in early 2020 toward having one of the highest vaccination rates in the world and a carefully managed re-opening in 2021 guided by productive health protocols for indoor spaces. Elizabeth Rolen (Class of 2022) writes about the Palazzo Strozzi and how it functions as one of the many jewels of the art scene in Florence as a vehicle for highlighting both historical and current artists in intimate ways. Mo Al-Tayara (Class of 2022) reflects on the series of life experiences that motivated him to go to college in his fifties and then to pursue graduate study upon earning his bachelor's degree. Elizabeth Rolen's interview with Dr. Gianni Del Panta introduces our newest faculty member to the EUPS community. Recent graduate Lily Gates (Class of 2021) shares her advice to current and future students about how to make the most of your time in this program while you also build out your future career arc. In turn, within my letter here, I want to update you on our plans for alumni engagement and on the state of our alumni community. 
Lily Gates' reflections in this newsletter echo sentiments expressed by respondents to our fall 2021 Alumni Survey. Our alumni stress the importance of retaining and enhancing our program's emphasis on interaction with political and policy practitioners in the classroom, on academic study trips, and in the summer capstone's transition toward the workforce. And everyone, literally everyone, has their favorite memories of life in Florence. Yet, beyond cherished memories, our graduates also tend to link these treasured Florentine experiences with improved cross-cultural competencies, with greater patience with uncertainty, and with increased resilience.
These connections to transferable workplace skills (and life skills) are not isolated comments made by our graduates. The value of these skills is also reflected in their labor-market outcomes. The overwhelming majority of our graduates (93%) report working in a field that they desire. Large majorities use their knowledge of political dynamics (82%) and their knowledge of public policy making (82%) in their workplaces. The median salary across all graduation years (the classes of 2008 through 2021) is $80,000. The median salary increases to $100,000 in examining solely the program graduates who are now 10 to 13 years past the day in which they earned their laurel wreaths.
All these labor-market outcomes are particularly impressive when one considers that 77% of our students come into this M.A. program with no prior professional work experience. That is, over three quarters of our students arrive in Florence not long after the completion of their undergraduate studies. Their successes after graduating from this program speak both to the quality of the students we attract and to the several ways in which this graduate program helps our students grow – both as future professionals and as people.
When the current EUPS students reach their graduation in June 2022, they will become the 15th graduating class in this program's history. Our community of graduates will then exceed 200 people. As I mentioned in the May 2021 newsletter, our program's Alumni Board has outlined a series of initiatives that will improve our program's ability to help our graduates connect with each other, to mentor our current students, and to recruit new prospective students. With these thoughts in mind, we added some questions to the biannual Alumni Survey to gauge our graduates' interest in three new initiatives. Put simply, the responses that we received have embraced each of these new initiatives. I want to share them briefly with you below. 
Four-fifths of respondents said that, if we create an annual reunion in Florence, then they are either extremely likely (44%) or quite likely (38%) to attend a program reunion at least once every ten years. Accordingly, I am working with our Florence-based staff and with our Alumni Board to build out a pilot for an annual reunion weekend. Early in the New Year, I hope to be able to share information with you about this opportunity.
In turn, 55% of respondents confirmed their willingness to help mentor current students and recent graduates; another 26% expressed a potential willingness to do so. I am working with faculty, staff, and alumni to organize a new mentoring initiative that we will launch with the current Class of 2022 this April. Our plan is to provide each student with an individual mentor who will assist them from late April 2021 through March 2022, six months following their graduation. In addition, we want to increase the number of program alumni who interact with our current students via one-on-one networking interviews and other interactions. 
Invested in the future of this program – and of its alumni community – 70% of respondents expressed their desire to speak with prospective students about this program. In turn, another 20% said that they may also be willing to do so. For many years, our program has benefited from having its graduates interact with prospective students after they have been admitted to the program, but before they make their decisions. That valuable outreach program will definitely continue, but this year we are expanding alumni involvement so that prospective students can interact with alumni before they are admitted. Indeed, we want them to engage with alumni before they apply to this graduate program. We are running a monthly series of virtual information sessions in which a current student and a graduate speak about their experiences with prospective students. We are also building a roster of alumni volunteers who will reach out via email to a specific prospective student to welcome their interest and to offer to chat with them about the program. You can anticipate hearing from me about this one-on-one recruitment initiative in December 2021.
Beyond the specific questions above, we also know from responses to the open-ended components of our recent Alumni Survey that our graduates look forward to a return to in-person alumni programming in 2022. As program employees, so do we! The launch of an annual reunion in Florence will provide one rallying point for gathering together in person, but we also look forward to holding in-person events in the United States during the coming year. The annual August gathering will resume. We also want to hold other events that address a mix of objectives from those focused mainly on fun and fellowship to others more directly tied to professional development and current affairs.
One important way that our graduates can help extend our existing forms of alumni engagement while also developing new initiatives is by serving on our program's Alumni Board. During fall 2021 our board has created a system for ongoing renewal in which each year a few board members will join, while a few others rotate off the board. Look to receive information in the coming weeks about the new board member selection process and the expectations for our board members. 
In contemporary higher education, a core aspiration is often referred to by the jargon term "high-impact practices." High-impact practices aspire to reach the students at a deeper level at which they open themselves up to the possibility of a personal or a professional transformation. Rather than aiming solely for incremental changes in knowledge or skills, high-impact practices attempt to produce a qualitative leap in one or more skill sets.
Classroom-based learning provides a structure and a location for skill building and group dialogue. These formal courses have more impact, however, when they are complemented with structured and unstructured opportunities for students to apply what they are learning in their courses. External programs held beyond a college campus achieve this by bringing students out of a campus environment and into a larger, vibrant community which tends to have an even greater impact than classroom learning alone. 
As a student, I experienced the transformative power of study abroad by spending 10 months studying in Argentina as a graduate student. Then, early in my career, I first witnessed the power of bringing students repeatedly in touch with practitioners in their field of study by leading the pilot launch of JMU's Washington Semester political science program for undergraduates in 1997. Two decades later, my work on the EUPS faculty since 2016 has enabled me to observe first-hand the impact that the EUPS program has on our students by combining a study-abroad setting with an applied, practitioner-oriented focus. The survey data I have shared in this letter illustrate how participation in the EUPS program leads to deeper personal and professional development. These transformations contrast with the incremental gains frequently associated with more traditional M.A. in political science programs. These more traditional programs focus instead more narrowly on preparing students in university settings for future work conducted in university settings.
Now that our alumni base has reached a larger, critical mass, we have the opportunity to enhance the EUPS experience by leveraging further the dynamism and skill of our graduates. Your responses to this fall's Alumni Survey show that many of you look forward to this opportunity. On behalf of the entire EUPS community, I thank you for your interest; I welcome your energy and expertise; and I cannot wait to see what we can accomplish together in 2022 – and beyond. 
Cordiali saluti, 
Charles Blake