ERiA Newsletter: Spring 2023
It's Complicated: Special Edition
News
---
---
It's Complicated 2023: AI-CARE
Artificial intelligence and mental health? It's Complicated! 
This year, students at JMU will engage the ethical dimensions of the new It's Complicated scenario AI-Care as they wrestle with the question: Should a university adopt an artificial intelligence chatbot app to help address the growing demand for student mental health services? 
Through a variety of instructional modalities, It's Complicated provides a foundational experience of a flexible ethical reasoning strategy – the Eight Key Questions (8KQ) – that anyone can use in their personal, professional and civic lives to make better and more ethical decisions. In this special edition of the Ethical Reasoning in Action newsletter, get an insider's look at how AI-Care was developed, the changes coming to It's Complicated this fall, and how AI-Care and the Eight Key Questions are already inspiring and shaping conversations across campus. 
---
ERiA and JMU Libraries partner to move It's Complicated online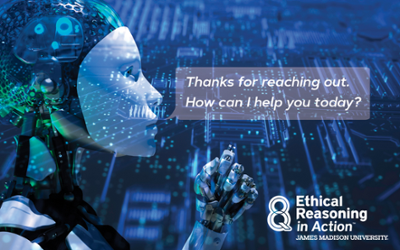 ERiA plans to deliver It's Complicated virtually to nearly five thousand incoming JMU students beginning this fall. Data from the past ten years of facilitating It's Complicated in person demonstrates that it is an effective intervention in a student's ability to reason ethically. What effect will an online delivery have? Working with a team of instructional designers from JMU Libraries, ERiA will use this high-impact project to find answers to that question. Over the next six months, both teams will work together to: 
develop the online course infrastructure,
re-design It's Complicated content and assessments,
map online learning objectives to ERiA's Student Learning Outcomes and
ensure that It's Complicated remains engaging and effective.
JMU's instructional design experts are training the ERiA team to use tools in Canvas, with right design, to help students reflect on the ethics of AI-Care in more accessible and engaging ways, with longer academic think time built into asynchronous instruction. What better scenario to introduce in a new online format than one that asks: When should technology be used to replace authentic human interactions?  
---

Ethical Reasoning Educators bring It's Complicated to Wellness Passport Events
For students on campus who want to engage AI-Care and experience It's Complicated in person, ERiA began delivering the interactive workshop through Wellness Passport events this spring. Over 60 students attended the events which prompted participants to ask ethical questions, such as: 
"How will AI-Care respond to issues it can't process or understand?"

 

"How should students be expected to connect to a robot that can't empathize with them?"

 

"What are ways to make AI-Care accessible to all?"

"How will implementation of AI-Care impact the in-person side of mental health care? Will counselors now be expected to out-perform a chat bot?"

 

"Does the university have an obligation to offer both [in-person & AI-Care]?"

 
In addition to AI-Care, the Ethical Reasoning Educators hosted the first in an ongoing reality TV series-based Wellness Passport event titled "Netflix's The Ultimatum: Is It Utimately Moral?", where attendees are asked to think about some of the ethical dilemmas in reality television shows through the lens of the Eight Key Questions.