News
ERiA Newsletter: Winter 2021
Winter 2022
---
SUMMARY: There is an urgent need for help with ethical reasoning in our world. Discover what some are doing with the Eight Key Question (8KQ) ethical reasoning strategy in the following stories.
---
Winter Greetings, friends and colleagues of Ethical Reasoning in Action!
Below are updates and stories from ERiA that you may find encouraging in the midst of these challenging times. The newsletter is intended to bring attention to the good teaching, scholarship, and work being done at JMU and elsewhere. Exceptionally difficult ethical situations are being navigated all over the world. How can the 8KQ help us perceive the ethical issues at stake more clearly and make the important decisions that we face more ethically?
In what follows read about:
---
Using 8KQ to Challenge DEI Ideologies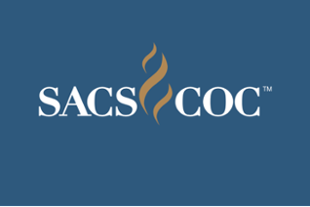 Bill Hawk and Kacey Damaty presented "Ethical Reasoning for Exposing Diversity, Equity, and Inclusion Blind Spots" at the most recent (6 Dec 2021) SACSCOC regional accreditation conference. Adopting an ERiA themethat people tend to see what they look for (and are blind to the rest) the ERiA team challenged participants to use 8KQ ethical reasoning to interrogate DEI issues, assumptions, and biases. They advocated using the 8KQ strategy to get to the real source of the debates: moral differences. DEI vanguard and rearguard should see that their opposed views are largely ideologically driven. Ethical reasoning cuts through the ideologies to expose the moral differences beneath. The workshop generated significant (200+ registrants) and received very positive evaluations from attendees. One participant exclaimed that the workshop provided "much food for thought for my participation in future President's Cabinet decision making practices," adding that "my breakout group shared ideas on how to apply today's presentation at our campuses."
---
Can 8KQ Promote Dignity and Respect in Virginia's Prison System?
by: Luke Hartman, PhD
Dostoevsky posits that "The degree of civilization in a society can be judged by entering its prisons." Recently, I have had the opportunity to contribute to the education of prison inmates within the Virginia Department of Corrections. In an effort subtly to influence inmates to consider ethical decision making, I posted the Eight Key Questions on a classroom wall. I began using ethical dilemmas with inmates to develop a variety of academic skills such as writing, sentence structure, vocabulary development and critical thinking. Each ethical case study provides rich and relevant content for adult learning. Using the Eight Key Questions to talk about the story of Cornealious Michael Anderson III provided inmates with the opportunity to learn at an academic level beyond the basic requirements of their High School equivalency exam. Asking inmates to use the Eight Key Questions to deepen their ability to ask more questions is just as much about building dignity as it is about academics. Providing access to a program that all first-year students at JMU experience imparts the message that "I believe you are capable of engaging in a deeper level of thinking and discussion around issues of ethics." The use of the 8KQ instills the confidence prisoners need to begin navigating the multitude of ethical issues they face every day in prison. I've partnered with Ethical Reasoning in Action to adapt the 8KQ card, rephrasing the questions to account for the broad range of learners in an adult classroom setting and then having the cards printed on prison-safe material. Now, prisoners will have a scaffold for complex decision-making to take with them: a reminder to slow down their thinking, to practice creating new habits, and open the door to a deeper understanding of themselves and the people around them. In this case, Dostoevsky would be pleased.
---
Feeling Tired from Making Decisions?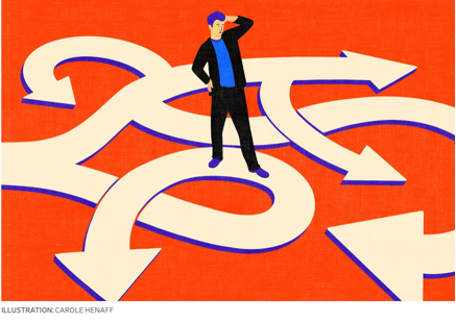 "We're tired and overwhelmed by choices big and small," writes Rachel Feintzeig in her recent WSJ article on decision fatigue. A recent poll by the American Psychological Association found that nearly one-third of adults (32%) said that they are so "stressed about the coronavirus pandemic that they struggle to make basic decisions, such as what to wear or what to eat." Decision making fatigue disproportionately impacts parents who desperately navigate changes to routines – work, school, and everyday. Many struggle to manage households divided by vaccination status and differences in conditions of health. Why does making decisions leave us feeling fatigued? Humans offload the energy that it takes to make a decision by creating routines and habits – by moving behavior from "thinking slow" (effortful) to "thinking fast" (effortless). Most likely, the first fifteen to twenty minutes after you wake up are made up of a series of routines that you don't have to think about consciously. You do them automatically and effortlessly. With daily routines turned upside-down, we cannot rely on the usual mental shortcuts that our habits afforded, leaving us feeling tired and overwhelmed. But what if asking 8KQ before making a decision became a habit, a routine on which we could rely? That is what FORCLEAR offers: a shortcut to remembering to think about fairness, outcomes, responsibility, character, liberty, empathy, authority, and rights when facing a decision. Using the 8KQ offloads some of the energy that it takes to make difficult decisions. If we practice making decisions using the 8KQ, as with any procedural routine, it too can become effortless and automatic.
---
JMUs Incoming 2022 Students to Analyze a Vexing Ethical Concern
What ethical problem? you ask. What ethical issue is big enough, compels interest, and is sufficiently difficult to capture the attention and justify the serious cognitive and emotional energies of nearly 5000 students and facilitators? Help welcome JMU's incoming class of 2026 to the challenges of university life by suggesting an "It's Complicated" ethical reasoning scenario. This is your opportunity to contribute and shape the scenario that incoming students will encounter. Submit your suggestions here.
---
Help! My Co-worker has COVID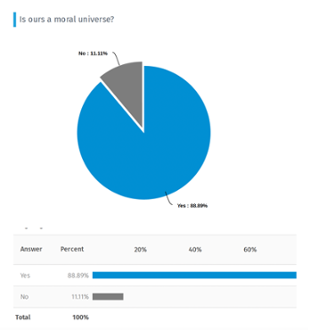 Ethics in Action is a bi-weekly invitation to practice ethical reasoning that began arriving in every JMU inbox this fall. Each email asks the JMU campus community to use the 8KQ when considering a situation (or a question) in which the decision (or answer) is not immediately obvious. Inspired by the Archbishop Desmond Tutu's 2007 speech at JMU, Ethics in Action #1 asks: "Is Ours a Moral Universe?" 89% answered Yes! Some scenarios ask respondents to identify which of the key questions are most relevant when facing a particularly challenging ethical situation ("Help, my co-worker has COVID!", "Been Caught Stealing!", "A Compromising Position.", "I Cant Unhear That!") When asked to prioritize ethical reasoning considerations, those responding chose Outcomes (64%) over Character (36%) and Responsibilities (70%) over Rights (30%), whereas Fairness (53%) and Empathy (47%), and Liberty (53%) and Authority (47%) were split almost evenly. The Ethics in Action series will feature seven new scenarios in the Spring — and Ethics in Action #6 "Should I Speak Up?" is already out. The Ethics in Action email series offers a quick and easy way to practice using the Eight Key Questions in a way that turns the at-times fatiguing process of ethical decision-making into a more effortless habit. If you have an idea for Ethics in action, you can submit your suggestion here.
---
ERiA Team Delivers Core Workshop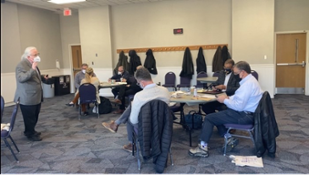 On January 11, a cold winter day by Shenandoah measures, ten participants from across and beyond campus gathered in The Union — Taylor 404 to learn JMU's unique 8KQ ethical reasoning strategy for making better decisions. Following a self-assessment of ethical reasoning preferences, the ERiA team shared current insights from the relatively new field of decision science and introduced the 8KQ ethical reasoning strategy. Putting the strategy into practice, participants wrestled with several scenarios. The workshop concluded with energized conversation.
---
A Cutting-Edge ERiA/CARS Initiative: Learning Improvement in Action

This summer (June 27-30), Ethical Reasoning in Action and the Center for Assessment and Research Studies will present a cutting-edge and interactive virtual workshop that integrates ethical reasoning into a learning improvement initiative! The workshop is designed to help you and a team from your program develop a detailed learning improvement plan for an ethical reasoning intervention, which is specifically tailored to your program learning objectives and structure. You can learn more about this opportunity through the informational flyer found here.
---
Be on The Lookout - Upcoming ERiA Events
Ethical Reasoning on Campus
Thu Feb 3, 2022 10:45 AM – 12:45 PM Warner Commons Table 2
Wed Feb 16, 2022 1:45 PM – 3:00 PM Festival Conference and Student Center – Patio Table 2
Thu Mar 3, 2022 10:45 AM – 12:45 PM Warner Commons Table 4
Wed Mar 23, 2022 10:30 AM – 12:30 PM Festival Conference and Student Center – Patio Table 3
Thu Apr 7, 2022 12:30 AM – 2:30 PM Warner Commons Table 2
Wed Apr 20, 2022 1:45 PM – 3:45 PM Festival Conference and Student Center – Patio Table 2
Thu May 5, 2022 11:00 AM – 1:00 PM Warner Commons Table 3
Ethical Reasoning Information and Core Workshops